April snowstorm update: record breaking snows come to an end, I-94 reopened
Recapping the area news on the state of affairs following the record breaking April snow storm that gripped Dickinson and the Western Edge. Roads, weather, government openings/closures, and more.
DICKINSON — As the sun peeked over the horizon Friday morning and the blizzardous wind settled to their typical prairie breeze, the storm of the century — Snowmageddon — came to an end. Though the April storm is in the rear view, snowplow crews across western North Dakota and beyond remain in action as they continue clearing roadways.
The North Dakota Department of Transportation snow crews have been in near continuous operations since early Friday morning, working on clearing roads and underpasses on Interstate 94 for a scheduled noon opening. The interstate has remained closed since 4 p.m. MST Tuesday.
Despite being able to now travel, the NDDOT reminds drivers that the roads may be icy and snow removal equipment will remain on the interstate throughout the weekend. Before taking off, the NDDOT encourages people to find the most accurate road condition information, by visiting travel.dot.nd.gov .
With the storm ceasing, the City of Dickinson has lifted its no-travel advisory. The order went into effect at noon Friday in a citizen briefing. However, the city encouraged residents to use caution while driving as the streets remain icy. City street crews are working hard on snow removal throughout Dickinson.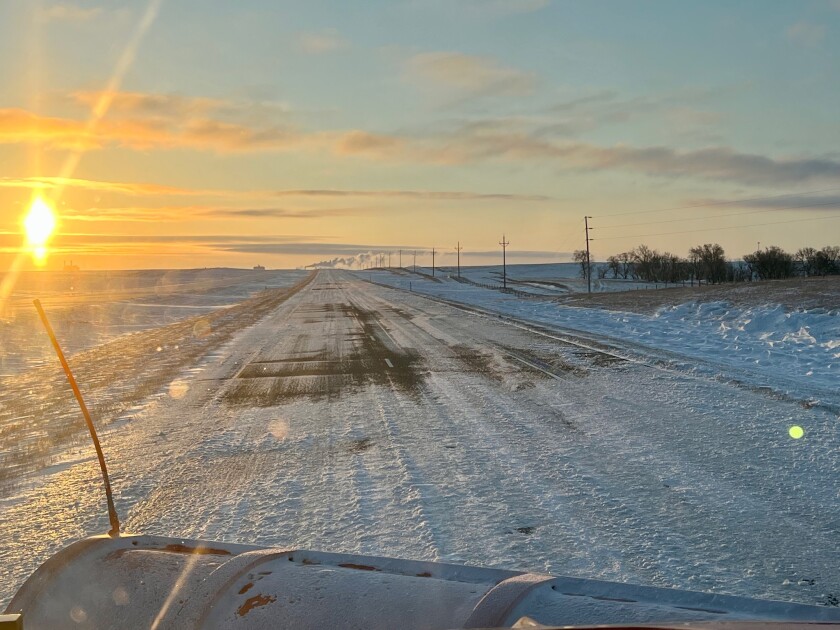 "If you choose to venture out and encounter snow removal equipment, we ask that you please stay back at least 100 feet to ensure your safety as well as to allow the crews to work safely and efficiently," Interim City Administrator Dustin Dassinger said in the citizen briefing.
Snowplows have been in operation since Thursday evening and Friday morning on removing snow from the downtown district, including residential areas. Dassinger noted in the briefing that the city is hoping to accomplish all of the residential neighborhoods by Friday evening.
"Please be patient with the snow crews as they are currently working to ensure at least basic access to each of the neighborhoods before returning at a later time to clear more of the snow," Dassinger stated. "Snow crews have been working on clearing snow in the downtown areas since 5 a.m. and have been making progress to ensure access to downtown businesses."
According to the Bismarck National Weather Service, Dickinson received approximately 25 inches of snowfall since the storm began Tuesday, with one report saying 29.2 inches of snow.
With the record breaking amount of snow, the City of Dickinson will not be enforcing the sidewalk snow removal policy. But if a fire hydrant is located on a resident's property, the city reminds the public to clear the snow around the hydrant to ensure accessibility in the event of an emergency.