A safe place to heal for the homeless
FARGO -- After a work injury in 2004, Tony Mora said he began to suffer crippling back pain and, at one point, it threatened to take away his ability to walk.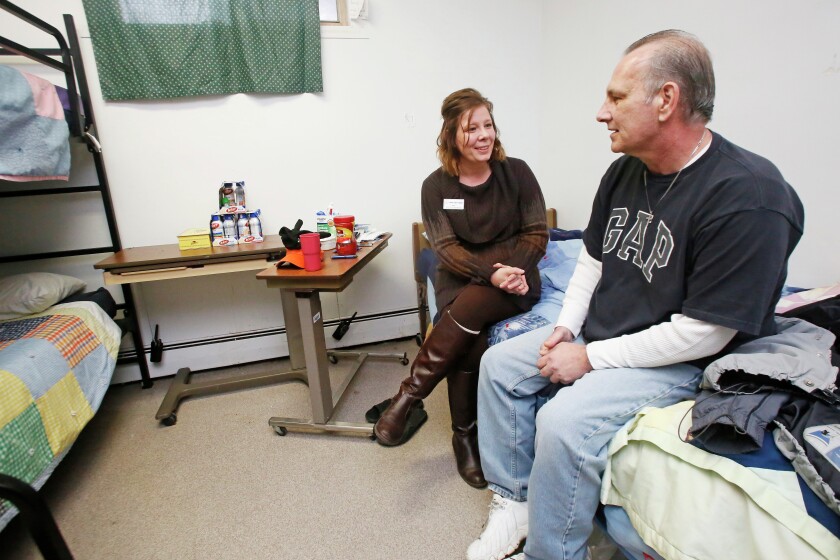 FARGO -- After a work injury in 2004, Tony Mora said he began to suffer crippling back pain and, at one point, it threatened to take away his ability to walk.
But until last fall, he wasn't able to get the back surgery he needed, he said.
In part, it was because Mora kept having heart attacks from a separate condition and, in part, because hospital staff advised him he would need a good place to rest and heal after surgery.
Now a new "medical respite" program has given the resident of the New Life Center a quiet room away from the homeless shelter's crowded main dormitory and the medical guidance of the nurse.
"It's the only way I could've had it because where would I recover?" Mora said of his back surgery.
Life on the streets is hard on anyone's health and homeless people tend to have more medical problems, said Lois Ustanko, who runs the faith-community nursing program at Sanford Health. That life also makes it hard to get effective treatment when medical problems inevitably occur, not just because there isn't a place to heal but also because follow-up visits with doctors aren't simple.
The consequence is a life expectancy that's about 25 percent shorter for the homeless and, because they're in and out of emergency rooms often, higher costs to the health care system, Ustanko said.
The aim of the respite program, funded by the Sanford Health Foundation, is to reverse the cycle. It's been been up and running for several months at the New Life Center in Fargo and at New Horizons Manor apartments owned by the Fargo Housing and Redevelopment Authority. Ustanko said other partners are also interested.
Complex problem
Until the respite program began, homeless people who needed surgery sometimes lucked out if a friend agreed to lend a couch or a shelter was able to make a bed available, Ustanko said.
She knows of several cancer patients who used a detoxification room at the Gladys Ray Shelter in Fargo, some to recover from chemotherapy and some for hospice care. "It's a pretty sterile environment to go back to. To think you have to go to the detox room as your only place to have a hospital bed for hospice to provide care."
Ustanko contrasted that with a cancer patient who was able to get a bed at New Horizons to get hospice care and, during which, he reconnected with his family.
"To die in a place called home with an address," she said. "He didn't die on the street. He had dignity. He felt people valued who he was and he was cared for, which is a very different death."
For a variety of reasons, the health care system doesn't work well for most homeless people.
Hospital stays are expensive, so Medicaid, like insurance companies, will only reimburse for a few days' stay after surgery, Ustanko said. The number of days depends on the medical procedure, though the average is four days.
The assumption, of course, is that the patient has somewhere to go after being discharged. But to fully heal from surgery takes many weeks and may include follow-up visits with a doctor to ensure the treatment took.
Follow-up visits are not easy for homeless people, either, said Amy Strand, the respite program administrator and a nurse at the New Life Center. It can be a simple problem like not having enough money for bus fare or it can be as complex as a feeling of intimidation and mistrust of people who have little experience with health care other than the ER. That's where she comes in to provide guidance.
Complex solution
The respite program now offers three beds at the New Life Center, a men-only shelter, and another three at New Horizons that are set aside for women and some men; the shelter doesn't have staff that can handle incontinence.
Rob Swiers, executive director at the center, and Jill Elliott, the Housing Authority's deputy director, both said they could make more space at their buildings if required.
But Swiers said having a nurse on duty is just as important to ensure patients fully recover rather than neglect follow-up visits and have a relapse. He's especially happy that other shelter residents can benefit.
"We didn't have a nurse before this," Swiers said. "So not only are the men who are in the medical respite program benefiting from this partnership. All of a sudden, the rest of our men have access to a nurse on site. So it really multiplies the effect this project is having."
When the patients are healed and ready to move on with their life, Elliott said the respite program will help them find a permanent home so they can stay off the streets and maintain their health.
Ustanko calls it the "patchwork quilt" approach. No single organization can provide the services a homeless patient needs, she said, but working together Sanford, New Life Center and the Housing Authority can get there.
What's next
The future of the respite program depends on what happens over the next three years, which is how long the available funding will last.
Ustanko said she hopes she can apply for more funding from other sources. "That's going to depend on the success of the program, the success being medical stability, cost reduction and improving in health outcomes."
Swiers is confident that that will happen.
"We'll prove pretty easily that having a nurse at the shelter will save the medical community a tremendous amount of money because she can keep those guys out of the ER," he said.
He said he plans to renovate the New Life Center after moving the in-house thrift store across the street this year, and those plans include a medical ward with 10 to 12 beds.
Seven people have been through the respite program or, like Mora, are still in the program in just the few months it's been offered, Strand said.
Elliott said the first group of former patients have already begun moving to the Lashkowitz High Rise.
New Horizons has no immediate plans to add a new apartment unit, Elliott said, but could do so when needed.
For Mora, he's still healing at the New Life Center and interacts daily with Strand.
After 12 weeks in respite, he said the pain had decreased only about 20 percent, but that was OK.
"It was a 50/50 chance for it to take anyway," Mora said. "So if I get 20 percent, I'm happy with it. Because I could still walk. I was ready to go paralyzed in my legs."