After weekend scramble, Valley City's mayor optimistic on flood preparation
Heavy rains prompted Valley City to adjust for a Sheyenne River crest that was four feet higher than first expected.
VALLEY CITY, N.D. — Heavy rains brought a weekend scramble to protect Valley City from a rising Sheyenne River, but the mayor here said he feels "comfortable" with how they're sitting now.
About two inches of rain that fell on the city and higher amounts to the north, at Baldhill Dam on Lake Ashtabula, meant a higher crest than what Valley City was looking at early last week.
Mayor David Carlsrud said the revised crest, with that added rain, went up about four feet.
"That kind of kicked things into action and there was a sense of urgency, but no panic," he said.
Flood walls and clay levees began going up around town, and Carlsrud asked Fargo for more than 20,000 sandbags, since the city had no time to make its own.
The bags, made during Fargo Sandbag Central's 2020 production, were on their way within hours, Carlsrud said, and college students and residents began placing them Sunday, April 24.
Carlsrud said after the scramble, he's feeling good about where they're at.
"With the permanent flood protection that's in place and the crews that we have working, we have yet to feel threatened," he said.
Minor flood stage in Valley City is 15 feet, moderate at 16 feet and major flooding at 17 feet.
At 17.2 feet, the city installs removable flood walls in the University district and elsewhere, which are part of permanent flood protection implemented since the 2009 record flood.
The Sheyenne River is projected to crest at 18.5 feet on Sunday, May 1, with additional rises possible after that, according to the National Weather Service.
That would be several feet shy of record highs of 20.69 feet in 2009 and 20.66 feet in 2011.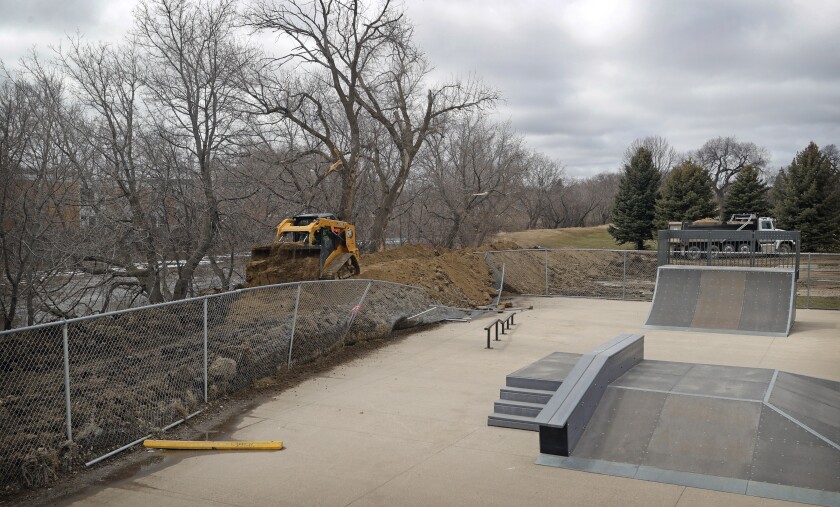 Jordan Heck and his family in the Riverview neighborhood are watching the river closely.
The city is putting up a clay levee behind his home and three others.
Heck and his family only moved in a few weeks ago and are still getting settled, but as a volunteer firefighter, he spent the weekend helping with flood walls and sandbags.
"It just came on kind of fast and furious with those heavy rains," Heck said.
There's a permanent concrete floodwall between his walkout basement and the Sheyenne River, installed by the previous homeowner, but he was happy to have the additional measures from the city.
"I personally feel safe," Heck said.
Rich Schueneman, manager of Baldhill Dam on Lake Ashtabula, analyzes releases out of the dam and is in Valley City overseeing the levee building operation.
He said they're nearly 80% complete with constructing the one-and-a-half miles of levees around town and should be finished by noon on Tuesday, April 25.
They needed to act quickly because of how much and where the heavy rain fell.
"Usually you have like 10 to 14 days to get ready for a flood. Here we had two to three days," Schueneman said.
The level of Lake Ashtabula has been drawn down some to gain storage for more anticipated rainfall, he said.
That additional precipitation, expected Friday and Saturday, is factored into the predicted crest of 18.5 feet on Sunday.
With Valley City's top-of-levee protection at 20.5 feet, that leaves two feet of freeboard, Schueneman said.
Heavy rains have brought overland and river flooding to many other parts of northeastern North Dakota and northwestern Minnesota.
The National Weather Service said major flooding along the Red River is anticipated at Oslo, Grand Forks, Drayton and Pembina.
State Highway 200 is closed in Hillsboro due to water over the road.
Also, Minnesota National Guard soldiers were called to fortify Crookston and prevent further flooding in the city from the Red Lake River.
The river there saw a preliminary crest of 27.07 late Sunday, April 24.