Dickinson Rotary Club resumes in-person annual literacy project
The Dickinson Rotary Club's annual literacy project resumed after a three-year hiatus due to COVID-19, reading books to preschoolers in an effort to promote early childhood literacy and vocabulary.
DICKINSON — The Dickinson Rotary Club resumed their annual literacy project on March 28, 2023, after a three-year hiatus due to COVID-19. The project's aim is to promote a love for reading amongst preschoolers, and the Rotarians read to five classrooms at Head Start, gifting 108 books to Head Start and the Dickinson Public Schools Early Childhood Program.
Rotarian Deb Barros, the project's coordinator, has been involved with the project for several years now, and this year's book selection was "Rainbow Fish and the Big Blue Whale," a classic children's book known for its vivid illustrations and beautiful story.
The project involved Rotarians Marlene Bradbury, Travis Ellison, Natashia Cushman, Samantha and Stephanie Hunter, Urja Aryal and the Dickinson Public Schools staff. The students at Head Start were thrilled to have the Rotarians back in the classroom, and the teachers appreciated the Rotary Club's efforts to promote early childhood literacy.
Early childhood literacy is essential, and studies have shown that early exposure to books and reading can have a significant impact on a child's cognitive development. The Rotary Club's literacy project is a small but crucial step towards promoting literacy in the community and nurturing a love for reading among area children.
The Rotarian literacy program's preschool reading initiative is just one part of the broader goal of the program, which is to enhance reading comprehension and vocabulary skills, while fostering a love of reading in youth. In October, local volunteers from the Dickinson Rotary Club visited third-grade classes in Dickinson, South Heart and Belfield, marking the 15th year of the annual tradition and gifting dictionaries to area students.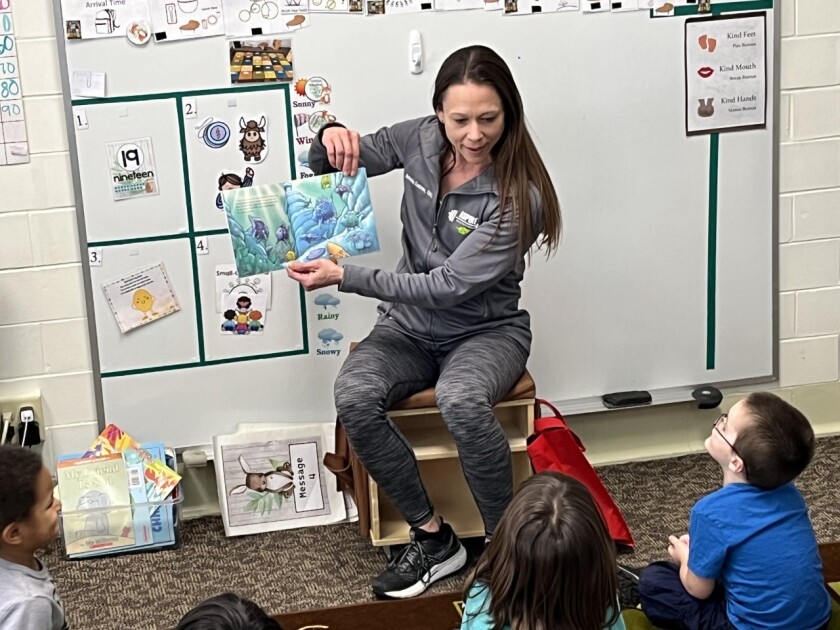 Each student was presented with a dictionary and a brief explanation of why dictionaries are a useful resource, with approximately 480 third graders receiving copies of the Webster Dictionary.
Rotarian Glenice Hansen remarked that this endeavor was particularly critical as many students lost progress during the virtual learning periods of the pandemic in 2020 and 2021.
The Rotary Club is committed to their mission of promoting literacy in area communities, and they hope to continue this successful program in the years to come. The annual literacy project is just one of the many ways in which the Rotary Club is making a positive impact on the community. To learn more about the Dickinson Rotary Club and their literacy program, visit dickinsonrotary.com/literacy .