Funds run dry for North Dakota addiction treatment program — counselors say lives are at stake
Money for a North Dakota program that pays for people with addictions who can't afford treatment abruptly ran out, barring new clients and sending treatment centers scrambling. As a result, addiction treatment advocates warn, more people with addictions will be showing up in jails, emergency rooms — and dead.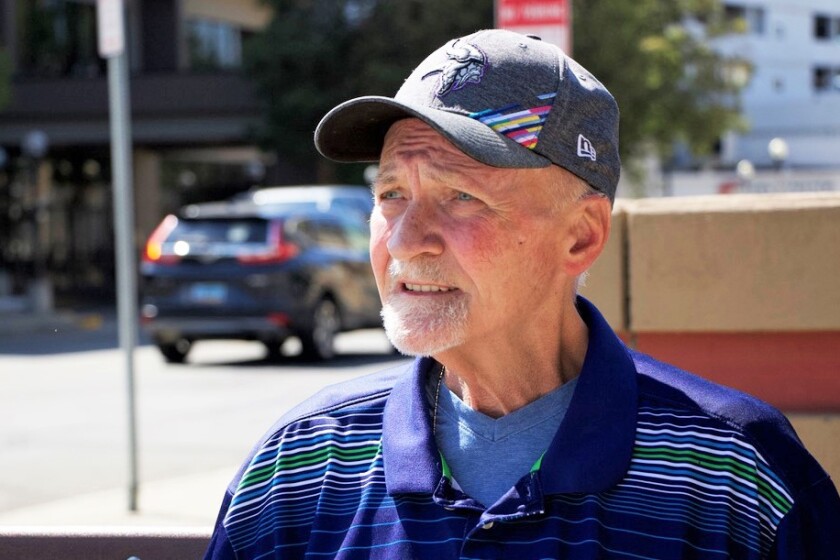 We are part of The Trust Project.
BISMARCK — Dale Lein couldn't shake the hold alcohol had on him. His addiction started in high school and followed him like a shadow throughout life.
He found it difficult to hold down a job. He occasionally got into car accidents while driving drunk. He became estranged from his family.
Finally, last year, a health crisis forced Lein to reckon with the fact that alcohol was destroying his life. A brain tumor, shoulder surgery and complications from decades of hard drinking put him in the hospital for four weeks.
Alcohol, his doctors said, was killing him.
Lein desperately wanted to get sober. But he faced what seemed like an insurmountable problem. He was disabled and couldn't afford treatment.
Then Lein got a break. He qualified for a state program that pays for addiction treatment for those who lack health insurance or other means to pay.
After failed efforts in the past, Lein has achieved sobriety, thanks to help from counselors at Heartview Foundation and the state payment program.
"I've been sober now a year and five months," Lein said. "That's the longest I've ever been sober." Before getting treatment, "That's all I did my whole adult life was drink and drink and drink."
The payment program, called the substance use disorder voucher program, has provided treatment for 4,200 people struggling to recover from addictions since it started in September 2016.
But money for the program is unexpectedly running out, so the North Dakota Department of Human Services was forced to freeze the program, barring new clients from enrolling — cutting off access to a program that addiction treatment advocates say is a lifeline for people who otherwise end up, untreated, cycling through hospital emergency rooms and jails, at much greater cost.
"They're going to end up in our jails and emergency rooms — or they're going to die," Tonya Sorenson, a licensed addiction counselor and clinical supervisor at First Step Recovery in Fargo said of those who will lack treatment because the program is closed to new clients. "That's the reality of what we're dealing with. We see our clients in the paper, in the obituaries."
Pamela Sagness, director of behavioral health for the state Department of Human Services, said officials have worked to maintain services for those currently in the voucher program.
"The continuity of services is just vital," she said, noting the risk of relapse for anyone battling addiction. Officials have struggled to budget for a new program and, for the current budget, had to make their best estimates of demand for services in December 2018.
"We're really for the first time getting our arms around the scale of the need," she said. The program currently is paying to help 1,348 clients.
The state's regional human service centers are aware of the suspension of new voucher clients and can once again serve as the "safety net for addiction service needs" and have expanded access to 24/7 crisis services in all regions, Sagness said.
"No services were discontinued or stopped," she said. "The notification was specific to stopping growth of the program."
Heartview Foundation, First Step Recovery and 20 other addiction treatment centers around the state were abruptly told on June 30 that money was running out, giving them just hours to prepare and try to finish pending applications.
Before the voucher program, those who couldn't afford addiction treatment from private counselors had to seek treatment at eight regional human service centers around the state, where they often faced long waiting times, addiction treatment advocates said.
"They were required to stand in long lines in human service centers around the state," said Kurt Snyder, executive director of Heartview Foundation. "The beauty of the voucher system is it allows the private providers to open their doors to all comers. It made a real difference for a lot of people."
Lein started his treatment with an 18-day regimen, with three days of residential service followed by 15 days of outpatient counseling and therapy. He continues to meet with his counselor once weekly, has weekly group therapy and regularly attends Alcoholics Anonymous meetings.
"It does wonders," he said. "It does absolute wonders for people who are in a crisis right now."
Under the voucher program, clients whose treatment is deemed medically necessary can qualify for evidence-based treatment from approved addiction treatment centers located close to home.
The funding freeze on new clients — which addiction treatment advocates say could deny services to thousands of people struggling with addictions around the state — comes despite Gov. Doug Burgum's outspoken support for addiction recovery, which he has made a priority issue since taking office in December 2016.
Yet addiction counseling center executives, including those at Prairie St. John's, ShareHouse and First Step Recovery, said they are unaware of efforts by Burgum to try to come up with money to provide services to new clients.
"Under Gov. Burgum's leadership, DHS is working diligently to pursue federal funding and identify possible rollup dollars in its existing budget to provide additional funding for the SUD voucher program, after attempts to find other sources including CARES Act funding were exhausted," Burgum spokesman Mike Nowatzki said in a statement.
Human services officials have "consistently asked to increase funding to meet demand" for the voucher program, increases that were incorporated in Burgum's budget requests last session, and approved by lawmakers, he said.
Funding for the program, which enjoys strong bipartisan support in the Legislature, has risen dramatically since the program's start four years ago.
"Behavioral health and recovery remains a priority of this administration, and to suggest otherwise because of a funding situation related to further expanding a program that has already been significantly expanded under this administration is disingenuous," Nowatzki said.
'A race against the clock'
Spending in 2015, the voucher progam's first year, totaled $252,294, which mushroomed to almost $8.3 million during the 2017-19 budget.
During the current budget for 2019-21, vouchers are budgeted for $7.9 million — but more than $7.1 million had been spent by early August, with almost a year remaining in the biennium. Spending for 2017-19 exceeded the current biennium because the current two-year budget was planned before all of the receipts from the last biennium were in hand, Sagness said.
"We want to get services to people in need," she said. "That's our mission. But there are limits to the funding."
To serve clients caught by the voucher funding squeeze, Prairie St. John's and ShareHouse are absorbing some of the costs.
"It became a race against the clock to help people," said Ty Hegland, executive director of ShareHouse, adding that the vouchers are a "gap filler for patients who have no other means."
ShareHouse will spend $50,000 to $60,000 per month to help fill the void, while Prairie St. John's bad debt and charity care spiked by $100,000 this month, said Jeff Herman, Prairie St. John's chief executive.
"It's deplorable," Herman said, referring to the emergency created by the state's abrupt cutoff. "That's embarrassing for the state."
Extending charity care is difficult because treatment centers operate on thin margins, so it can't be sustained indefinitely, Hegland said.
Meanwhile, costs elsewhere will spike as people with untreated addictions end up in jails and emergency rooms, he said. "This isn't just going to go away," Hegland said. "It's not going to be revenue neutral, and it's going to be very expensive."
'How can you sleep at night?'
A family member of a client who couldn't be accepted for treatment because voucher funding has been exhausted scolded staff at Summit Counseling Services, which serves western North Dakota, where treatment is scarce.
"How can you sleep at night?" an angry family member asked staff, Executive Director Brenda Owen recalled. "It's heartbreaking."
Despite the freeze on adding new voucher clients, funding will be available for new patients receiving methadone treatments for opioid addictions, because federal money can pay for that, Sagness said. But the state general fund is the sole funder of the voucher program.
The rise in funding has been possible because of strong legislative support for the voucher program, said Sen. Judy Lee, R-West Fargo, chairwoman of the Senate Human Services Committee.
"This was a legislative-established program," she said, which she views as an investment rather than an expense. "It's been remarkable," she said, adding that budgeting for the new program was an "absolute dartboard deal trying to figure out."
When the Legislature convenes in January, replenishing funds for the substance use disorder voucher program will be a priority, Lee said. But the state's economy has been hammered by the pandemic, which has caused oil revenues to plunge.
"We know it's going to be a really challenging budget year," she said. She agrees with addiction counseling advocates that it's better to help people before their lives spiral into crisis. Legislators are convinced that the program pays dividends by helping people lead productive lives.
"Catch people before they fall to the bottom again and get them on track again," she said.
Recovering from addiction is a constant struggle, Lein said. He feels grateful that his voucher approval recently was extended.
"I'm still fighting alcohol," he said. "There's no doubt about it. I can't imagine what I'd do if I didn't get in. I don't know where I'd be. I don't even know if I'd be alive."
As for the lack of funds to accept new clients, he added, "I'm hoping and praying that this will change."
North Dakota's drug and alcohol epidemic
North Dakota has been working in recent years to boost funding for what officials acknowledge is an underfunded behavioral health system, including substance use treatment. A 2018 study estimated 7% of the population deals with serious mental illness, which is often intertwined with substance use.
A statistical snapshot of the problem:
17% of North Dakota adults met the criteria for mental health illnesses in 2016.
9% of North Dakota adults had a substance use disorder in the past year as of 2016, slightly higher than the U.S. average of 7.8%.
34% of North Dakota adults reported binge drinking alcohol within the past month, well above the 27% U.S. average.
47% of motor vehicle deaths involved alcohol in 2017, far beyond the 30% U.S. average.
Illicit drugs are an increasing problem. Adult heroin use increased from 1% to 6% and adult methamphetamine use almost doubled.
Drug overdose deaths rose steadily from 20 in 2013 to 77 in 2016.
Source: North Dakota Department of Human Services