Belfield addresses sewer lift stations, city employee wages, more
Several items were discussed earlier this week during the Belfield City Council monthly meeting which included a sewage project, city employee wages and alcohol sales at the Superpumper gas station.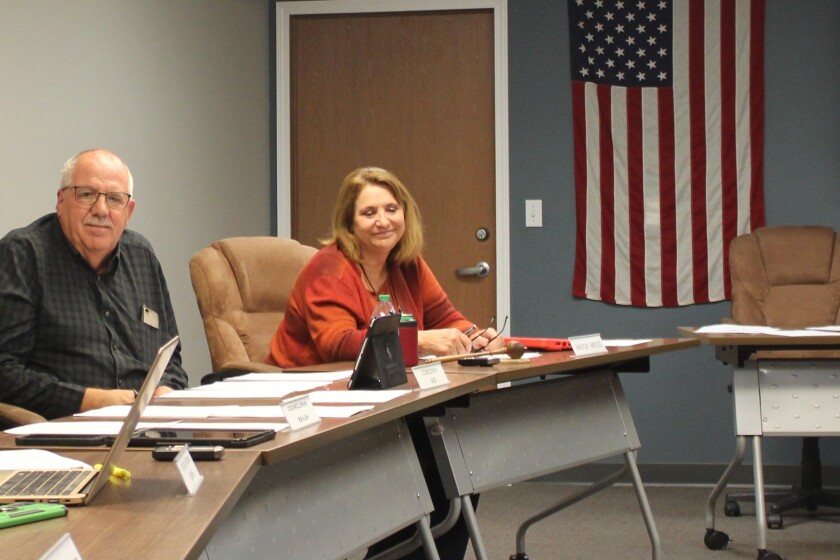 BELFIELD, N.D. — The Belfield City Council held its monthly meeting Tuesday. First up, the council heard the Stark County Sheriff's Office report from Lt. Eldon Mehrer. They subsequently approved a motion to pay the $8,000 annual fee for Belfield's membership in the Southwest Narcotics Task Force. This is a collection of law enforcement agencies spanning seven counties in western North Dakota that pool resources and collaborate to fight drug trafficking.
Lonni Fleck, president of Interstate Engineering Inc., recommended the city apply for a $2.3 million loan from the State Revolving Fund (SRF) to repair all three of its sewer lift stations. SRF is a federally subsidized program that provides low interest rate loans for underground infrastructure and wastewater projects.
Councilmember Bruce Baer said the city plans to pay for a substantial portion of the project with cash from its general fund, but Fleck advised getting approved for a loan to cover the full $2.3 million cost in case they need more than anticipated. The council agreed.
Fleck and City Auditor Connie O'Brien said the city was awarded $158,000 in federal funding for the lift stations from the American Rescue Plan Act. Half of the grant money has already been deposited into their account and the other $79,000 should be arriving later this year.
Thorough inspections of the sewer lines and water manes will also be conducted through televising and manhole scanning. Televising consists of using a snake like hose with a camera on the end to survey the internal condition of a sewer line. This will cost roughly $200,000 and Interstate Engineering plans to complete a bid package by March or early April, Fleck said.
Public Works Director Kevin Anderson reported there was an issue with the east side lift station on Jan. 8.
"The alarm called me Saturday morning saying there's a relay in the electronics that lets the backup generator know the power went out. That was stuck in neutral so none of the pumps were operating for about six and a half hours," he said. "We had to get a vac-truck and an electrician in. We did get it running and kept it from backing up."
Replacement parts to complete the repair will hopefully arrive sometime this week, he said.
The City of Belfield currently has three public works employees, two full-time and one part-time. Councilmember Ed Braun said residents have asked him how much the part-time employee was working. Anderson said about 30 hours weekly. Braun noted that at the last meeting the council had agreed on limiting him to no more than 20 hours.
Braun then made a motion to eliminate the part-time position at the end of the current pay period until the council deemed it necessary to be filled again and asked for the input of Anderson, who said he was fine with it. The motion was approved in a 3-2 vote, with Baer and Mayor Marriann Mross voting no.
Baer proposed a cost of living pay increase due to the current state of the economy. Mross expressed her support for the idea.
"It's just hard to put a number on it," Mross said. "I think they all deserve a medal for what they do."
Baer made a motion for a 3.5% pay raise for all city employees effective next pay period. It was unanimously approved.
In the December meeting, the council approved the liquor license for Superpumper without realizing the applicant checked both boxes for the sale of alcohol to be consumed on and off site.
One resident at the meeting took issue with this.
"It was never put on the agenda that Superpumper was (applying) for an on-sale. So none of the other bar owners really had a chance to protest if they wanted to," the resident said. "There's something a little wishy washy there."
O'Brien explained the owners are considering adding electronic gambling machines, and would not permit consumption on the premises until the machines were installed. Braun and Baer raised concerns about minors frequenting the store and encountering adults drinking alcohol.
"You have to be able to see the machines from the till (cash register) as I understand it. But it can't be in the open," Braun said. "If you're going to have an on-sale license to (drink at) the machines, that takes you right through the traffic of the other customers that are in there. And that's not great."
City Attorney Sandra Kuntz said they could send a letter to Superpumper clarifying the on-sale license has not yet been approved.
"So I would not vote for them to have an on-sale license without seeing a floor plan and having somebody from Superpumper here to describe what their actions are. I'm not opposed to them having it but I need a better understanding," Braun added.
The next Belfield City Council always holds its meetings on the second Tuesday of the month at 208 Main St. N. The next meeting will take place at 5 p.m. Tuesday, Feb. 8.