Dickinson resident calls on City and businesses to 'clean-up their act' and form beautification committee
"For the longest time it's been about economics and it's been a supposed mission of our elected officials to improve quality of life in Dickinson in terms of opportunities in the community, but a major factor in the quality of life is how a town looks," says Darcy Kovash.
We are part of The Trust Project.
DICKINSON — "I don't understand why the city is OK with mediocre!!" began a posted letter addressed to the City of Dickinson and local business leaders that was published in The Dickinson Press in late July. The letter was penned by Dickinson resident Darcy Kovash as a call to action for the city to embark on a quality of life project aimed at incorporating visual beauty into public spaces worthy of the city's future as the gateway to the forthcoming Theodore Roosevelt Presidential Library in Medora.
Kovash's letter garnered attention from many area businesses who were seen the following week cleaning their properties of trash, debris, weeds and more. The letter also caught the attention of elected officials in Dickinson who discussed the letter in detail during a workshop prior to a regularly scheduled commission meeting.
In a sit-down interview with The Press, Kovash explained how she grew up and has lived in Dickinson for the entirety of her adult life. She detailed how much she loves the community for their morality and values, churches, quality education and endless activities. However, Kovash said she noticed a trend that is alarming and unbecoming of "such a wonderful city and people" — a significant downturn in the city's beauty.
Arguing that cleaning the city will not only raise property values and enhance the local economy, but show pride in a community that has continued to attract businesses should be at the forefront of every decision the city makes.
"For the longest time it's been about economics and it's been a supposed mission of our elected officials to improve quality of life in Dickinson in terms of opportunities in the community, but a major factor in the quality of life is how a town looks," she said. "It just absolutely amazes me that I walked downtown and in front of the new city building, outside their own doors to their new building that represent Dickinson, weeds were up to the knees, none of the trees are pruned and I just don't understand it. Collectively we have to clean it up, the city needs to clean-up their act."
Kovash explained that the City isn't the only ones who have "dropped the ball" in maintaining any semblance of beauty, noting that everywhere she looks she sees a slow decline into dilapidation and an appearance of abandonment. She noted 18 inch weeds are common sight by the post office, that various businesses in town have trash, tall grass and dirty facades, and a city forestry department that continues to receive less funding and only a disinterested supervision by elected leaders.
"Community beautification is important because it says, 'hey look, we care about this place. We care about how our town looks,'" she said.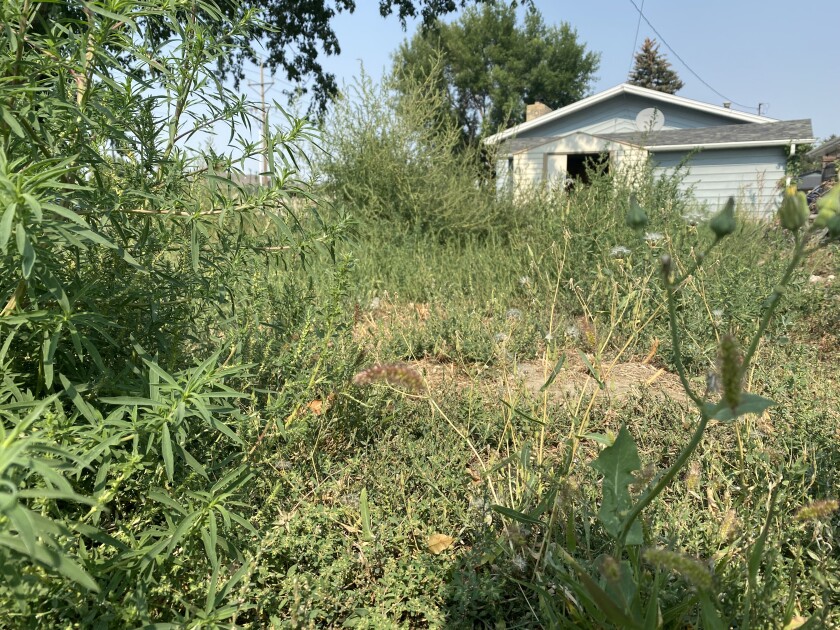 In the late 1980s, the City of Dickinson was without a city forestry program and began a lengthy process to form one through the collective efforts of the City of Dickinson, Dickinson Parks and Recreation, Dickinson State University and others. According to former City Forester Craig Armstrong, the city formed a committee called the Urban Forestry Committee in an initial effort to control Dutch Elm disease and to provide tree planting, city beautification and maintenance of city right of ways and parks.
"The critical reason the committee was formed was for Dutch Elm disease control because we were starting to see it here in Dickinson," Armstrong said. "The city successfully built a program and had Dutch Elm maintained for many years with an average of 3 to 6 trees getting it per year. With the loss of the committee and support waning it is no longer being controlled as it once was. It has become endemic. I counted eight trees with it between my house and the grocery store. It is costing public entities and private home owners lots."
At its height, Armstrong said the city forestry department had two full-time employees, between four and six part-time and summer seasonal employees to address the many needs of the city and parks. Over the ensuing years the department has dwindled in size, but not in scope of responsibility.
Today the City of Dickinson's forestry department has a staff of two — City Forester Blake Johnson, who was hired in March, and one part-time employee. In the summer months the department is permitted to hire one additional person to assist as a seasonal hand.
Kovash said she was unaware of the department's size and was dismayed, noting that she is never one to call out what she perceives as deficiencies without providing a solution. She said she would like to see the city create and promote a new city beautification board composed of community members, business owners, elected officials and the City Forester to formulate a mission statement and embark on a defined goal of making the city more attractive through grants and fundraisers. Kovash said she would entertain being a member of said board should the city create one.
The City of Dickinson has historically supported community improvement projects, with Kovash noting that she is proud of the continued support of entities and projects. In August alone the city awarded $3.5 million dollars, with a payment for the new Sanford Sports Complex of $1.5 million, and a second payment of $2 million going to Southwest CTE.
Kovash said she knows that a project aimed at making the city more beautiful is possible, despite detractors who may argue the venture too costly or unwarranted.
"It's not about the cost, it's about what we prioritize spending our money on and I believe that making our city beautiful is a quality of life issue," she said. "It has to start with our city leaders and businesses. Teddy Roosevelt said it best when he said, 'Do something now. If not you, who? If not here, where? If not now, when?' and I believe that."
Dickinson Mayor Scott Decker spoke with The Press, noting that he has been an advocate for quality of life projects since first being elected but worried that such committees often find difficulty in maintaining participation and interest to be effective.
"I encourage Mrs. Kovash to come before the commission and ask that we consider starting a board like that. The problem historically has been getting people to serve and stay committed to it," Decker said. "We can appoint a commissioner to sit on there, but to have people stay on those boards, have a defined mission statement and not a personal interest is difficult. If there is a group of concerned citizens and they come before the city commission and want to form some kind of city beautification board we can consider it and look at it."
Decker noted that Kovash's message has been heard by city officials and steps have already begun to remedy some of the problems raised in her public letter.
"We've given instructions to certain departments to look at key avenues and streets that are entrances or what we call gateways, because we want to put on a good face for people entering our city. That is going to be our priority," Decker said. "The city is looking at putting up new digital signs and new greenery at these gateways. Also through our buildings and codes department we're looking to step up our enforcement. In our budget next year we are going to have a second building and code enforcement agent so that we can stay on top of individual residents that are violating city code."
Decker commended the city for their efforts in addressing a unique weather summer that caused rampant vegetation growth, and said he and other commissioners are always open to suggestions from the public on improving the city's beauty.
"Anytime there is input from citizens we appreciate it and we try to respond appropriately with the limited manpower we have. We run pretty streamlined with the city and don't have any excess personnel sitting around," Decker said. "They're working hard everyday. This year was a little unique, we had a lot of unique rain events that spurred some excessive growth in our cemeteries and other areas and we tried to keep those clean. Citizen input is something that we want to respond to, that is why we're hiring a second code enforcement officer so that we can hit all these residents and businesses in town to make sure that they are in compliance with our city ordinances."
To read the full letter penned by Kovash, log on to your digital e-paper archives for the Wednesday, July 27, 2022, edition.
Homeowners in Dickinson claim that failures to properly engineer drainage in new developments has led to chronic flooding and that city officials are ignoring the issue.