North Dakota passes rollback of 1975 Equal Rights Amendment ratification
Two years after a similar measure failed to build enough traction in the Capitol, North Dakota lawmakers passed a resolution clarifying that the state's ratification of the ERA lapsed decades ago due to the expiration of a Congressionally-imposed deadline.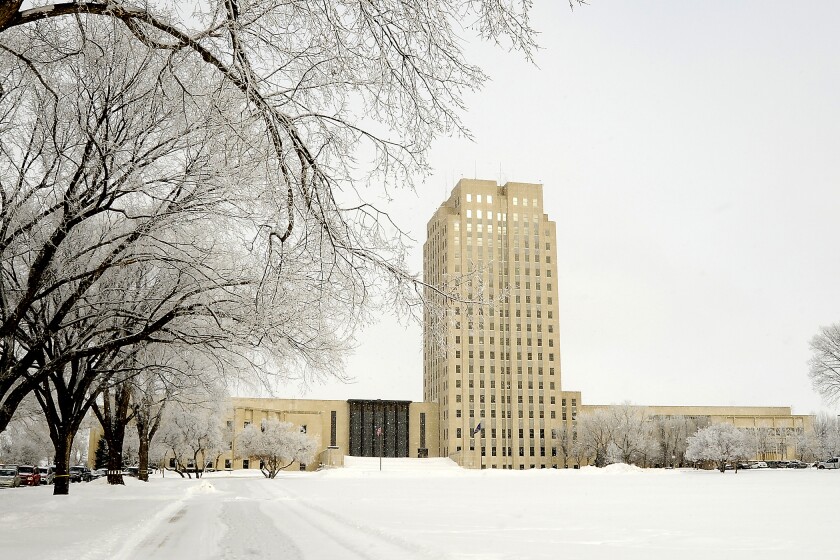 BISMARCK — The North Dakota House approved a symbolic resolution backing away from the state's 1975 ratification of the Equal Rights Amendment Friday, March 19.
Both legislative chambers have now passed the resolution just two years after a similar measure failed to get sufficient traction in the state Capitol.
Senate Concurrent Resolution 4010 aimed to clarify North Dakota's ratification of the ERA, a proposed amendment to the U.S. Constitution that would guarantee equal treatment on the basis of sex and gender in the nation's founding document. Though North Dakota became the 34th state to ratify in 1975, the amendment never made it into the Constitution because it failed to garner the threshold number of states' ratifications ahead of a Congressionally imposed deadline in 1979.
Post-mortem action on the amendment around the country has grafted debates over charged social issues onto more mundane procedural disagreements.
"Voting yes on this resolution does not mean that you are voting against equal rights of men and women or don't believe in women's rights," said Rep. Karen Rohr, R-Mandan, in a floor speech on the resolution. Rohr argued that North Dakota no longer has a "live ratification" of the ERA, since it officially lapsed decades ago
In committee hearings this week, proponents of the resolution argued that the meaning of the ERA has been warped over the years to buttress pro-abortion laws and upend gender norms. But opponents of the resolution argued that fears over the ERA's ramifications for hot-button social causes are baseless, and said that upholding North Dakota's ratification is an important gesture for promoting gender equality.
"Without the ERA's full passage, love is love. Men and women are able to marry each other. Safe medically performed abortion services are still legal and non-gender bathrooms are becoming the norm," said Rep. Gretchen Dobervich, D-Fargo. "This resolution nor the ERA itself has been able to impact the fears opponents have used to defeat it."
Belated measures addressing the ERA are not new in the North Dakota Capitol. The Legislature voted to reaffirm its ratification of the amendment in 2007, while a resolution to rollback ratification died in the Senate in 2019. That effort succeeded this time around even after prompting opposition from some members of both parties in the Senate last month.
The House passed the resolution by a voice vote on Friday.
Readers can reach reporter Adam Willis, a Report for America corps member, at awillis@forumcomm.com.