North Dakota voters' rights measure appears to have enough signatures for November ballot
The petition has sparked controversy as some opponents say petitioners obscured the aims of the proposed amendment.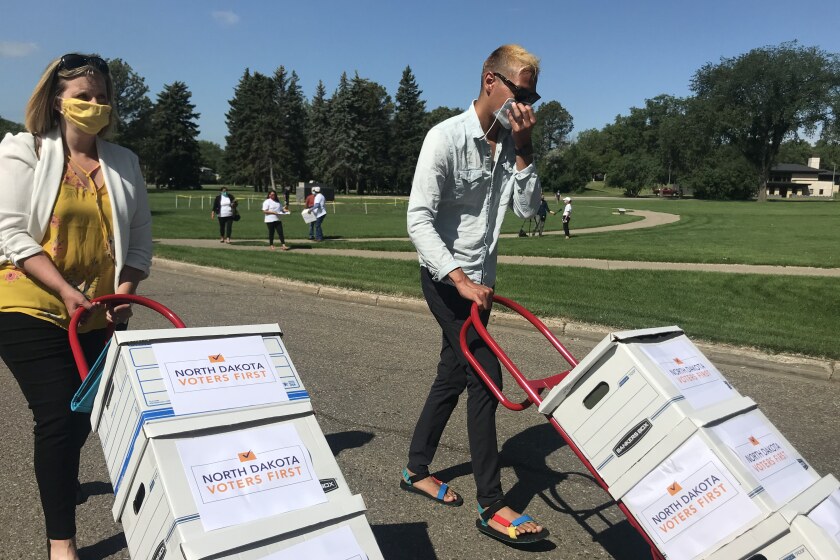 BISMARCK — North Dakota Voters First, a Fargo-based voting rights coalition, delivered nearly 37,000 petition signatures to the Secretary of State's Office on Monday, July 6 — a total that's expected to qualify the group's wide-ranging measure for November's general election ballot.
NDVF members carried boxes of petitions into the state Capitol ahead of Monday's midnight deadline, bearing a haul of signatures that well-exceeds the 26,904 needed for ballot qualification. If approved, the measure would give North Dakotans a window to overhaul state election laws this November, but opponents have raised questions about NDVF's signature-gathering tactics.
The group's proposed amendment to the North Dakota Constitution would bring sweeping changes to the state's election laws, including taking legislative redistricting out of the control of elected officials and putting it into the hands of the citizen-led North Dakota Ethics Commission, a reallocation of power that NDVF organizers say would put an end to partisan gerrymandering.
The measure would also institute an open primary system in which all candidates, regardless of party, would appear on a single ballot, with the top four candidates advancing to the general election. From there, a winner would be decided by ranked-choice voting. If implemented, North Dakota would become only the second state in the country, after Maine, to employ a statewide ranked-choice system.
"There is a powerful appetite here in North Dakota for putting power back into the hands of the citizens," Nicole Donaghy, an NDVF board member and voting rights activist, said in a speech before a small crowd of activists outside the Capitol. "Our measure takes power away from lobbyists, special interests and the establishment. Our measure will provide voters with better choices and candidates, and it will secure transparent election results."
NDVF's petition has sparked criticism from opponents who say the group has misled petition signers by advertising the amendment only by one of its less substantial provisions while obscuring its more significant proposals. Opponents say the group has presented its petition as an amendment that would purely expand voting access for overseas military members.
Secretary of State Al Jaeger, who has said previously that his office received complaints about NDVF's petitioning process "almost on a daily basis," shared a handful of emailed complaints with the media. Jaeger said his office also received more than 20 phone calls notifying them of problems in NDVF's methods. "My election specialist notified me this morning, that her daughter and friend were approached over the weekend about signing the petition," Jaeger added on Monday morning. "They were only told about the military part. Plus, two of her husband's co-workers were approached and told the same thing. Nothing more."
Amy Jacobson, a consultant with NDVF, pushed back on claims that the group has taken an unethical approach to its campaign. "I just want to be very clear that the North Dakota state law requires that every person collecting signatures carries on their clipboard the full language of the proposal. So all of our folks had that on their clipboard and available for folks when they were signing," she said, adding that the Secretary of State's Office never contacted the group to notify them of complaints.
Jaeger said that North Dakota already exceeds federal guidelines on requirements for overseas military voting, but said he could not comment on the other components of the petition while it is under review by his office.
The COVID-19 pandemic has made grassroots policy campaigns more challenging, an obstacle that NDVF tried to avert earlier this year in a suit against the state to receive permission to collect digital signatures. A federal judge ruled against NDVF last month, but the organization was nonetheless able to complete the signature drive.
The Secretary of State's Office has 35 days to review the petitions submitted by NDVF and will announce whether the amendment qualified for the general election ballot by Aug. 10.
Readers can reach reporter Adam Willis, a Report for America corps member, at awillis@forumcomm.com.