Trinity thanks community for support last 3 years
Trinity opened its new 75,000-foot, $26.5 million addition to the public for the first time Thursday morning. Sean Volesky, a junior at Trinity, spoke on behalf of the student body about the impact the fire had on their school nearly three years ...
We are part of The Trust Project.
Trinity opened its new 75,000-foot, $26.5 million addition to the public for the first time Thursday morning.
Sean Volesky, a junior at Trinity, spoke on behalf of the student body about the impact the fire had on their school nearly three years ago - time spent in other schools' buildings, crowded hallways upon return and construction safety rules to follow.
"Even after these difficulties, the students and teachers still prevailed and came through it, so when I talk about what it means to be a Titan, I think I can say confidently that being a Titan means having the strength to deal with and make adjustments through the difficulties presented to us in life," Volesky said.
Initially, he thought the fire was something minor, such as a small kitchen fire.
"I thought we would be out for a day or so," he said. "We didn't hear about it until the day afterwards that it was a major fire - we would be out of school that entire week."
Megan Krebs, now also a junior, said her mother woke her up that morning 34 months ago and told her school was canceled because of a fire. She also thought the fire was insignificant and that they would return to Trinity the following morning.
Both students soon learned that they would not be returning to their school for the rest of the school year-that half of it had been destroyed. Instead the grade levels were divided up and moved to other schools' campuses in the area, including Dickinson Public Schools, where the Trinity students continued their studies with their faculty.
Trinity only missed four days of school because of the support from neighboring campuses, said Steve Glasser, president of Dickinson Catholic Schools.
"You see in this group people who helped us get back on our feet before we could recover, like Dr. Sullivan from the Dickinson Public Schools," said Rev. Patrick Schumacher, vice president of DCS' board of directors. "He was in my office the day after the fire with Mr. Reep asking what they could do to help us out. That's the first thing they asked, the words they said was, 'What can we do to help?'"
Trinity alumni were also saddened to hear the news of the fire. City Commissioner Jason Fridrich graduated from Trinity High School, where two of his children now attend.
"It was very heartbreaking. When you graduate from somewhere where you've met most of your lifetime friends and families-it was very heartbreaking," Fridrich said. "... To see what they've done in a short three years in unbelievable."
The project was completed allowing students, faculty and staff to move into the new wing earlier this month.
"I couldn't be more proud of the final product," Volesky said. "This is a beautiful school. Every kid in this class is very happy to be here. ... Our teachers are very happy with the classrooms. We're very happy with our lockers, our room, our hallways, our space. I love it."
The school has raised a little more than $17.5 million over the last two years through its capital campaign. Trinity's goal is to reach $21 million by July 1.
Glasser introduced Paul and Laurie Steffes, the campaign's co-chairs. Both Paul and Laurie graduated from Trinity in 1969 and 1976 respectively. The Steffes family and companies committed $5 million, the lead donors to the campaign.
"This is the most gratifying project for Paul and I," Laurie said. "Trinity is a passion for us, so it's been an absolute pleasure to do this."
Krebs, a member of the school's choir, noted that Trinity especially revamped its fine arts facilities with new practice rooms, music rooms and a space for set construction.
"It's just nice to have everyone come back from past years and see what's been done and how we've upgraded our school and made it better," she said. "Our chapel is going to be nice. We can fit everyone in the school in it now, so we don't have to go across the street for church anymore, and it's going to be a nice place for us to go worship."
Trinity has been walking to Queen of Peace Catholic Church for mass since the fire, said Father Thomas Grafsgaard, the school's chaplain. The new chapel can now fit the entire school body.
"The chapel is really the focal point of our new school, and our Catholic faith teaches us that the Eucharist is actually God himself, and so we wanted the chapel to be a place of beauty and a place where our students, faculty and staff would want to go to worship," Grafsgaard said.
The chapel's dedication ceremony will be held on Jan. 30 at 11 a.m.
Sophomore Kayla Paluck said the school went from one chaotic hallway to three floors of space, something she appreciates.
"Everybody's thankful to have it," Paluck said. "It's such a relief being in here now and having Trinity back together."
1
/
2:
Rev. David Kagan, the bishop of Bismarck, blessed the new school Thursday morning as part of Trinity's grand opening to the public. (Within the circle from left to right: Father Kregg Hochhalter, Kagan and Rev. Thomas Grafsgaard) Photo courtesy of Sharon Johnson, KFYR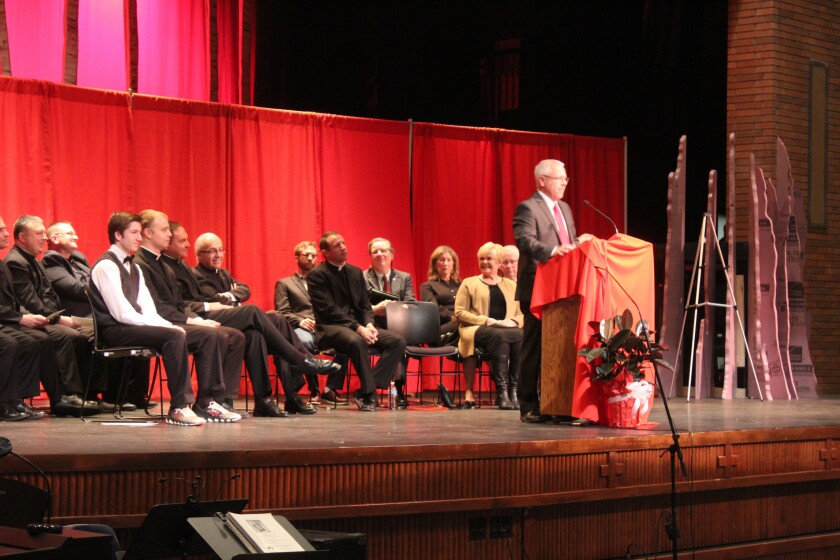 2
/
2:
Dickinson Catholic Schools President Steve Glasser thanked all who have had a role in helping Trinity over the last three years. Photo by Ellie Potter/The Dickinson Press.