Port: Group sues to keep Measure 3, making sweeping changes to state election law, off ND's ballot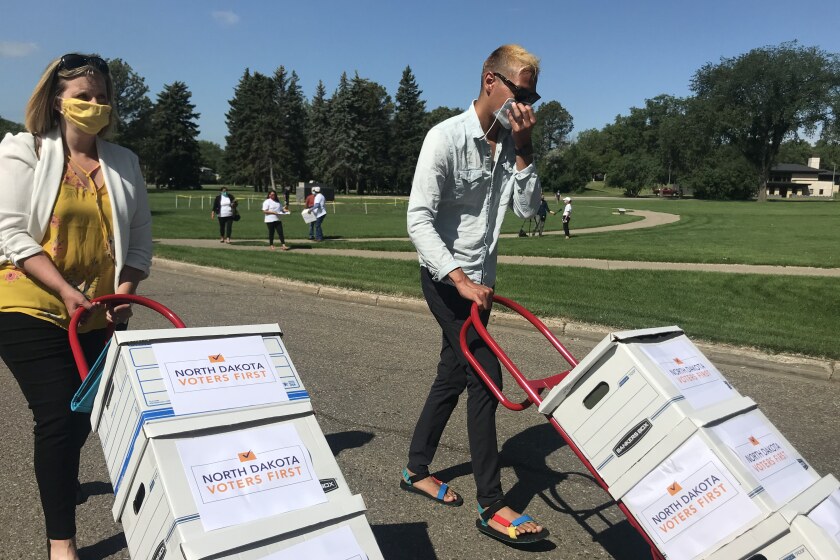 We are part of The Trust Project.
MINOT, N.D. — An organization calling itself North Dakota Voters First, which is a front for left-wing groups based in other states , has successfully placed a constitutional amendment making sweeping changes to North Dakota's election laws on the November ballot .
Secretary of State Al Jaeger's office announced the news earlier this week. If passed, the measure would make numerous changes, including the end of partisan primary and the institution of ranked-choice voting for statewide elections.
But now a North Dakota-based group called Brighter Future Alliance is challenging the measure's eligibility for the ballot.
"The Brighter Future Alliance, a North Dakota-issue-based 501(c)(4) formed to protect the rights and interests of North Dakota citizens, today announced it has joined Major General (ret) Michael Haugen, Jacob Stutzman and Trent Barkus, all former or current members of our armed forces, in a petition requesting that the North Dakota Supreme Court order that Measure 3 be kept off the North Dakota ballot for failure to provide North Dakotans with the full text of the measure when it was circulated for signatures," their news release states.
The write of injunction they've filed with the state Supreme Court references a previous case decided by that court called Dyer vs. Hall .
North Dakota's constitution requires that circulated petitions for constitutional and statutory amendments "shall contain the full text of the measure and shall be filed with the secretary of state not less than ninety days before the election at which it is to be voted upon."
Brighter Future Alliance says that didn't happen.
"There is no question of fact here at all," Lacee Anderson, a spokesperson for the Brighter Future Alliance, is quoted as saying in their release. "Not one signature gatherer provided a copy of the statute referenced in the measure. Average North Dakotans do not walk around with a copy of the North Dakota Century Code in their hands. When people, walking into local grocery stores and other businesses, were approached to sign this petition, they were told it would help our heroes vote, but they were not given the full text of the measure. In no case was a copy of the referenced Code provisions provided to the voter as required by law."
That sort of problem kept an amendment off the ballot in the Dyer case. That was in the 1920s.
More recently, in 2010 , the state Supreme Court kept an initiated measure related to pharmacy laws off the ballot because it was circulated without all of the appropriate paperwork attached to the petitions (in that instance, a page identifying the sponsoring committee was missing).
There have already been numerous complaints about the deceptive way North Dakota Voters First circulated this petition. The paid circulators working for Voters First, in multiple situations reported to me and elsewhere, made it seem as though the amendment was only about facilitating military voting when, in truth, the scope of the changes were much more extensive.
Which is why the military service of the petitioners is important.
"I am appalled that radical out-of-state special interest groups would use our deployed men and women to hide everything else going on in this measure and hide their true intentions. I am doing everything I can to oppose this measure, and that is why I have joined this lawsuit, asking the Supreme Court to fix this fraud," Haugen, former Adjutant General of the North Dakota National Guard, is quoted as saying in the release.
Will this writ be successful?
Gambling on what the courts are going to do in any given situation is an excellent way to go broke, but this seems like a lose-lose situation for Voters First.
If they lose, their measure is off the ballot.
Even if they win, more attention has been called to the fundamentally dishonest way they went about collecting signatures for this measure.
Measure 3 represents terrible public policy, which ought not to be in our state constitution. Still, even if you agree with the proposal, how it was circulated was a disgrace.
And possibly even illegal.
Here's the writ Brighter Future filed today:
To comment on this article, visit www.sayanythingblog.com
Rob Port, founder of SayAnythingBlog.com, is a Forum Communications commentator. Reach him on Twitter at @robport or via email at rport@forumcomm.com .
The brief statement for the ballot measure proposing to legalize pot in North Dakota fails to even try to calculate the financial impact.