BACK-TO-BACK!: Dickinson Trinity blows by Bowman County, earns second consecutive Region 7 crown
The hardest test in sports, whether at the high school, collegiate, or professional level, is to defend what is yours. Fresh off a 2017 Region 7 title, the Dickinson Trinity volleyball team entered its 2018 campaign knowing that every time the Ti...
The hardest test in sports, whether at the high school, collegiate, or professional level, is to defend what is yours.
Fresh off a 2017 Region 7 title, the Dickinson Trinity volleyball team entered its 2018 campaign knowing that every time the Titans step on the floor, they'll receive their opponent's strongest haymaker.
Or in this case, their opponent's strongest spike.
Led by senior middle blocker Ellie Stafford, No. 3 Bowman County provided just that on Thursday, Nov. 8, showing its fight after facing deficits during latter sets of the Region 7 Tournament Championship. But as has been scenario all year long, No. 1 seed Dickinson Trinity was just too strong, too hungry, and too determined to settle for anything less than victory.
The Titans defended what is theirs. The Titans, again, are the Region 7 Champions.
Dickinson Trinity swept Bowman County, earning set scores of 25-9, 25-19, 25-17 at the Knights of Columbus Activities Center, the region title for the second consecutive season.
Considering what the expectations were from the very first practice, and all of the pressure that came with those expectations, the Titans' crowning moment may have come with a sense of relief. However, when the final point was scored, head coach Breanna Sisson had a different feeling.
"It was a sense of joy," Sisson said. "When you solidify the fact that you are going to go to state, the girls just can't stop smiling. It's definitely a sense of joy when that ball hits the ground on final point. Rushing the court, having your team celebrating around you, it's definitely a feel-good win."
Senior outside hitter Bre Tessier was the player that delivered that final point, crushing an attack toward the middle of the Bulldogs defense. Tessier, who earned a nod on the All-Region team, was tied for the team lead in kills with nine, alongside senior outside Farrah Zeller.
"I just wanted to put it away because we need one more point," Tessier said. "I wanted to make it good kill. ... We all wanted to put it away to get that great feeling at the end. ... It's like the best feeling ever, it's what we've been working toward all season."
Bowman County scored the first point of the first set on a kill from junior outside hitter Kira Irons. It was all Dickinson Trinity from there as they blitzed the Bulldogs with an 8-0 run.
"We definitely were prepared," said senior Alexa Walby, who was later selected as the Region 7 Senior Athlete of the Year. "We watched a lot of film on Bowman. We knew that they were going to be a good team, they're probably the most improved team out of our region, so we knew we had to respect them. We knew we had to come out with some energy and make a statement when we were playing."
The Titans stretched their advantage to as much as 20-3. Bulldogs head coach Jennifer Holecek called two timeouts during that span, as her team only scored on a net violation and a Dickinson Trinity hitting error following Irons' attack.
"I hate to say it, we've kind of had a tendency for quite the bit of the season to start slow and this is not a squad to do that against," said Holecek, who was picked as the Region 7 Coach of the Year. "We talked it over, put it behind us and said we're going to play competitive volleyball. We're going to get after it, fix little things, and whatever I ask them to do, I feel like they go do."
In the second frame, Bowman County trailed 20-12 before Stafford connected with three kills, helping the lower-seeded squad pull close to within 21-17, forcing Sisson into a timeout.
Stafford finished with a match-high 10 kills.
"Our game plan going into this match was to maintain Ellie Stafford and take advantage when she was in the back row," Sisson said. "We knew that she's their heavy hitter and that they would go to her a lot. We knew that we weren't going to shut her down, she's a phenomenal player."
With the third frame tied at 8-8, Dickinson Trinity ripped off an 8-0 run, highlighted by a Walby kill and block. After a pair of blocks from junior outside hitter Ashlynn Dix, Bowman County made one final push, closing the gap to 18-15 with a 5-0 surge. The Titans responded with a 6-0 run, putting the match away.
For the first time since a five-year stretch from 2004-08, Dickinson Trinity has qualified for the Class B State Tournament in consecutive seasons.
Meanwhile, Bowman County's record fell to 22-11, but the team and its coach was all smiles afterward.
"We broke a lot of school records this year. This is the farthest the volleyball team has ever gone in Bowman County," Holecek said. "We set out with playing on the third night of regionals as our goal, and we smashed that goal. ... The kids were willing to work and do what is asked. They come everyday and show up with so much heart, it makes the job easy."
Region 7 Championship
Dickinson Trinity 3, Bowman County 0
BC 9 19 17 - 0
DT 25 25 25 - 3
Kills: DT, Bre Tessier 9, Farrah Zeller 9, Masy Kuntz 8, Abbey Kubas 7, Amaya Willer 3, Alexa Walby 2. BC, Ellie Stafford 10, Jill Svihovec 4, Abby Smyle 3, Kira Irons 2, Ashlynn Dix 1.
Blocks: DT, Willer 2, Walby 2, Kubas 1. BC, Dix 2, Svihovec 1, Elise Fischer 1, Stafford 1, Smyle 1.
Aces: DT, Walby 4, Zeller 4, Tessier 1, Ali Daniel 1, Asia Willer 1. BC, Stafford 2, Svihovec 2, Dix 2, Amy Jeffers 1, Fischer 1.
Digs: DT, Tessier 10, Walby 7, As. Willer 7, Zeller 6, Daniel 5, Kuntz 1, Am. Willer 1, Kubas 1. BC, Maury Burke 9, Svihovec 5, Stafford 4, Irons 4, Dix 2, Smyle 2, Fischer 2, Shelby Schmalz 1.
Assists: DT, Walby 28, Kubas 3, Kuntz 1, Tessier 1, Daniel 1. BC, Svihovec 15, Smyle 1.
Records: DT, 37-5. BC, 22-11.
1
/
6:
Bowman County senior middle blocker Ellie Stafford receives hi-fives from her teammates during starting introductions prior to the Region 7 Tournament Championship against Dickinson Trinity on Thursday, Nov. 8, from the Knights of Columbus Activities Center. (Patrick Bernadeau/The Dickinson Press)
2
/
6:
Dickinson Trinity sophomore middle hitter Amaya Willer loads up her swing against Bowman County during the Region 7 Tournament Championship on Thursday, Nov. 8, from the Knights of Columbus Activities Center. (Patrick Bernadeau/The Dickinson Press)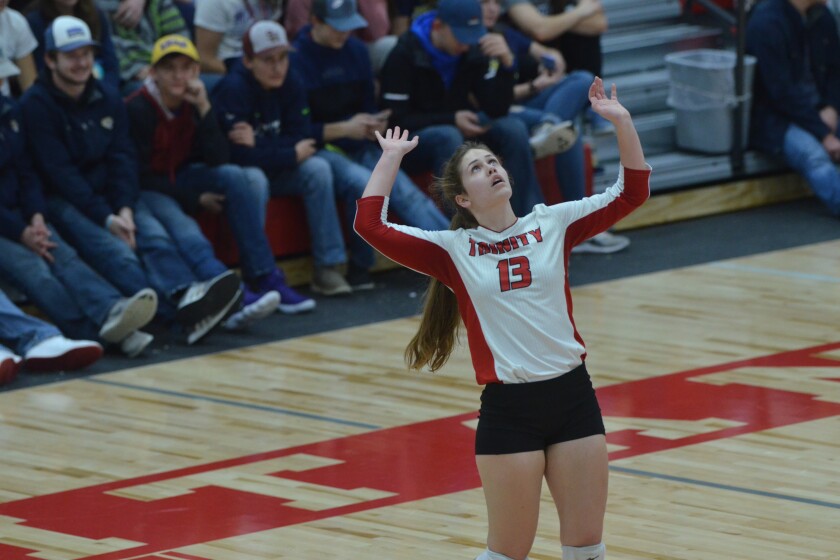 3
/
6:
Dickinson Trinity senior setter Alexa Walby eyes her serve during the Region 7 Tournament Championship against Bowman County on Thursday, Nov. 8, from the Knights of Columbus Activities Center. (Patrick Bernadeau/The Dickinson Press)
4
/
6:
Bowman County senior middle blocker Ellie Stafford gets her hands on a shot from Dickinson Trinity senior outside hitter Masy Kuntz during the Region 7 Tournament Championship on Thursday, Nov. 8, from the Knights of Columbus Activities Center. (Patrick Bernadeau/The Dickinson Press)
5
/
6:
Bowman County junior outside setter Abby Smyle delivers a pass toward the middle of the court during the Region 7 Tournament Championship against Dickinson Trinity on Thursday, Nov. 8, from the Knights of Columbus Activities Center. (Patrick Bernadeau/The Dickinson Press)
6
/
6:
Dickinson Trinity raises the Region 7 championship plaque after defeating Bowman County 3-0 in the Region 7 Tournament Title Match on Thursday, Nov. 8, from the Knights of Columbus Activities Center. (Patrick Bernadeau/The Dickinson Press)