California-born Blue Hawks find glory, second chances at DSU
A few weeks ago, Dickinson got its first dusting of snow and when Kevin Brown stepped out of the tunnel and onto the field for practice at the Biesiot Activities Center, he had to stop.
A few weeks ago, Dickinson got its first dusting of snow and when Kevin Brown stepped out of the tunnel and onto the field for practice at the Biesiot Activities Center, he had to stop.
The junior linebacker on the Dickinson State football team hails from Northern California and while he had seen snow on the ground before, he had never experienced the magic of it falling from the sky.
"That was crazy," Brown said with a smile. "I'm not going to lie, I walked out right here and I had to stick my tongue out."
Despite not playing college football since 2015 at Santa Rosa Junior College (Calif.), Brown impressed head coach Pete Stanton, who describes the 6-foot-4, 230-pound linebacker as a sideline-to-sideline kind of player. If the ball carrier is on the opposite side of the field as him, he'll still do everything in his power to get there, and with great speed.
Upon arriving in Dickinson, Brown befriended another California native, senior inside linebacker Daniel Moreno. Although, Moreno came from Alhambra, on the other end of the state.
"Instant connection. We were always on the same wavelength," Brown said of meeting Moreno. "All through fall camp it was funny because we were never on the field at the same time and we'd talk to each other like, 'When are we going to get out there together bro, we're never out there together.' Once (Stanton) finally put out the first official roster, we were both starting next to each other and we definitely had good chemistry on the field."
Each week, the pair paces the Blue Hawks defense. Moreno led with 10 tackles in the season-opening 51-0 shutout over Jamestown and a 15-tackle performance the following week on the road against Rocky Mountain College (Mont.). Meanwhile, Brown earned an interception in back-to-back games.
Turnovers can make or break a game as the Blue Hawks have seen and the two know that at linebacker, they play a major role in creating turnovers. In addition to his pair of interceptions, Brown also has three fumble recoveries, while Moreno has a forced fumble.
"(We're) just trying to attack the ball," Brown said. "You can't win a game without the football, so one of our main priorities on defense is get the ball back to the offense ..."
"And let them do the rest," Moreno finished.
With seven tackles this past weekend against Valley City State, Brown brought his total to 54 on the season; that's with missing a game two weeks back due to injury.
Moreno has 68 tackles over eight games, as well as nine tackles for a loss and three sacks.
While the quickest to the ball most of the time, the 6-foot-2, 225-pound player admitted he still misreads plays.
"It happens all the time," Moreno said. "Our eyes are supposed to be on the linemen and my first instinct is look at the running back, because that's who I want to get and sometimes he takes me to the wrong spot and leads me somewhere else."
After the first game of the season, Brown asked how many tackles he earned (five), as the two declared a friendly competition to see who could earn the most.
"We come from California, a very competitive state," Moreno explained. "We're always seeing competition left and right. Competition makes it funner."
However, Moreno could be declared the top-tackler even with two games remaining in the regular season. During Saturday's contest against Valley City State, Brown hurt his left foot. While he may have torn a ligament, it could be simply a sprain, but he won't know until later in the week.
"I root for him, though," Brown said. "When I'm not playing, I want Danny to make all the tackles. It's not like I'm competing to the point where I'm bitter."
Moreno and Brown are two of 13 players that left sunny California for the blustery prairie and numbing cold of North Dakota.
For Moreno, it was a chance to 'try something new' while playing for a team that's nationally-ranked year-in and year-out.
For Brown, it was a little more than that.
The Windsor, Calif., native graduated high school in 2011 and attended junior college until 2015. Dickinson State was his final opportunity to play football.
"It was a second chance to play again. I never thought I was going to play again," Brown said. "I took the last three seasons off so it was just a great opportunity that I'm really happy I took."
1
/
2:
Dickinson State inside linebacker Daniel Moreno tackles Jamestown running back Jimmy Hatch during a non-conference game on Saturday, Sept. 1, at the Biesiot Activities Center. (Shelby Reardon / The Dickinson Press)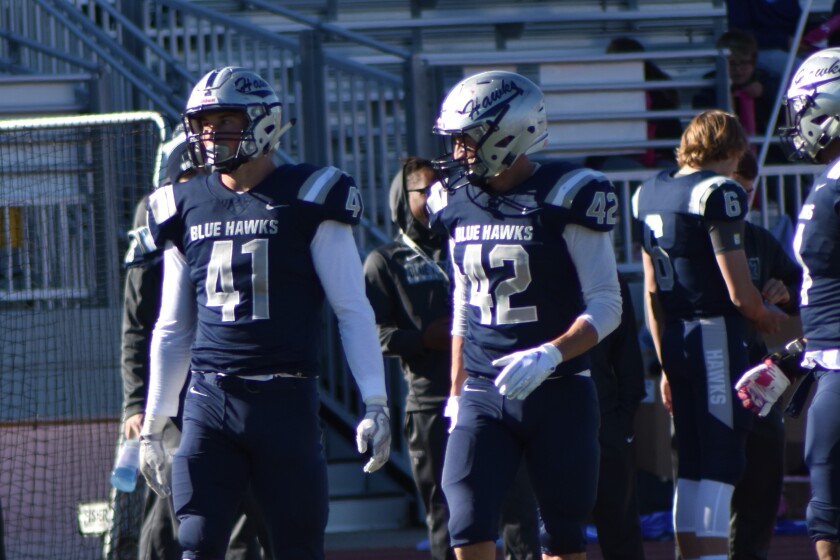 2
/
2:
Dickinson State junior Kevin Brown (41) walks alongside senior linebacker Jalen Hendrickson (42) during a contest against Valley City State on Saturday, Oct. 20, at the BAC. (Shelby Reardon / The Dickinson Press)