DSU falls short in home defeat against No. 6 Carroll College
We are part of The Trust Project.
DICKINSON — Dickinson State University has battled tough competition to start the season, including their Sunday competition against Carroll College — ranked 16th in the NAIA. The game was held inside DSU's Scott Gymnasium and was played out to a 70-59 Blue Hawk loss.
Not able to produce a strong start to the game, the Blue Hawks (1-3) gave themselves a mountain to climb and the Saints (2-0) would lead 37-24 at the halftime buzzer. Able to inch themselves into a five-point game, Dickinson State applied a press on their opponents, but being in the bonus allowed Carroll College to hold their lead from the free-throw line.
1
/
5:
Blue Hawks lose at home against Carroll College on Sunday, Nov. 6.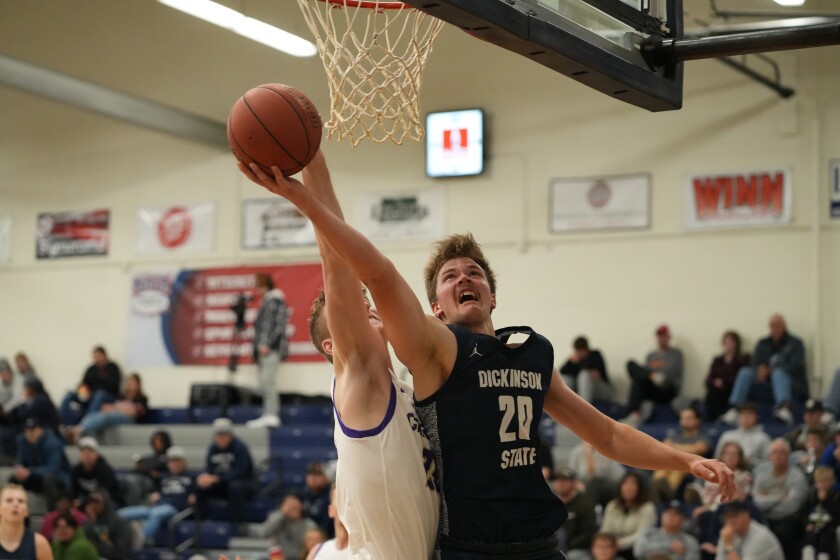 2
/
5:
Gus Wright (20) at the basket.
3
/
5:
Jake Daniel toeing the line.
4
/
5:
Christian Murphy (23) layup.
5
/
5:
Blue Hawks cheer on their team after a foul for a three-point play.
"We didn't play very smart and made lots of mental mistakes offensively and defensively," Derek Selvig, DSU head coach, said. "Just spotted them too many points in the first half and we couldn't overcome it. Second half, there were some positives, but we got to figure out those things that went wrong in the first half."
Turnovers in the first half (11) put the Blue Hawks in an early eight-point deficit. The Saints had five steals in the half, garnering them six points. Dickinson State was able to make up those points from the three-point line, but couldn't surpass the prominent Carroll College offense. The Saints went 15-for-33 in field goals and averaged 87.5 percent from the free-throw line.
DSU only secured 25 points, eight coming from the charity stripe, in the 20 minutes.
In the second half, Dickinson would rely on three-point plays to get back into the game. Once they narrowed the gap to 10 points, they pressed the Saints to force turnovers, but wouldn't get the desired result. DSU suffered their 10th foul at the 63-55 point mark, providing Carroll College seven of their eight free throws, to extend their lead by 11 points.
The Saints ended the game going 19-23 at the line, 11 steals and allowing only 14 turnovers. The Blue Hawks had 23 turnovers, knocking back 21-for–52 field goals and 14-19 free throws.
Next game will be Nov. 11, against University of Montana-Western, in the Montana Western Classic. In the Classic they will face another ranked team in Montana Tech (23).
"We are playing a lot of freshmen and sophomores and we just played two national teams back-to-back," Selvig said. "We have been in games at times and we have looked pretty good. It is just growing pains with a young team. We got to get back and figure it out and try to help these (athletes) to mature and grow up a little bit faster on the basketball floor than they normally had time to."