Contributions coming a long way: Dickinson's role players, bench vital in win over Williston
With 12 minutes and 31 seconds remaining in regulation against conference opponent Williston, Dickinson High senior guard and leading scorer Gabby Jung was charged with her third personal foul on the defensive end.
With 12 minutes and 31 seconds remaining in regulation against conference opponent Williston, Dickinson High senior guard and leading scorer Gabby Jung was charged with her third personal foul on the defensive end.
She was sent to the bench, joining junior guard Peyton Selle, who was also out of the game with three fouls.
When play resumed, the Midgets clung onto a 33-29 lead, which was quickly cut to a two-point advantage after a steal in the backcourt and lay-in by Coyotes junior forward Brooklyn Douglas.
But as its dynamic duo only could watch, Dickinson pulled away with a surge sparked by its reserves and role players. The Midgets went on a 15-2 run midway through the second half and cruised to a 60-46 triumph on Tuesday, Dec. 18, from the Dickinson High Gym.
"That's one thing that we always tell our girls, that no matter how many minutes you get, every single minute matters," Midgets head coach James Hayden said.
Serving as the team's spark plug off the pine, guard Taya Hopfauf nailed back-to-back jumpers, pushing Dickinson's advantage back to six. The freshman isn't shy when she's on the floor, and while her energy and inexperience tends to lead to excess fouls, turnovers and a quick trigger on the offensive end, on the same token, it produces results, as she finished with eight points and nine rebounds.
"She's come a long way from the beginning of the season. She works her tail off everyday," Hayden said. "For her to come in and chip in a couple points here and there and for her to rebound the way that she did, that's exactly what we need from her and those were very very valuable things that she did."
In abbreviated minutes, senior post Addie Kuehl made her brief time on the court count. Receiving the ball near mid-court, Kuehl dashed to the middle of the lane with a strong left-handed dribble and kicked it out to wide-open junior point guard Kendryn Bullinger, who loaded up and drilled a corner 3-pointer.
Known for her stellar on-ball defense, Bullinger seldom shoots the ball, but as one of the few starters on the floor during a critical time with Jung and Selle off the floor, she showed great leadership.
"Going through my mind, I just knew that we needed to step up, organize everyone, get into our plays, run the offense, get the open shot and score," Bullinger said. "My (confidence level) was up there pretty good. I felt it, the follow-through felt good, and it went in."
Jung and Selle returned to the floor with 8:04 left in the second half. After a free throw from junior post Audrey Rodakowski, Jung assisted on a Selle 3-pointer. Jung followed that with a pair of free throws and a lay-up off of a steal, ballooning the home team's advantage to 48-33.
Jung led all players with 18 points while Selle put up 16. Rodakowski contributed 13 points and 11 rebounds.
Playing its third game in five nights, Williston ran out of gas.
"We didn't play well. To me, we looked tired," Coyotes head coach Luanna Axelson said. "We had a very tough weekend with Bismarck High on Friday and (Bismarck) Century on Saturday, and to me, we still looked tired. We didn't have any legs, we could hit bunnies or free throws, we usually a very good free-throw shooting team. I'm not looking for excuses, but I thought we looked tired tonight."
Douglas led the road team with 17 points.
Much of Williston's energy came from erasing a large hole early as the Midgets raced out to a 12-2 lead. Dickinson from that point went cold from the field, turned the ball over and eventually relinquished the lead entering the halftime break.
Hayden noted that his team stopped being the aggressor, but was pleased how his kids responded.
"We came out really good for the first couple of minutes, but then our energy kind of disappeared," Hayden said. "(Williston) fought back and got the one-point lead at halftime, but the second half, I think we were much more aggressive. I think we changed our energy, we got transition baskets, we rebounded a little bit better. ... All in all, it was an ugly win, but a good win and we are 4-2 in the conference."
Dickinson 60, Williston 46
W 23 23 - 46
D 22 38 - 60
W: Brooklyn Douglas 17, Jalyn Helstad 13, Corbyn Davis 6, Makia Remus 5, Emily Jaeger 3, Bridget Carvey 2.
D: Gabby Jung 18, Peyton Selle 16., Audrey Rodakowski 13, Taya Hopfauf 8, Kendryn Bullinger 3, Taylor Nelson 2.
3-pointers: W 7 (Davis 2, Douglas 2), D 3 (Selle 1, Jung 1, Bullinger 1). Free throws: W 3-10, D 19-29. Total fouls: W 20, D 17. Fouled out: 1 (W, Jaeger). Technical fouls: 1 (W, Jaeger 1). Records: W 2-4 (West Region 1-4), D 4-2 (West Region 4-2).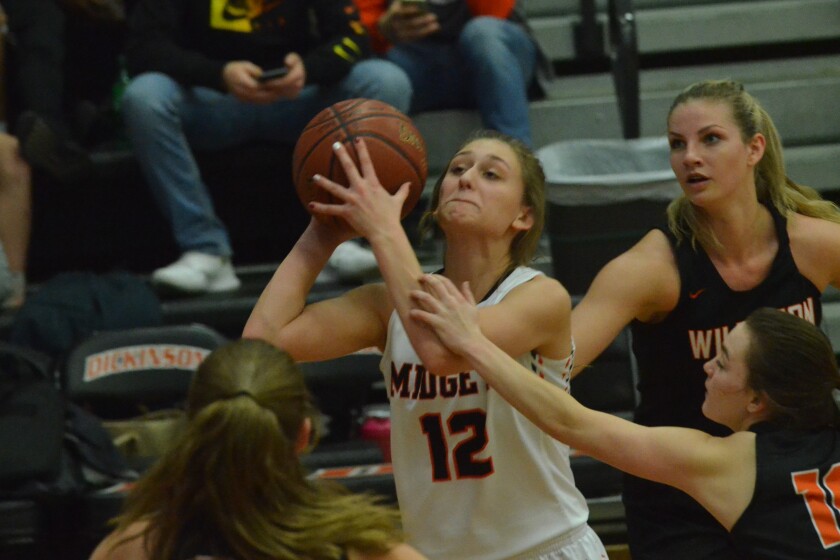 1
/
7:
Dickinson High junior guard Peyton Selle is fouled on her lay-up attempt against Williston on Tuesday, Dec. 18, from the Dickinson High Gym. (Patrick Bernadeau/The Dickinson Press)
2
/
7:
Dickinson High junior forward Audrey Rodakowski gathers for a shot under the basket against Williston on Tuesday, Dec. 18, from the Dickinson High Gym. (Patrick Bernadeau/The Dickinson Press)
3
/
7:
Williston junior guard Emily Jaeger looks to drive into the lane against Dickinson on Tuesday, Dec. 18, from the Dickinson High Gym. (Patrick Bernadeau/The Dickinson Press)
4
/
7:
Dickinson High junior guard Gabby Jung floats into the lane for a shot against Williston on Tuesday, Dec. 18, from the Dickinson High Gym. (Patrick Bernadeau/The Dickinson Press)
5
/
7:
Dickinson High junior point guard Kendryn Bullinger brings the ball up the court against Williston on Tuesday, Dec. 18, from the Dickinson High Gym. (Patrick Bernadeau/The Dickinson Press)
6
/
7:
Dickinson High junior forward Audrey Rodakowski shoots a 3-pointer at the end of the first half against Williston on Tuesday, Dec. 18, from the Dickinson High Gym. (Patrick Bernadeau/The Dickinson Press)
7
/
7:
Dickinson High senior guard Gabby Jung coasts in for an easy two after a steal against Williston on Tuesday, Dec. 18, from the Dickinson High Gym. (Patrick Bernadeau/The Dickinson Press)