Daniel delivers in drive for five: Sophomore critical as Titans win fifth straight Roughrider title
Dickinson Trinity head coach Gregg Grinsteinner always has to remind himself that he has a young team. And it's true. Fielding a roster of only three seniors -- two of which are starters, the Titans will be reliant on their talented, but youthful...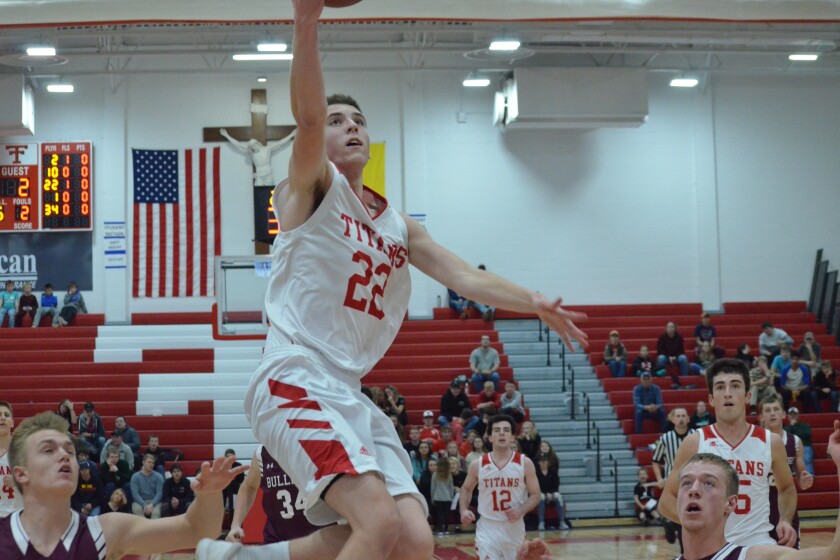 Dickinson Trinity head coach Gregg Grinsteinner always has to remind himself that he has a young team.
And it's true. Fielding a roster of only three seniors - two of which are starters, the Titans will be reliant on their talented, but youthful core this season.
During the Roughrider Tournament championship game against Bowman County, sophomore guard Cole Fitterer and junior guard Matthew Stafford had their moments from their places in the starting lineup, but it was a guard in his fourth varsity game that emerged in the critical stages.
Coming off the bench, sophomore Jake Daniel scored seven of his nine points in the second half, helping Dickinson Trinity to a 51-44 victory on Saturday, Dec. 15, from the Knights of Columbus Activities Center.
The Titans captured the Roughrider Tournament crown for the fifth consecutive season, defeating the Bulldogs in each of the last two years.
"It's awesome. We have a great tradition here at Trinity and it's awesome to be a part of it," Daniel said. "It's always been a dream ever since I was a little kid and finally being a part of it is pretty awesome."
Daniel drained a turnaround jumper in the lane, giving Dickinson Trinity (4-0) its biggest advantage of the game at 31-18 midway through the third quarter.
Behind by a nine-to-12-point margin through much of the second half, the Bulldogs continuously crept back to a single-digit deficit, but whenever they did so, the Titans slowed them in their tracks. In the fourth, junior forward Jacob Svihovec split a pair of free throws, tightening the gap to 38-29, but Daniel countered with his second field goal of the game.
Following a foul-line make from junior guard Matt Osendorf and an alley-oop from sophomore guard Caleb Duffield on an terrific inbounds play, Bowman County closed to within 40-32. However, Daniel was there again, eliminating the chances of a road-team run with bucket from three-point range which lifted the Titans bench to its feet.
"I try to keep my confidence. I got a great pass from Isaac (Fridrich), it was a good team play," Daniel said on his long-distance shot.
He added, "I just tried to stay focused on the game, keep my mind in the game, listen to my coaches and try to stay as calm as I can. I tend to get nervous, but I just look to my teammates and my coaches. They're always there for me, always got my back."
To their credit, the Bulldogs kept picking themselves off the floor after being knocked down. From the time the team entered the halftime break down 23-13 to the second the final buzzer sounded, Bowman County (2-1) clawed its way to within seven on four separate occasions. The visitors were unable to get over that hump, but they kept fighting, putting up 20 points in the final period.
"I think the first thing you do is give Coach Grinsteinner and his kids a lot of credit. Grinsteinner has been a great coach and a mentor of mine for a lot of years, his kids play hard," Bowman County head coach Nick Walker remarked. "Our kids did a better job of matching the intensity level of the game in the second half. We just couldn't quite get that one shot that we needed to maybe get (the deficit) under seven, and that'll come. Our kids are going to get better, Trinity is going to get better, it's early. But I'm proud of our kids for how they played, we played hard."
The iron was not very kind to Walker's team in the first half, as Bowman County shot just 6-for-24 from the field. While the Bulldogs had a number of shots in close that rolled of the rim, it was the Titans' defense that give them fits.
Playing an active and quick man-to-man defense, Dickinson Trinity allowed only two second-chance points and 0.52 points per possession in the first 16 minutes.
"That's the one thing that we hang our hat on. It starts on the defensive end," Grinsteinner said. "I think our defense definitely fuels our offense because our kids get excited about it ... It was a grind, that's a game that you can't practice a lot of the situations that happened tonight. We knew we were going to see in-your-face defense, skilled offensive players and a team that's coached well."
Grinsteinner singled out Fitterer's defensive performance. The sophomore led the team with two steals, seven rebounds and produced six of his 12 points in the second quarter.
Dropping seven points in the first frame, Stafford was the only other Titan in double figures after scoring a team-high 16.
Duffield led all players with 18 points, while Svihovec contributed 12. The duo were selected to the All-Tournament team, along with Stafford, senior forward Aric Knopik and junior Seth Herner from Dickinson Trinity.
Leading up to the championship game, Bowman County scored a tournament-high 83 points against Richardton-Taylor on Dec. 11 and followed that with 69 points during a Dec. 13 victory over Glen Ullin-Hebron. In defeat, the Bulldogs were held to 44 points on 33 percent shooting from the field.
"I don't think there was much frustration. We missed a few bunnies that we should have made, but when you play against a team like Trinity that plays really good defense, they do a great job of contesting shots," Walker said. "We got to do a better job, and I got to do a better job of putting this team in better situations in practice, so we are used to finishing with contact."
Dickinson Trinity 51, Bowman County 44
BC 4 9 11 20 - 44
DT 9 14 10 18 - 51
BC: Caleb Duffield 18, Jacob Svihovec 12, Matt Osendorf 4, Jason Ortiz 4, Brian Anaya 4, Adam Powell 2.
DT: Matthew Stafford 16, Cole Fitterer 12, Jake Daniel 9, Aric Knopik 6, Cheydan Hauf 3, Isaac Fridrich 3, Seth Herner 2.
3-pointers: BC 1 (Duffield 1), DT 1 (Daniel 1). Free throws: BC 11-22, DT 16-23. Total fouls: BC 20, DT 20. Fouled out: 1 (DT, Knopik). Rebounds: BC 33 (Duffield 6), DT 39 (Fitterer 7). Assists: BC 2 (Powell 1, Duffield 1), DT 12 (Hauf 3, Fitterer 3). Steals: BC 2 (Powell 2, Duffield 2), DT 5 (Fitterer 2). Blocks: BC 0, DT 1 (Alija Karsky 1). Turnovers: BC 16, DT 9. Records: BC 2-1, DT 4-0.
All-Tournament team
Bowman County - Jacob Svihovec, Caleb Duffield
Dickinson Trinity - Matthew Stafford, Aric Knopik, Seth Herner
Glen Ullin-Hebron - Braden Zuroff, Grant Gerving
Heart River - Cauy Shypkoski
Killdeer - Daylon Danks
Mott-Regent - Cody Perkins
New England - Aiden Rebel, Gabe Sorenson
Richardton-Taylor - Collin Kuntz
1
/
7:
Bowman County junior forward Jacob Svihovec powers his way through the lane against Dickinson Trinity during the 2018 Roughrider Tournament Championship Game on Saturday, Dec. 15, from the Knights of Columbus Activities Center. (Patrick Bernadeau/The Dickinson Press)
2
/
7:
Bowman County senior guard Adam Powell is stripped on his way to the basket against Dickinson Trinity during the 2018 Roughrider Tournament Championship game of Saturday, Dec. 13, from the Knights of Columbus Activities Center. (Patrick Bernadeau/The Dickinson Press)
3
/
7:
Dickinson Trinity junior guard Matthew Stafford is greeted by senior forward Aric Knopik during starting introductions prior to the 2018 Roughrider Tournament Championship game on Saturday, Dec. 15, from the Knights of Columbus Activities Center. (Patrick Bernadeau/The Dickinson Press)
4
/
7:
Bowman County junior forward Jacob Svihovec is introduced as a memeber of the starting lineup during the 2018 Roughrider Tournament Championship Game against Dickinson Trinity on Saturday, Dec. 15, from the Knights of Columbus Activities Center. (Patrick Bernadeau/The Dickinson Press)
5
/
7:
Dickinson Trinity sophomore guard Cole Fitterer looks to drive by the defense of Bowman County senior guard Jason Ortiz during the 2018 Roughrider Tournament Championship game on Saturday, Dec. 15, from the Knights of Columbus Activities Center. (Patrick Bernadeau/The Dickinson Press)
6
/
7:
Bowman County sophomore guard Caleb Duffield dribbles in between his legs against Dickinson Trinity during the 2018 Roughrider Tournament championship game on Saturday, Dec. 15, from the Knights of Columbus Activities Center. (Patrick Bernadeau/The Dickinson Press)
7
/
7:
Dickinson Trinity senior post Alija Karsky is whistled for an offensive foul as Bulldogs senior guard Corban Massey steps in to take the charge during the 2018 Roughrider Tournament Championship game on Saturday, Dec. 15, from the Knights of Columbus Activities Center. (Patrick Bernadeau/The Dickinson Press)