Deschamp and Krenz pitch gems as Roughriders sweep doubleheader
Nick Deschamp and Kobe Krenz dominated on the mound Tuesday night giving the Dickinson Roughriders a doubleheader sweep over the visiting Miles City Outlaws.
Deschamp went six innings in game one with eight strikeouts and gave up only one earned run in the 9-1 win.
Krenz capped off the night giving up only one run, two hits and striking out nine through four innings in a 12-1 run rule victory.
"We have a lot of games coming up this week, so it was nice to have Nick and Kobe throw great games for us," Roughriders head coach Tyler Frenzel said. "They kept their pitch count low. Kobe was under 55 pitches and Nick threw under 70."
The two wins brought the Roughriders record to 3-1 on the young season.
The bats got going early in game one as Dickinson led 4-0 after two innings thanks to two hits, two hit batters and one walk in the inning.
Carson Weiler drove in Krenz with the bases loaded in the fourth inning, but they left the bases full to end the inning.
In the fifth, the Roughriders loaded the bases again and drove in two more runs to make the score 7-1.
Krenz recorded three RBI in the easy victory.
"The first game we loaded the bases up a lot and left some runners stranded," said Frenzel.
In game two, the Roughriders loaded the bases in every inning sending eight batters to the plate in the first inning, and nine in the second and third innings.
Nathaniel Jilek and Aiden Haich drove in runs in the first inning before Dickinson left three runners on base.
Jaren Hugelen opened up the contest with a grand slam smashed over the left center field fence in the second inning making the score 6-0.
"The second game we just hit the ball," Frenzel said. "Hugelen's grand slam blew it open and gave us some breathing room."
Several more insurance runs were added making the score 11-0 before Cory Brownson hit a solo shot to get on the board for the Outlaws.
After starring on the mound in game one, Deschamp ended the night with two fantastic plays with his glove at third base throwing the runner out each time.
Hugelen went 4-4 in the second game with 5 RBI, while Krenz went 3-3.
Reese Mack and Alden Hoerner each pitched one inning of relief with Mack taking over for Deschamp and Hoerner for Krenz.
"I just came in with the mentality to throw strikes," Deschamp said. "I wasn't trying to strike anyone out and I wanted to get off to a good start."
Dickinson will play two non-conference games vs. Mandan on Thursday night at home.
1
/
2:
Teammates great Jaren Hugelen after he smashed a grand slam in the second game of the Roughriders doubleheaders sweep over Miles City on Tuesday night. (Jake Wright / The Dickinson Press)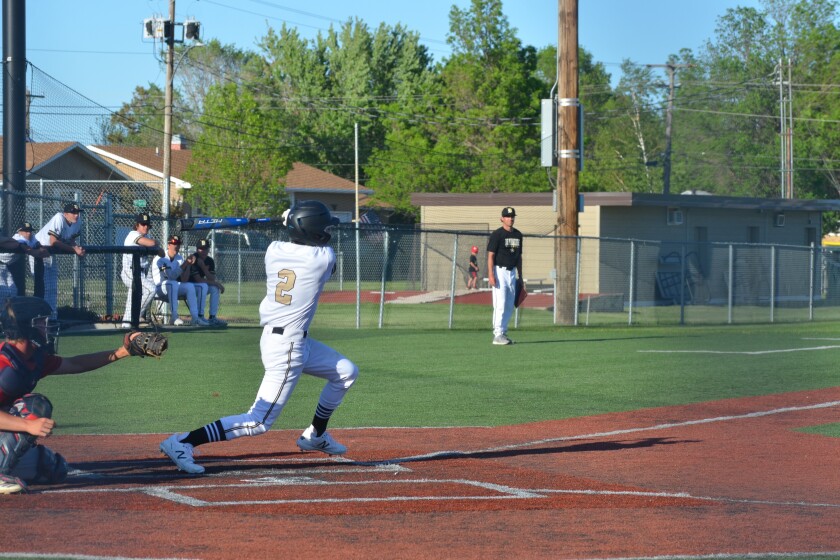 2
/
2:
Kobe Krenz takes a swing at a pitch in Dickinson's two wins on Tuesday night. (Jake Wright / The Dickinson Press)