Dickinson Trinity handles Beach at home
The Beach girls basketball team excels at a frenetic pace. During a Region 7 contest at Dickinson Trinity on Saturday, Jan. 19, that style was on full display, particularly in the first half.
The Beach girls basketball team excels at a frenetic pace. During a Region 7 contest at Dickinson Trinity on Saturday, Jan. 19, that style was on full display, particularly in the first half.
Regardless of what a Titans' shot attempt resulted in, the 'Running Bucs' hurried down the floor before the defense could get set, hoisting a shot from the outside or driving to the basket within 10 seconds of shot clock.
Down by double figures in the early moments, Beach used its offensive tempo to slice into its deficit, but as the Bucs' shots stopped falling, Dickinson Trinity took control.
With runs late in the second quarter and early in the third, the Titans cruised to a 59-46 victory during parents night from the Knights of Columbus Activities Center.
On the strength of five 3-pointers, Dickinson Trinity produced 38 points in the first half on nearly 46 percent shooting from the field.
"The first half was probably our best offensive half of the year. We were very efficient with our possessions, we worked the ball around for a good look or even better look each time," Titans head coach Carter Fong said. "Beach gave us several different looks, defensively. What I was really happy with was the way we transitioned on the fly to get into a new offense to counter their defense. ... That was a great half of basketball."
Following a basket inside from sophomore forward Abbey Kubas, the Titans opened up a 23-11 lead early in the second frame before the Bucs made their charge.
After a putback by junior forward Sam Oech, a bucket from junior guard Jenna Hildebrant pulled Beach to within single digits at 23-15. Forcing the Titans into four consecutive empty possessions, the visitors cut the gap to four when free throws from sophomore center Molly Farstveet and junior center Rachel Bosserman capped an 8-0 surge.
Dickinson Trinity answered with a run of its own. After a 3-pointer from junior guard Kylen Kubas, Abbey Kubas posted the game's next seven points as part of a 10-0 spurt.
With a long-range make from sophomore guard Kara Wanner - one of her four on the day - and another Abbey Kubas field goal, the Titans earned as much as a 17-point advantage before taking a 38-23 lead to halftime.
"Generally, we are a fast-paced, move-the-ball, go-go-go team. ... That's the style of ball we like to play," Beach head coach Mark Golberg said. "We still need to clean up some turnovers with that style of play and we need to take some better shots, but for the most part, that's not what I'm concerned about, offensively. They just got us right away, and that's because our defense was lacking."
The home team increased its resistance at the start of the second half. The Titans' wing defenders pushed their defense above the arc, forcing Beach's perimeter players into errant passes that were often tipped or intercepted.
As part of a second half that featured 10 steals, Dickinson Trinity pulled away to the biggest margin of the game at 51-28 late in the third quarter.
"One of the things we wanted to use was our athleticism," senior guard Masy Kuntz said. "We're a very athletic team and sometimes when we catch girls in a sticky situation, it's hard for them to get out of because we're all so aggressive to get that ball."
Kuntz was one of three Titans with three steals. Cleaning up the glass with seven rebounds, Abbey Kubas led all players with 22 points while Wanner and senior guard Bre Tessier followed with 12 and 10 points, respectively.
Oech paced the Bucs with 13 points, four rebounds and three steals. Sophomore Alyvia Braden added eight points and three rebounds for a Beach team that was without key contributors freshman guard Madi Wilhelmi and sophomore forward Madi Nunberg.
At the conclusion of the game, senior members from the Dickinson Trinity boys and girls basketball were honored on the floor alongside their parents and loved ones as part of parents night festivities. The first name called over to the floor was senior Ali Daniel, whose status for the rest of the season remains unclear after suffering a left ankle fracture during practice earlier in the week.
Making it to mid-court with crutches, the 5-foot-4 guard received a loud ovation.
"When I think of Ali Daniel, I think of maximum effort," Fong said. "Though she can't contribute on the floor right now, she has shown the girls by example how to get the very most out of your skill set and how you love the game. She was always the girl most likely to dive on a loose ball and most likely to be a team defender. She has done wonderful things for us and she's going to find her own way to contribute the rest of the way."
Dickinson Trinity 59, Beach 46
B 9 14 9 14
DT 19 19 16 5
B: Sam Oech 13, Alyvia Braden 8, Kennady Myers 7, Rachel Bosserman 6, Andrea Lund 6, Megan Rising 4, Molly Farstveet 2.
DT: Abbey Kubas 22, Kara Wanner 12, Bre Tessier 10, Amaya Willer 7, Kylen Kubas 3, Alexa Walby 3, Masy Kuntz 2.
3-pointers: B 1 (Oech), DT 8 (Wanner 4). Free throws: B 9-16, DT 3-6. Total fouls: B 7, DT 16. Rebounds: B 44 (Bosserman 7), DT 40 (A. Kubas 7). Assists: B 0, DT 5 (A. Kubas 2, Walby 2). Steals: B 11 (Oech 3), DT 14 (Kuntz 3, A. Kubas 3, Willer 3). Blocks: B 1 (Oech), D 4 (Willer 2, A. Kubas 2). Turnovers: B 17, DT 17. Records: B 9-4 (Region 7 3-3), DT 9-5 (Region 7 4-1).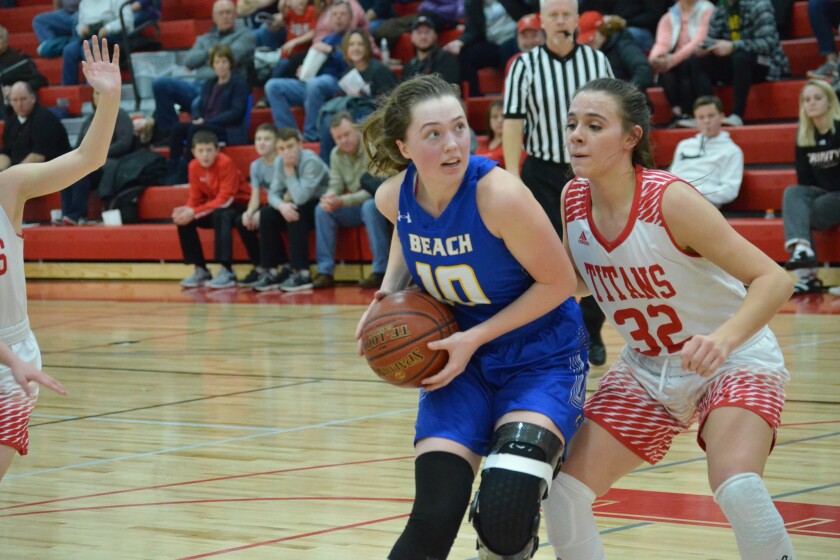 1
/
8:
Beach junior forward Sam Oech looks to get a shot off inside against Dickinson Trinity on Saturday, Jan. 19, from the Knights of Columbus Activities Center. (Patrick Bernadeau/The Dickinson Press)
2
/
8:
Beach sophomore guard/forward Megan Rising handles the ball in the half-court against Dickinson Trinity on Saturday, Jan. 19, from the Knights of Columbus Activities Center. (Patrick Bernadeau/The Dickinson Press)
3
/
8:
Dickinson Trinity senior Bre Tessier gathers the ball for a shot attempt against Beach on Saturday, Jan. 19, from the Knights of Columbus Activities Center. (Patrick Bernadeau/The Dickinson Press)
4
/
8:
Beach junior guard Andrea Lund is bumped out of bounds by Dickinson Trinity senior guard Masy Kuntz during a Region 7 contest on Saturday, Jan. 19, from the Knights of Columbus Activities Center. (Patrick Bernadeau/The Dickinson Press)
5
/
8:
Dickinson Trinity sophomore forward Amaya Willer puts up a shot from the baseline against Beach on Saturday, Jan. 19, from the Knights of Columbus Activities Center. (Patrick Bernadeau/The Dickinson Press)
6
/
8:
Beach sophomore center Rachel Bosserman looks for an open teammate during the second half against Dickinson Trinity on Saturday, Jan. 19, from the Knights of Columbus Activities Center. (Patrick Bernadeau/The Dickinson Press)
7
/
8:
Beach freshman guard Laiken Mahlum brings the ball up the floor against Dickinson Trinity on Saturday, Jan. 19, from the Knights of Columbus Activities Center. (Patrick Bernadeau/The Dickinson Press)
8
/
8:
The Dickinson Trinity bench looks on as senior forward Alexa Walby makes her move inside the arc against Beach on Saturday, Jan. 19, from the Knights of Columbus Activities Center. (Patrick Bernadeau/The Dickinson Press)