In a different tier: Jamestown gets stronger in sweep over Dickinson
In a match between two adjacent teams in the West Region standings, the Dickinson High volleyball team welcomed Jamestown into its friendly confines for a rare Wednesday contest on Oct. 17.
In a match between two adjacent teams in the West Region standings, the Dickinson High volleyball team welcomed Jamestown into its friendly confines for a rare Wednesday contest on Oct. 17.
With the Blue Jays holding down the sixth spot and the Midgets sitting right behind in seventh, the action on the floor at the start of their match seemed to suggest the two teams were not too different from one another from a competitive standpoint. However as the match wore on, it became clear that Dickinson still has a ways to go before reaching Jamestown's tier in the WDA.
Increasing their margin of victory through every frame, the Blue Jays swept the Midgets 25-18, 25-15, 25-13 from the Dickinson High Gymnasium.
"They are better than the sixth place that they are sitting at right now," Dickinson head coach Jay Schobinger said.
The Midgets began the match with a bit of a wrinkle, as junior middle blocker Audrey Rodakowski moved to the outside while freshman Mataya Mortensen shifted into the middle. The lineup change appeared to pay immediate dividends with Rodakowski collecting a kill and Mortensen adding a kill and a block during 5-0 run as Dickinson led 9-5 in the opening set. Jamestown began to chip away before Blue Jays senior middle hitter Courtney Peterson tied the frame at 12-12 with a cross-court shot just inside the boundary.
With the score tied at 15, junior defensive specialist Jessie Paulson separated matters with a block, a kill, and an ace, leading Jamestown to 10 of the next 13 points.
"Every West team brings something different, so you are always going to get a good match," Blue Jays head coach Sara Hegerle said. "That's good for us, because we want to play good teams every single time we play. So I was expecting nothing else from Dickinson. The first set was close, they have good competitors."
The second frame was a frame of runs. Jamestown jumped ahead 8-3 before the Midgets went on a 4-0 surge, capped by a kill from junior outside hitter Taylor Nelson. Afterward, the two teams traded 4-0 runs.
"It's really encouraging being able to fight with them knowing that they are one of those tougher teams," Nelson said. "We just need to know that we need to stay consistent and keep fighting against them."
Jamestown took control from there, particular from the service line and with surprise attacks and dump shots on the first or second hit. An ace from senior outside hitter Abby Kallenbach gave the Blue Jays a 17-12 lead, and was one of nine aces for the girls in blue. Sophomore outside hitter Grace Hegerle connected on a two-handed tap shot on the first hit that dropped in the soft spot of the Dickinson defense, handing Jamestown the set 25-15.
"We lost some aggressiveness offensively, so we said, 'We have to stay aggressive, we have to make adjustments with footwork.' When we were aggressive, we had our runs and we played with them," Schobinger said. "Jamestown might be one of the toughest serving teams that we've seen and I thought we handled it fairly well, but I bet they had four serves tonight that hit over the top of the net and dribble over."
The third set was the least competitive set of the three, as Jamestown held as much as a 20-8 advantage.
Peterson was toward the top of the statsheet for the Blue Jays, leading the team with 11 kills, 13 digs and four aces. She was tied with junior outside hitter Jessa Anderson and sophomore Ella Roaldson with 1.5 blocks.
"I think when you are on the road, and playing three hours away from home, it takes a little bit of time to get going," Hegerle said. "When you start slow, you are hoping to gain some momentum and making some good plays. ... I thought our kids served well tonight and passed well at times."
Rodakowski finished her night with six kills, eight digs and a pair of blocks. Junior Peyton Selle had nine kills and nine digs to pace the Midgets.
"When we got into set three, I don't think we battled in set three," Schobinger said. "We had some kids that kind of got in a funk and didn't find a way to battle out of it. And we have to find a we have to find a way to battle out of it."
Jamestown 3, Dickinson 0
J 25 25 25 - 3
D 18 15 13 - 0
Kills: J, Courtney Peterson 11; Jessa Anderson 9; Ella Roaldson 7; Grace Hegerle 4; Kameron Selvig 4; Abby Kallenbach 3. D, Peyton Selle 9; Audrey Rodakowski 6.
Blocks: J, Peterson 1.5; Roaldson 1.5; Anderson 1.5; Kallenbach 0.5. D, Rodakowski 2.
Aces: J, Peterson 4; Kallenbach 3; Jessie Paulson 2. D, Madison Eckelberg 2.
Digs: J, Peterson 13; Rachel Schiele 12; Paulson 10; Hegerle 8; Anderson 3; Kallenbach 2; Roaldson 2; Selvig 1; McKenzie Roy 1. D, Selle 9; Rodakowski 8; Bullinger 7.
Assists: J, Selvig 27; Kallenbach 1; Roaldson 1, Hegerle 1. D, Eckelberg 8; Paige Balliet 7.
Records: J 17-12, 11-7 West Region. D 12-18, 5-11 West Region.
1
/
3:
Jamestown junior setter Kameron Selvig sets up a teammate against Dickinson on Wednesday, Oct, 17, from the Dickinson High Gym. (Patrick Bernadeau/The Dickinson Press)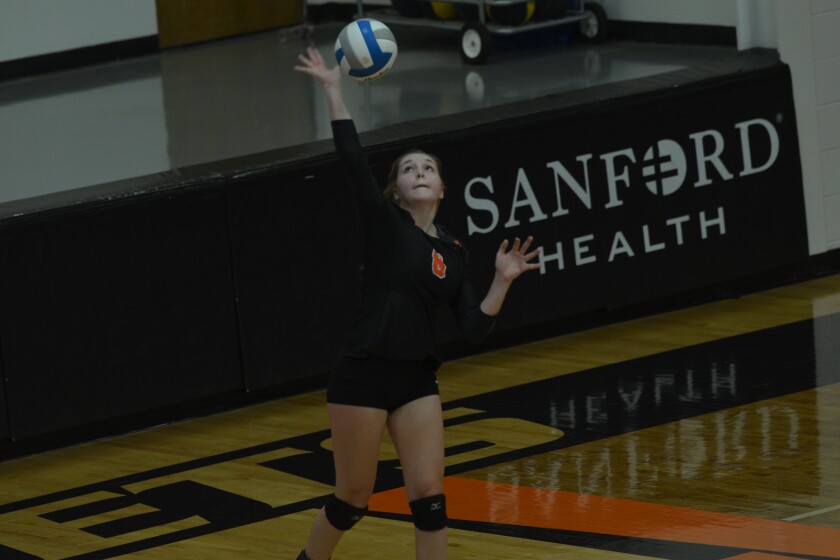 2
/
3:
Dickinson High junior outside hitter Taylor Nelson serves during the second set against Jamestown on Wednesday, Oct. 17, from the Dickinson High Gym. (Patrick Bernadeau/The Dickinson Press)
3
/
3:
Dickinson High freshman outside hitter Taya Hopfauf gets low for a dig attempt against Jamestown on Wednesday, Oct. 13, from the Dickinson High Gym. (Patrick Bernadeau/The Dickinson Press)