Kenmare Bowbells clench victory over Titans at State
"There is an extra level of pressure added to these games because you are in this do or die, win or go home situation," Breanna Sisson said.
We are part of The Trust Project.
BISMARCK — After five grueling back-and-forth sets in Bismarck, the Trinity Titans lost to the Kenmare Bowbells 3-2 in the opening round of the Class B Volleyball State Tournament Quarterfinals at the Bismarck Event Center November 17.
This is the sixth straight year at State the Titans have been unable to capture a victory in the first round. The fight nearly mirrored last year's Trinity-Kenmare Quarterfinals matchup where Kenmare won 3-2.
"We knew this year was going to be the same type of battle," Brianna Sisson, Titans head coach said. "They had a lot of familiar faces on their side of the net just like we did. I think going into this game we were looking for that fire to come out strong and stay consistent…"
The Titans were the #5 seed underdog going into the State Championship. They spearheaded their way through numerous lead changes and 10 ties in the first set before capitalizing on a 4-point lead to sweep the Bowbells 25-21.
Kenmare is led by Coach Timothy Wallstrum who has been with the team for 35 seasons and has won 2 State Championships. The Bowbells had a near perfect season record this year, willing 41 out of 43 games. Their senior middle hitter Brenna Stroklund was a big threat to the Titans, leading the Bowbells in kills with 495 on the season. Stroklund forced Titans setter Delaney Deschamp to play both an offensive and defensive role.
"We really focus on trying to get the ball into Delaney's hands so we can run all of our options in the front row," Sisson said. "Once we do that, we want to be aggressive and I think we were kind of lacking a little bit of a chip on our shoulder to be aggressive and be big at the net. We were playing hesitant at times."
The Titans ability to mix up their offense was matched by Kenmare's strong serve-receive. The Bowbells had a slight height advantage on the Titans with three 5'11" hitters. They are also a more senior-heavy team compared to the Titans who only have one.
Kenmare was able to target shots and plow through Trinity's blocks at the net. Their defense closely followed Titans middle hitter Ava Jahner who leads the team in kills and digs. With Jahner frequently shut down, the Titans had to pull in outside hitter Helena Pavek and middle hitter Olivia Kessel to lead on offence.
Occasional shots out of bounds and Kenmare carries called by the line judges, prevented the Bowbells from gaining an advantage until the second set. Kenmare's carry penalties continued to rack up but Stroklund's swings and hammer fists planted shots to match the kills of Jahner, Bella Kovash and Melissa Zach. The Bowbells trailed behind for the first half of the second, but Trinity's blocks into the net surrendered easy points that closed the score gap. The Titans shots out of bounds and missed low balls allowed the Bowbells a 6-point lead. A Titan net violation cost them the set, 19-25.
"We weren't putting the ball in system," Sisson said. "We spent a lot of the game just trying to react to the things they were throwing our way. Taking more control and demanding the ball is something that we needed in the long run."
A service error on Kenmare allowed the Titans to score first in the third. Service errors continued to tally up for the Bowbells in the fourth and fifth sets. Their driving offense however, put up so many points that they weren't completely consumed by their errors. The Titans had to pull through some rocky rallies and left gaps open in their middle court, which were perfect pockets for Stroklund to nail. Trinity fell flat and was down by three points for the majority of the set. Jahner broke through their block to put up several digs and an ace. The score tied at 24 before Jahner and Kessel saved the set.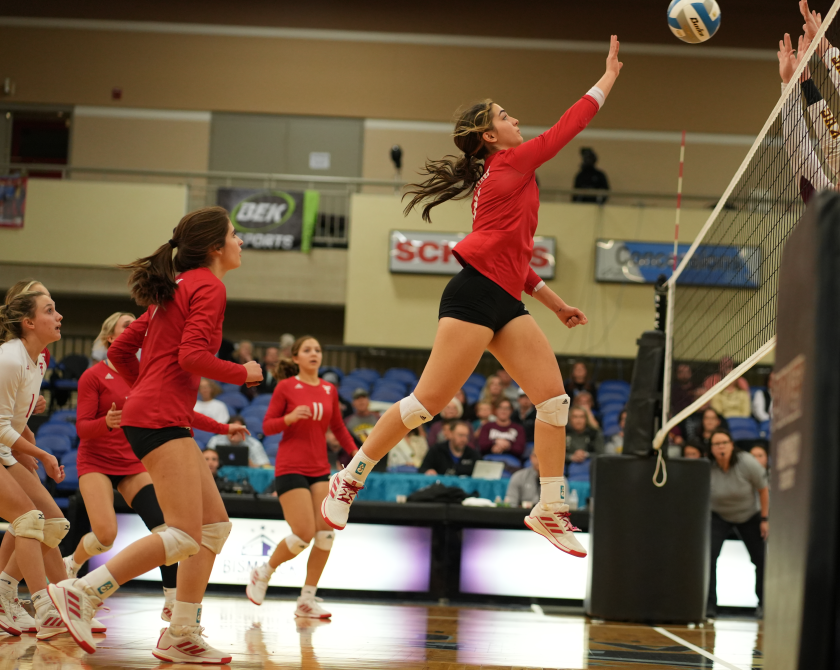 Compared to games in the regular season, the stakes at State were sky-high.
"There is an extra level of pressure added to these games because you are in this do or die, win or go home situation," Sisson said. "Sometimes that added pressure can cause some nerves that relay over into the game."
The Titans lost momentum in tough fourth and fifth set rallies and scrambled to regain control of the game. A cross-court attack put Trinity in an early lead in the fourth but inconsistent holes in their middle court allowed Kenmare an opportunity to capitalize and push the game to a fifth and final set.
Stroklund turned on the gas in the final set, teaming with setter Kate Zimmer to plant the ball. Zimmer recently recovered from an ACL injury and buckled to the ground late in the game. She returned bandaged and fought through the remainder of the match. Despite frequent attack errors and service errors in the fifth, Kenmare was able to squeak by with a 3-point lead, advancing them to the Semifinals against Northern Cass.
The Titans now move on to the Consolation Semifinals against Our Redeemer's High School November 18. Trinity matched up with Our Redeemer's earlier this season and is preparing to stand up against their big middle hitters.
"We are focusing on fine-tuning our block and making sure that's set up for our defense to read around," Sisson said. "We know we are going to have to be aggressive at the net tomorrow."
Round one State Tournament results:
Kenmare High School def. Trinity High School 3-2 (25-21, 19-25,27-25, 17-25,12-15)
Team Leaders THS: Kills – 14, Helena Pavek, Ava Jahner; 9, Olivia Kessel, Melissa Zach; 6, Bella Kovash; Aces – 2, Jahner, Zach; 1, Delaney Deschamp, Kovash, Nevaeh Muckle; Blocks – 5, Jahner; 3, Kovash; Digs— 15, Jahner, 12, Serenity Pavlicek, Deschamp; 10, Jersey Erie; 6, Kovash; Assists — 46, Deschamp
Linton/HMB Lions def. New Rockford Sheyenne 3-1 (25-15,25-19,21-25,25-19)
Thompson High School def. Garrison High School 3-0 (25-13,26-24,25-20)
Northern Cass High School def. Our Redeemer's High School 3-0 (25-14,25-20,25-15)
DICKINSON — It was a bleak home game season opener for the Dickinson Midgets girl's hockey team Dec. 2. Their heads hung low following a brutal 9-2 loss against West Fargo United. The opening day loss comes as the season starts and memories of last year's difficult 4-16 season are still fresh.
The board unanimously voted Thursday to formally accept — not approve — the proposed three-class basketball system as presented and will now move forward with studies of finance and the impact to existing or new staff.