Midgets excited to return to floor for 2020 season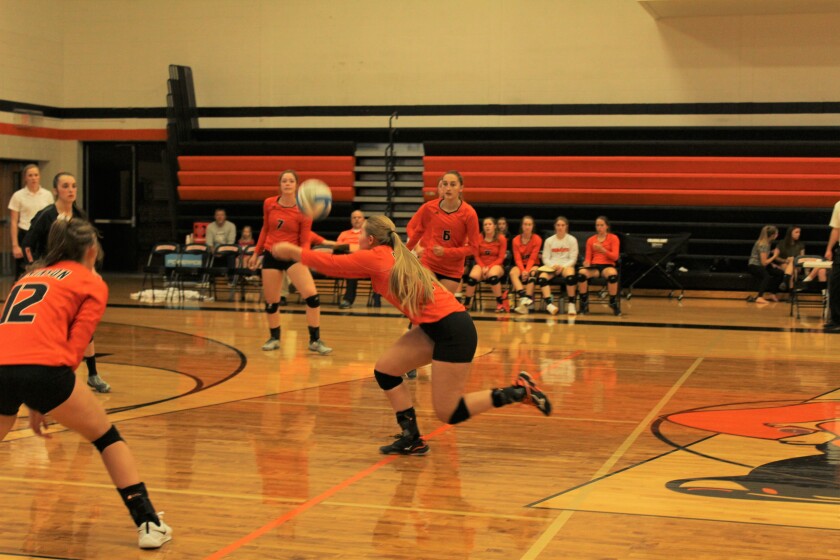 We are part of The Trust Project.
Dickinson High volleyball is loaded with talented underclassmen, but they also have some experience and veterans returning, which creates a great combination for the upcoming season.
The Midgets will play only Western Dakota Association games after the Class A schools in North Dakota decided to play only conference opponents this fall due to the ongoing coronavirus pandemic.
Tournaments have also been canceled meaning fewer games will be played this season.
"We will be playing less volleyball, but maybe that isn't such a bad thing," head coach Jay Schobinger said. "We have added so many matches over the years that it will be fun to get back to practicing on a regular basis."
Dickinson is looking to replace seniors from lat season in Kendryn Bullinger, Audrey Rodakowski, Taylor Nelson, Madison Lindley and Peyton Selle, but they do return Paige Balliet, Jayce Bradley, Taya Hopfauf, Reece Hauck, Mataya Mortenson and Staci Kempenich.
Hopfauf and Hauck will patrol the back row defensively, and Schobinger believes that will be a strength for the team, especially early in the season.
"One of our strengths we are going to have early on is we have some girls who played back row for us last year and got some reps…" Schobinger said. "Taya and Reese will give us an opportunity to keep some balls alive… The thing that has impressed me the most with this group is that they are pretty tenacious defensively. They don't like seeing balls hit the floor. That is the one thing that is going to have to keep us in matches especially early on."
Offensively, the Midgets need to find answers as to how they will put points up on the scoreboard this season.
Rodakowski and Selle, who is set to play volleyball at Concordia College in Moorhead, Minn., are big losses when it comes to spiking the ball, and the Midgets have to fill their shoes.
With the uncertainty over the summer, Dickinson was very limited, especially in the early summer months.
They were able to get in the gym more as time went on, and they have been preparing for their first match, which is set for Thursday, Sept. 3 at Bismarck Century.
Schobinger likes his team's attitude and work ethic as they have definitely improved since getting back in the gym.
As far as whether the ongoing uncertainty surrounding the pandemic has affected the team, Schobinger says that it hasn't. His team has been focusing solely on volleyball, and they will flip the switch when school starts to focus on both volleyball and in the classroom.
"We are trying to keep things as normal as possible..," he said. "Kids just want to get back to what they know. They want to get back to normal, and I don't see our kids looking at the uncertainty. They are focusing on volleyball and school when that starts. They are excited to get back to doing something that they love to do."