Midgets game, but Century too strong: Patriots pull away against Dickinson on opening night
During the first half of its season opener against the defending Class A champs, the Dickinson High girls basketball team not only competed with Bismarck Century, they controlled much of the action.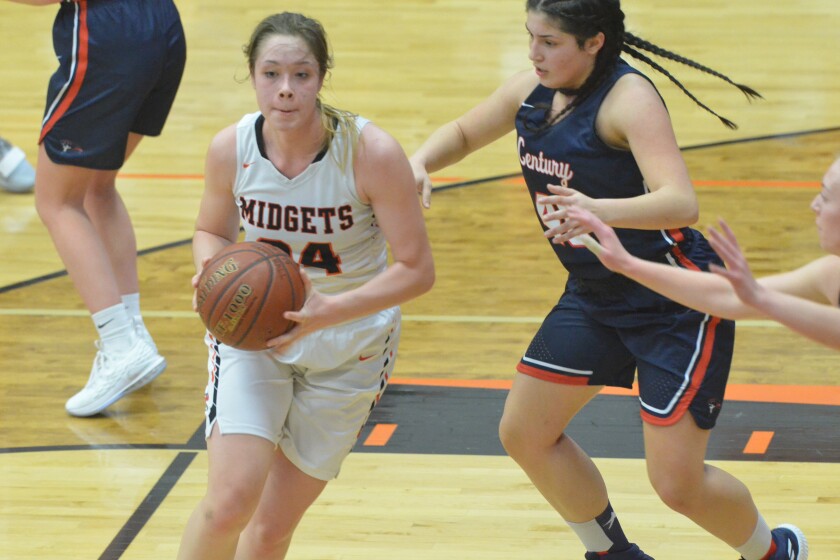 During the first half of its season opener against the defending Class A champs, the Dickinson High girls basketball team not only competed with Bismarck Century, they controlled much of the action.
Playing energetically on the defensive end and aided by early foul trouble to their opponent's tallest star, the Midgets entered the halftime break with the lead. But as the teams exited the locker rooms, the Patriots displayed their wealth of talent, outscoring the Midgets 38-16 en route to a 57-38 victory on Tuesday, Dec. 4, from the Dickinson High Gym.
"I thought they were phenomenal," Dickinson head coach James Hayden said. "We struggled with our substitutions and I think our girls got tired towards the end, so that led towards a lack of fundamentals. ... But overall I thought our play was phenomenal, they worked together. Defensively, for a large majority of the game, was just incredible."
Junior guard Peyton Selle scored the game's first basket off a turnover, a theme that largely characterized the home team's effort. With players positioned in the right spots before forcing bad passes or leaping into passing lanes, the Midgets defense forced 10 turnovers and held Bismarck Century to 6 of 30 shooting in the first half.
"It's kind of what we thought. We knew (Dickinson) was going to come out and came after us and give us a battle," Patriots head coach Ron Metz said. "On the road in the WDA, you got to be ready to play and we came out kind of flat tonight."
The Patriots' woes on the offensive end went beyond Dickinson's resistance, as All-State junior forward Lauren Ware sat out much of the first 18 minutes due to foul difficulties.
Less than three minutes into the game, Ware had to take a seat after picking up a pair of fouls, each of which occurred 35-40 feet away from the rim. Returning to the floor moments later, the 6-foot-5 forward was whistled for her third on a charging foul, and then spent the remaining 10 minutes and 32 seconds the bench.
Fellow All-State player, senior guard Lilly Keplin picked up the slack, scoring six straight points to push the Patriots to a 18-13 advantage. Dickinson responded closing out the half of a 9-1 run.
"We had a lot of energy and we were really determined to keep it close, and even win, Selle said. "We had a lot of energy, which brought a lot to the court. Tonight, we had really good defense, we're really proud of that."
Senior guard Gabby Jung knocked down a 3-pointer, cutting the Midgets deficit to 18-17. Tying the game on a free throw from sophomore guard Sydney Binstock, Dickinson regained the lead after a loud block from junior forward Audrey Rodakowski and a pair of Selle free throws. Selle closed out the half with a leaner off the glass, propelling the Midgets to a 22-19 halftime advantage.
"If you were to ask anybody in the state that Dickinson would be leading at halftime, nobody would believe," Hayden said. "Just the fact that we played with an incredible amount of energy and intensity, and to go into halftime leading, that was a huge win for us."
With Ware on the floor for the start of the second half, her skill was on display. Scoring the frame's first basket on a bunny inside, Ware collected a steal and delivered an outlet pass to sophomore guard Julia Fitterer, who's layup gave the Patriots a brief 23-22 advantage.
After Selle responded with a 3-pointer on the left wing, Bismarck Century went on a 8-0 surge, with Ware netting five points and Keplin draining a 3-pointer.
Keplin led all scorers with 18 points while Ware added 14.
Jung converted on back-to-back baskets inside, bringing Dickinson to within 31-29 early in the second half before the began Patriots pulling away for good.
Ware was called for her fourth foul with over 11 minutes remaining, but seconds later, Jung picked up her fourth as well on a charge call where the defender appeared to have her feet inside the restricted area. With both players on the bench, Bismarck Century took control with several offensive rebounds and second-shot opportunities.
"Whether it was not jumping to the ball or not rebounding on a play where they can come in an get an offensive rebound and put back or out in transition, they really took advantage towards the end," Hayden said.
The lead ballooned to 40-29 before a 3-pointer from freshman guard Taya Hopfauf got the Midgets to within eight, but they would not get closer.
Selle led Dickinson with 15 points while Jung added 12 before fouling out.
"That's the best I think a Dickinson girls basketball team has played Century in years," Hayden said. "That just goes to prove that we can compete with anyone in the state, they have a lot of confidence in that."
Bismarck Century 57, Dickinson High 38
BC 19 38 - 57
D 22 16 - 38
BC: Lilly Keplin 18, Lauren Ware 14, Mya Klein 8, Julia Fitterer 7, Hailey Fletcher 6, Chloe Markovic 3, Ashton Kinnebrew 1.
D: Peyton Selle 15, Gabby Jung 12, Taya Hopfauf 3, Audrey Rodakowski 3, Taylor Nelson 2, Kendryn Bullinger 2, Sydney Binstock 1.
3-pointers: BC 2 (Keplin 1, Klein 1), D 4 (Jung 2, Hopfauf 1, Selle 1). Free throws: BC 13-23, D 6-13. Total fouls: BC 15, D 17. Fouled out: 1 (D, Jung). Technical fouls: 1 (Dickinson team). BC 2-0 (West Region 1-0), D 0-1 (West Region 0-1).
1
/
5:
Dickinson High junior guard Peyton Selle is blocked from behind by Bismarck Century junior forward Lauren Ware on Tuesday, Dec. 4, from the Dickinson High Gym. (Patrick Bernadeau/The Dickinson Press)
2
/
5:
Dickinson High junior guard Peyton Selle sets a pick from junior guard Kendryn Bullinger against Bismarck Century on Tuesday, Dec. 4, from the Dickinson High Gym. (Patrick Bernadeau/The Dickinson Press)
3
/
5:
Dickinson High senior guard Gabby Jung drives baseline against Bismarck Century senior guard Lilly Keplin on Tuesday, Dec. 4, from the Dickinson High Gym. (Patrick Bernadeau/The Dickinson Press)
4
/
5:
Dickinson High junior guard Kendryn Bullinger looks to cut off the penetration of Bismarck Century junior guard Chloe Markovic on Tuesday, Dec. 4, from the Dickinson High Gym. (Patrick Bernadeau/The Dickinson Press)
5
/
5:
Dickinson High senior guard Gabby Jung lines up a shot during the first half against Bismarck Century on Tuesday, Dec. 4, from the Dickinson High Gym. (Patrick Bernadeau/The Dickinson Press)