NDSU's Morgan making most of opportunity with Tanguay out
FARGO -- North Dakota State junior Grant Morgan started the season as a defensive tackle hoping to further his contributions in the Bison football lineup. He's ending the year as a go-to starter who's being counted on to make a difference.
FARGO - North Dakota State junior Grant Morgan started the season as a defensive tackle hoping to further his contributions in the Bison football lineup. He's ending the year as a go-to starter who's being counted on to make a difference.
The signature play to date came last weekend when he sliced through the South Dakota State offensive line and tackled running back Brady Mengarelli for a safety. It was a key swing play in the quarterfinal win over the Jackrabbits that gave the Bison a semifinal matchup Friday, Dec. 16, against James Madison University.
"I've always been kind of a role guy and to get that opportunity was pretty neat," Morgan said. "Just having the opportunity in a big way was really special to me. It was definitely something I'll remember for a long time."
Morgan got the opportunity after standout defensive tackle Nate Tanguay tore his ACL against Youngstown State in early November. It also put sophomore Blake Williams and freshman Jack Darnell into bigger roles in the interior behind starting noseguard Aaron Steidl. The Bison have also used defensive end Caleb Butler inside.
"With Nate gone, he is a big-time talent so all of us needed to take a step up and I think we're doing that," Morgan said. "I think we're going in the right direction."
Reynolds 'excited' to play in Fargodome
James Madison senior cornerback Taylor Reynolds is relishing the opportunity to play in the Fargodome against the five-time defending FCS national champion Bison.
"I'm very excited," Reynolds said. "The Fargodome every year is all over ESPN, North Dakota State is all over ESPN. Finally, to be able to line up and look those players in the face and be able to compete with them in the Fargodome, I'm very excited."
The 6-foot, 195-pound Reynolds ranks fifth on the Dukes with 43 tackles. He also has two interceptions and 10 pass breakups. James Madison is coming off a 65-7 home victory against Sam Houston State in the quarterfinals. The Dukes limited the a high-powered Sam Houston State offense to 158 passing yards.
"I think we have the best secondary in the nation in my opinion," Reynolds said.
The Dukes defense faces a different challenge in the semifinals against NDSU, which features a power running game.
"I think we are a very versatile defense and a very versatile team," Reynolds said. "We won't have to make any drastic changes. We'll just have to go out and be very physical. We know North Dakota State is going to come out and be physical so we just have to match their physicality and be who we are."
Another Dudzik at the dome
There's a familiar last name on the James Madison coaching staff and, yes, Dukes assistant coach Drew Dudzik and former Bison standout safety Christian Dudzik are cousins. Meeting in the playoffs is something both Dudzik's had hoped would happen at some point.
Christian's father, Ken Dudzik, and Drew's father, Mike, are brothers.
Drew Dudzik is in his first year as the receivers coach after spending the previous two years at Duke. He graduated from JMU in 2010 in a career that included engineering an upset of Virginia Tech.
Christian was a four-year starter from 2011-14 at NDSU.
"We don't talk too much about the Xs and Os of their team and what they're trying to do," Christian said. "It's more about his approach to coaching and how those things are going. He's excited how things are going at James Madison and he's excited for the future of those guys as well."
Etc. etc. etc.
- Bison offensive linemen Zack Johnson and Landon Lechler were named to the Associated Press FCS All-American first team on Thursday. Defensive end Greg Menard was named to the third team. Johnson was a third team selection in 2015.
- Four Bison players will be walking through graduation ceremonies Friday afternoon: Lechler, running back King Frazier, wide receiver Eric Perkins and long snapper James Fisher. All four will be at NDSU's morning walkthrough practice before heading over to the Sanford Health Athletic Complex for the ceremony. "It's something that I think is very important," said head coach Chris Klieman.
- Bison running back Lance Dunn needs 60 yards to go over 1,000 for the season. NDSU has had a 1,000-yard rusher in each of the last 13 seasons.
- Turnovers usually play a role in playoff games. NDSU is a plus-10 in that department but James Madison is seventh in the FCS at plus-16 and is outscoring the opposition 125-23 off of turnovers.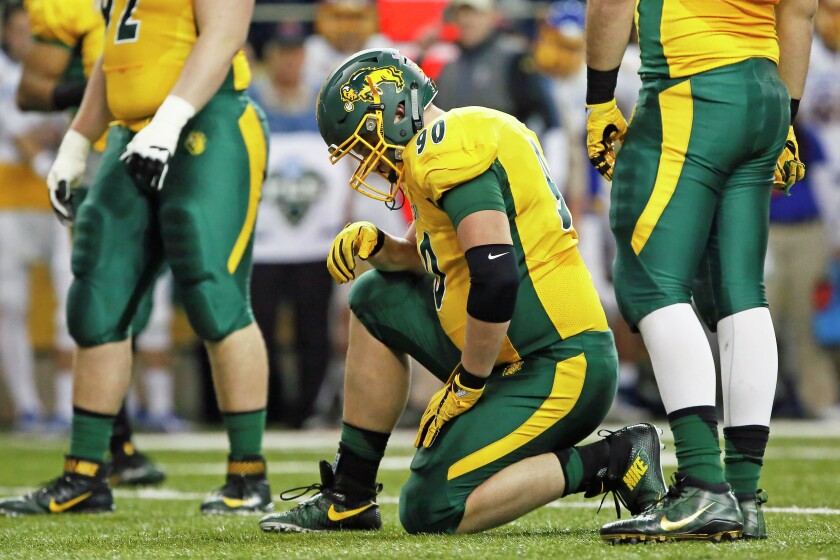 1
/
2:
North Dakota State defensive tackle Grant Morgan readies for a playa against South Dakota State last Saturday at the Fargodome. David Samson / Forum News Service
2
/
2:
North Dakota State's Grant Morgan celebrates a defensive stand against South Dakota State last Saturday at the Fargodome. David Samson / Forum News Service