'No one fights alone': Dickinson High fans show support for Jorda as Midgets fall to Mandan
After victories in its last two contests, the Dickinson High volleyball team met its match in Mandan, a team that has only dropped a single set in its four previous conference matches.
After victories in its last two contests, the Dickinson High volleyball team met its match in Mandan, a team that has only dropped a single set in its four previous conference matches.
The Braves and their dominance within the West Region continued as they cruised to a three-set victory 25-12, 25-18, 25-12 over the Midgets on Thursday, Sept. 13 from the Dickinson High gym.
However, Dickinson's defeat on the floor was certainly secondary.
As the Midget players were introduced, senior setter Lauren Jorda got a roaring ovation from the crowd.
Jorda was out of action at the start of the year, but made her season debut against Bismarck Legacy on Sept. 6. After a doctor's visit earlier that day, she was diagnosed with ovarian cancer.
Jorda kept the news private until Sunday.
In the Midgets first home match since the announcement, a energetic and raucous audience, led by the student section, cheered wildly for the Jorda whenever, she was set to serve, made a dig or set up a teammate.
"It always fun to hear their chants, but when they are cheering for you and you know that there's a purpose behind it, it's whole other level," Jorda said.
Fans held up signs and the chants "We-Love-Jorda." and "No One-Fights-Alone" echoed throughout the gym whenever the ball was volleyed over to the Dickinson side of the net. Fans throughout the crowd and nearly the entire student section wore turquoise-colored clothing, as turquoise is the color that represents ovarian cancer.
To show its support, the Dickinson team had turquoise t-shirts made with the Psalm 46:5 bible verse "God is within her, she will not fall" printed on the back. The Midgets and Braves players donned the t-shirts during pregame-warmups.
"There's no way to express that kind of support in words until you feel it," Jorda said. "I didn't know about the t-shirts that the team had made, so that took me by surprise in the locker room. And then coming out and seeing the that whole student section with full with turquoise, all the signs that were made, it's unreal."
On the floor, Mandan was dominant. In the first set, the Braves (11-1, West Region 5-0) pulled away late, earning 13 of the last 17 points to take the frame 25-12. After jumping out to an 11-2 advantage in the third set, maintain the sizable lead throughout to capture the frame by the same margin.
"I think we were very efficient. We played well, we played as a one-unit type of team," Braves head coach Anna Folk said. "We flowed really nicely and together. We spread the offense around pretty well."
Dickinson (4-10, West Region 2-4) played its best volleyball in the second set. Down 17-11, Midgets head coach Jay Schobinger called a timeout. When play resumed, the Midgets went on a 6-1 spurt, capitalizing on opponent errors.
After a strike from Braves senior hitter Sydney Walters went out of bounds and a point was given away on a net violation, Dickinson junior hitters Taylor Nelson and Audrey Rodakowski combined on a block to close the frame to within two.
Following another Mandan hitting error, the Midgets were within one, 18-17, before the Braves ended the set on a 7-1 run.
"We had spurts tonight when we did a lot of things well," Schobinger said. "That was spurt where we did things well, but unfortunately Mandan stepped it up a notch and went on a run after that.
"I picked (Mandan) number one in the conference. They had a lot of kids come back from a very good team last year. I knew they were going to be good. They played exceptional volleyball."
Mandan 3, Dickinson 0
M 25 25 25 - 3
D 12 19 12 - 0
Kills: M, Megan Zander 9, Lakyn Darras 7, Emily Tweten 7, Sydney Walters 3, Olivia Moe 3, Kennedy Harris 2, Alexis Radke 1, Sydney Gustavsson 1. D, Peyton Selle 4, Audrey Rodakowski 4, Jayce Bradley 3, Madison Lindley 3.
Blocks: M, Zander 2, Darras 2, Walters 1, Tweten 1. D, Rodakowski 3, Taylor Nelson 1, Lindley 1.
Aces: M, Zander 3, Moe 2, Katie Weiand 2. D, 0.
Digs: M, Harris 19, Moe 10, Walters 8, Gustavsson 7, Zander 4, Darras 4, Weiand 2, Olivia Leingang 1, Radke 1. D, Kendryn Bullinger 11, Taya Hopfauf 7, Madison Eckelberg 7, Lauren Jorda 6.
Assists: M, Weiand 16, Gustavsson 10, Darras 2, Walters 1, Moe 1. D, Jorda 14.
Records: M, 11-1 (West Region 5-0). D, 4-10 (West Region 2-4)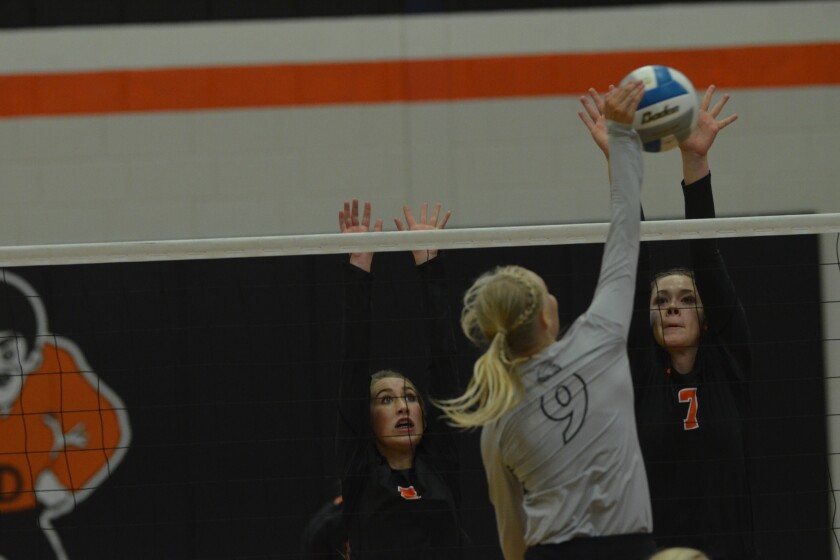 1
/
3:
Dickinson High sophomore outside hitter Jayce Bradley (left) and junior middle hitter Audrey Rodakowski (right) look to block a shot from Mandan senior outside hitter Sydney Walters on Thursday, Sept. 13 from the Dickinson High Gym. (Patrick Bernadeau/The Dickinson Press)
2
/
3:
Dickinson High junior outside hitter Taylor Nelson looks for a kill against Mandan on Thursday, Sept. 13 from the Dickinson High Gym. (Patrick Bernadeau/The Dickinson Press)
3
/
3:
Mandan senior middle hitter Megan Zander elevates for a hit against Dickinson on Thursday, Sept. 13 from the Dickinson High Gym. (Patrick Bernadeau/The Dickinson Press)