North Dakota State men's basketball rallies to top North Dakota 69-67
GRAND FORKS -- Trailing by 14 points with 15 minutes to go, there was only one thing North Dakota State could do, according to Bison coach Dave Richman.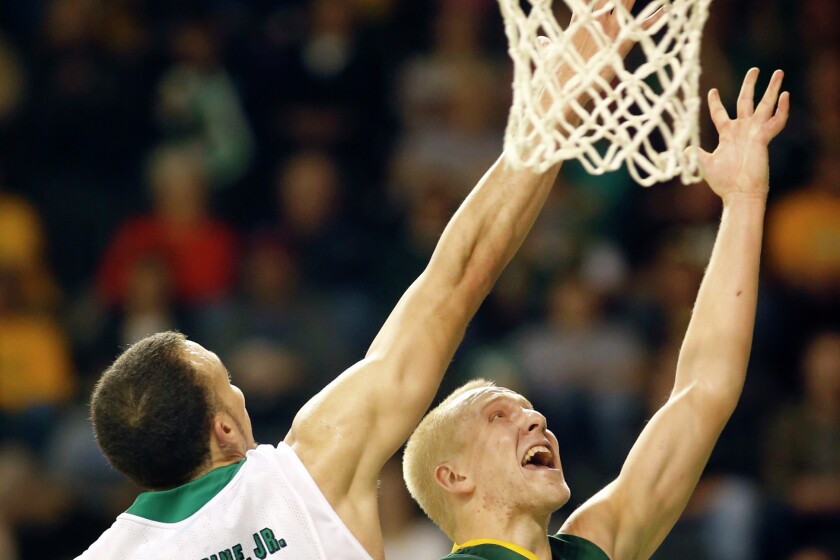 GRAND FORKS -- Trailing by 14 points with 15 minutes to go, there was only one thing North Dakota State could do, according to Bison coach Dave Richman.
"Until there are three zeros on the clock, we're going to keep fighting," said Richman.
And that's what the Bison did Friday night at The Betty Engelstad Sioux Center, rallying down the stretch to take a 69-67 win over rival North Dakota before 2,593 fans in perhaps the loudest environment for a men's home basketball game in the Fighting Hawks' Division I era.
It was NDSU's second-straight win over its rival. For UND, it was a heart-breaking loss, considering the Fighting Hawks led most of the way and perhaps played their best overall game in recent seasons.
"This is what college basketball is all about," said UND coach Brian Jones. "I want to thank our fans; hopefully they saw a good product on the floor and hopefully they'll want to come back and support our kids.
"It was a great environment. It was a fun game to see. And that's why games like these are played."
The Bison received their biggest lift from freshman Khy Kabellis, who led NDSU with 18 points off the bench. His basket with 2:58 to play, coming on a drive, gave the Bison a 60-58 lead, one they would keep the rest of the way.
Kabellis was an unlikely hero. The freshman from Escondido, Calif., came into the game with three 3-pointers in 22 attempts. Against UND he was 4-for-5 from beyond the arc.
But some spotty free-throw shooting by NDSU in the final two minutes, gave UND two final chances. The Bison went 14-for-31 from the line.
Quinton Hooker, who led all players with 26 points, missed a shot with 3.7 seconds to play, failing to convert on a drive. That allowed the Bison to keep a 68-67 lead.
After Paul Miller (11 points) missed one of two free throws, UND -- without any timeouts -- had a final chance for the win or tie, but Geno Crandall's 3-point attempt was blocked by Dexter Warner, allowing NDSU to escape with a road win in a contest that saw the Bison lead for only 5 minutes, 45 seconds.
"If it was anyone else out there other than Warner, Geno probably gets that shot off," said Jones. "(Warner) has such long arms."
Hooker's shot attempt off a drive with 3.7 seconds remaining was a play UND wanted in the closing seconds.
"He makes that a high level," said Jones. "There was a little contact there."
NDSU led 68-63 with 17 seconds to go and appeared to be in great shape for the win. Crandall, however, scored on a drive and was fouled. He missed his free throw attempt, but Corey Baldwin (10 points) grabbed the rebound and banked in his shot, drawing a foul in the process.
That cut NDSU's lead to 68-67 but Baldwin missed his free throw attempt with 17 seconds to play.
NDSU, however, did just enough in the closing seconds and tightened its defense on UND's final two attempts.
"Our gameplan was great," said Hooker, who played with a bad foot. "We couldn't have followed it any better."
Jones praised Hooker. "He willed us to win last week at Bradley and he played tonight on one leg. That shows you his toughness."
UND steadily pulled away in the first half behind Hooker, who had 17 points in the opening 20 minutes. But NDSU cut UND's one-time 14-point lead earlier in the half to 10 (35-25) at the break as Carlin Dupree scored the final three points of the half.
Dupree's points came after a Hooker steal and basket put UND up 35-22, a play that brought UND fans to their feet.
Jones, however, said UND's defense in the second half allowed NDSU to get better shots. The Bison shot 58 percent in the second half and 48 percent for the game.
"We didn't guard the basketball like we did in the first half," said Jones.
And UND had its struggles from the line as well, making 12 of 22.
"This is what college basketball is all about," added Richman. "For our guys to respond to a lot of adversity in an environment like this is encouraging."