Signs of optimism return to Canada's fishing camp industry after two tough seasons, those in the business say
Strict border-crossing requirements remain, but Canadian fishing camps and lodges are anticipating their first full summer since 2019.
We are part of The Trust Project.
GRAND FORKS — When Canada reopened its land border to nonessential U.S. travel on Aug. 9, 2021, life at Clark's Resorts and Outposts in northwestern Ontario kicked into gear overnight.
After not seeing a U.S. license plate since March 2020, the border couldn't open soon enough for Clark's and other Canadian fishing camps, nearly all of which rely almost entirely on U.S. visitors.
Law enforcement and natural resources agencies such as the DNR all have issued numerous news releases urging people to put safety first on the ice. Unfortunately, you can't legislate common sense.
Despite stringent Canadian border rules that require people to be fully vaccinated, show proof of a negative COVID-19 PCR test taken no more than 72 hours before entering Canada and submit to random testing at the border, guests were lined up at the border in the wee hours of that August Monday morning to go fishing, said Wayne Clark, who owns Clark's Resorts and Outposts with his wife, Karla.
Located near Vermilion Bay, Ontario, Clark's Resorts and Outposts includes two drive-to camps and some 30 outpost cabins accessible only by floatplane. While the border reopening came too late for many lodges and resorts that decided to remain closed for a second summer, Clark's opted to salvage at least part of the season.
"People came up right away – I mean, there was no hesitation," Clark said. "The people that were vaccinated, they jumped on it right away, and they wanted to get to Canada, and so we were busy from when that border opened right into the first week of October."
As the pandemic drags on, strict border-crossing regulations likely will remain in place for the foreseeable future, but there's a glimmer of optimism returning to Canada's beleaguered tourism industry, as fishing camps and lodges anticipate their first full summer since 2019, Clark says.
"May and June and the first part of July are booked solid," he said. "So, what I'm seeing is that the hardcore fishermen that normally come up early, they went and got their vaccines, and they're not messing around – they're coming up."
The border-crossing process isn't ideal, Clark says, "but it is a system right now where people can get across" to go fishing.
"We're hoping that once people start flowing across the border here again this spring and they see it's going to be possible, that we'll start filling in some of our later summer openings," he said.
While some types of tourism in Canada – provincial parks and campgrounds, for example – weathered the storm by attracting Canadians, the fishing and hunting sectors were especially hard-hit by the border closure, said Linda Whitfield, vice president of communications and stakeholder engagement for Travel Manitoba in Winnipeg .
"Most of their clientele is from the U.S., and so they were without that market access for quite a long time," Whitfield said. "So, they're still in recovery mode."
Efforts to market Manitoba to U.S. visitors are on the upswing, a trend Whitfield says she expects will continue into spring.
"It's not back to normal yet by any stretch, but we're optimistic," she said. "We're certainly seeing signs of that recovery."
Donovan Pearase, owner of Blackwater Cats Outfitter in East Selkirk, Manitoba, said he was able to stay afloat with his summer fishing guide business, but his ice fishing operation suffered without American clients.
Pearase guides for catfish on the Red River and for walleyes on the Red and Lake Winnipeg during the open water season, and he offers guided ice fishing trips on Lake Winnipeg.
Before the pandemic, Pearase says he employed five or six guides and pulled in extra help as needed to meet the U.S. demand for ice fishing trips on Lake Winnipeg, averaging close to 400 "guide days" on the ice in three months of winter.
"The amount of American guys that come up ice fishing every winter is staggering," Pearase said. "I'm busier in three months on the ice than I am in all six months of summer."
The ice fishing season was winding down when the U.S.-Canada border closed in March 2020, but the winter of 2021 was almost a bust, Pearase says. Manitobans like the convenience of half-day guided summer trips on open water, but getting them to shell out money for ice fishing excursions is a tough sell, Pearase says.
Whether it's open-water fishing on Lake Winnipeg or winter ice fishing adventure on a remote lake trout lake, opportunities abound
"I do have good Canadian clients and corporate groups, but overall, there's not a snowball's chance in hell that we can replace our American business with Canadian business" in the winter, Pearase said.
"It's such a weird philosophy – especially here in Manitoba," he added. "It's like I can't give away an ice trip unless it's 50% off."
With the border again open to American visitors, Pearase says his ice fishing business this winter is operating at about 40% to 50% capacity. A lot of his large groups and longtime American regulars have come up fishing, he says, although every group seems to have people who either won't get vaccinated or test positive for COVID and don't make the trip.
January was "fairly steady," February is quiet and March looks "really, really busy," Pearase says. American anglers who are "sitting on the fence" and holding out for Canada to relax its vaccine requirements are in for a long wait, he says.
"It's actually more Americans than I expected, who've actually gotten vaccinated and are coming up fishing this year, and then the guys who are coming up, there've been no issues crossing the border," Pearase said. "The guys who are getting randomly stopped and tested – there's been no issues with that. I haven't heard a bad story yet from any of my guests."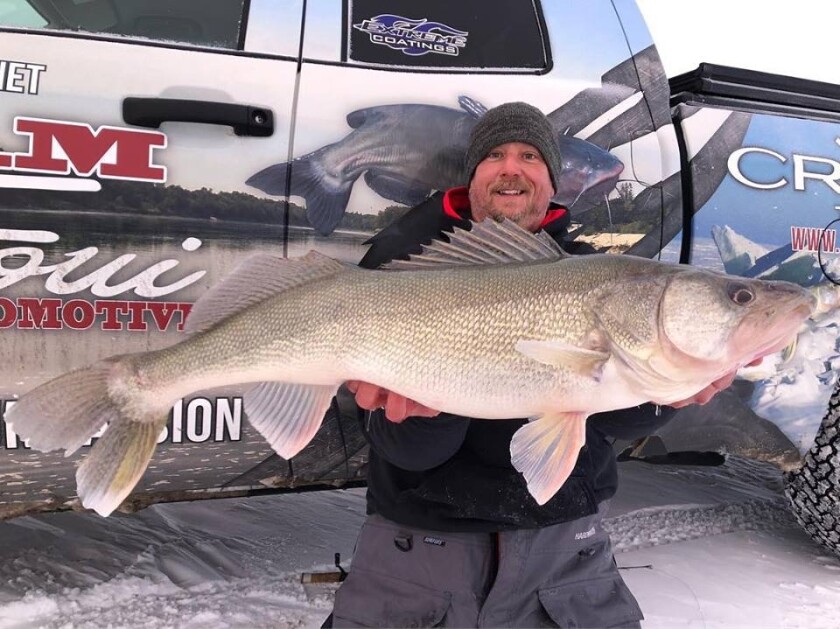 Testing requirement hurts
From a marketing standpoint, it would help if Canada would eliminate the 72-hour requirement for producing a negative COVID test, said Gerry Cariou, executive director of Ontario Sunset Country Travel Association in Kenora, Ontario. The travel group represents nearly 200 resorts and fishing lodges in Sunset Country, a vast area of northwestern Ontario with 70,000 lakes that covers some 62,500 square miles.
"This needs to end in the sense that the virus has escaped our abilities to contain it, so everyone's going to have to start living with it, I guess, is the view of the industry," Cariou said. "Everyone in the industry would back me on that. We need to contain it, live with it, but not restrict the economy anymore.
"And these regulations currently do restrict travel, obviously."
Still, the push is on to attract American visitors, said Cariou, who is resuming travel to U.S. outdoor sports shows in the coming weeks to promote Ontario Sunset Country. He's attending a show in St. Cloud, Minnesota, this weekend, and the 57th annual Red River Valley Sportsmen's Show, set for March 3-6 at the Fargodome in Fargo.
"It's dire straits if we can't access our American guests," Cariou said. "So, I'm kicking down the door, showing up in the States and telling you guys to come back up here finally. The association is hard-pressed to get our American visitors back because you're so important."
Government programs to promote tourism from within the province and country while the border was closed produced some success, but it couldn't offset the loss of American visitors, Cariou says – especially the loss of American anglers.
Clark, of Clark's Resorts and Outposts, says less than 1% of the 3,000 to 4,000 tourists who visit their facilities in a normal year are Canadian.
"We have tried to market to Canadians for many, many years around here, but it's a tough one because Canadians live here already, and they've already experienced everything here," he said. "It's very tough to pull in Canadian clients. We have a few, but very, very few."
Financially, Clark says, the pandemic set them back to where they were 15 to 20 years ago.
Being diversified helped them survive, Clark says. In addition to the resorts and outpost camps, Clark's has a fleet of 12 airplanes and a bait trapping operation that supplies bait to some 80 fishing lodges in northwestern Ontario.
We have tried to market to Canadians for many, many years around here, but it's a tough one because Canadians live here already, and they've already experienced everything here. It's very tough to pull in Canadian clients. We have a few, but very, very few.
Wayne Clark, Clark's Resorts and Outposts / Vermilion Bay, Ontario
The bait business "didn't generate a nickel" with the border closed because no camps were buying bait, Clark says, so the family opened bait and tackle shops in the Ontario communities of Dryden and Red Lake to accommodate local anglers and recently purchased a gas station in Balmertown, Ontario, which is part of the Red Lake district.
They also launched a freight business, using an airplane to service remote communities in the North.
Meanwhile, the resort and outpost camps – some 50 cabins in all – sat empty.
"Once COVID hit, we had to scramble and get into some other stuff here really quickly to survive," Clark said. "I mean, we were just about done. And we didn't know what we were going to do.
"We've had to switch gears totally, and we had to do it very, very quickly in order to survive."
Opening the resort and outposts for last year's abbreviated season may not have been profitable, Clark says, but it gives them a jump on the coming summer.
"We started the process of getting people up here, and the second thing is we got out to all of our properties and got all the work done – like cutting the grass and the brush and the trees that had fallen, fixing the docks and the outhouses and, you name it.
"We are ready now to hit it again here," he added. "So, we'll see what happens."
Trying to offset the loss of nearly two full seasons without American visitors is going to be a challenge for everyone in the fishing camp industry, Clark says. High prices for fuel and lumber and a shortage of workers add to the challenge.
Still, there's optimism.
The American appetite for the kind of fishing experience available in Canada is strong as ever, Clark says.
They're even planning to market Clark's Resorts and Outposts at their first outdoor sports show in a couple of years in late February in Madison, Wisconsin, and might attend the Northwest Sportshow set for March 10-13 at the Minneapolis Convention Center, Clark says.
"As busy as we are and talking to a lot of my friends (in the industry), everybody's the same way, so I think it's good," he said. "I think it's going to be very, very busy – we're hoping so."