One for the record books: Ackerman, Fossum highlight Midgets' historic day
On the second pass of her floor routine during the Fern Pokorny Memorial Invitational, Dickinson High's Meghan Ackerman carried too much speed and stumbled out of bounds on her aerial attempt.
On the second pass of her floor routine during the Fern Pokorny Memorial Invitational, Dickinson High's Meghan Ackerman carried too much speed and stumbled out of bounds on her aerial attempt.
She recovered and posted a solid number of 9.350 and was embraced by her teammates, the Midgets senior stood bent over with her hands on her knees in an effort to compose herself.
As an answer, Ackerman followed her performance on the floor by completing a feat she has spent the past two years trying to accomplish.
On her first attempt on vault, Ackerman charged the table with a purpose, cleanly sticking the landing on a front handspring, front tuck. Immediately realizing what she had done, the senior turned to judge with her arms outstretched and a smile as wide as the Atlantic Ocean.
"I don't even think I can put words to it. Just talking about it now, I get so emotional," Ackerman said. "As soon as I popped off the table, I knew that was going to be the one. I just looked at my coaches, I saw that Casey (Berry) had tears in her eyes and my teammates, I saw happy they were. ... That was the first time I ever landed it and it was just so relieving because that's what I've been working it all year. That was my main goal."
Receiving the loudest reaction of the afternoon, Ackerman earned an event high-score of 9.750. Capturing second in the all-around, she was victorious in the uneven bars as well with a mark of 9.300, but it was her bounce-back from the floor error that she'll remember most.
"It was definitely nice to comeback from that floor routine," Ackerman said. "Floor has never been my strongest (event) ... That pass did get a little out of control, but being able to go to vault and nail that vault, it just took all my worries away and I just forgot about everything else because of that moment."
As for the rest of the squad, by the end of the afternoon, Dickinson did something that no other team in program history has done. Winning the invitational with a mark of 151.725 on Saturday, Jan. 26, from the Dickinson High Gym, the Midgets set a school record for highest team score in a single meet.
"In a sport where you get judged, sometimes the scoring reflects that you hit; it's not like a race where you are timed. They hit really well, they got a really good score," Dickinson head coach Kent Van Ells said. "I keep track of that sort of thing and whether this team is better than teams that has scored similarly, but not this high, I don't know if I want to go quite there. Certainly in this meet, they were really good and had some super high points that were unusually and exciting. They earned their points and it was really fun."
Bismarck Legacy was second with a score of 141.475, followed by Bismarck High, Bismarck Century and Mandan.
The Midgets produced seven gymnasts in the all-around top 10, paced by Ayanna Fossum, who had a season-high score of 38.125. The junior scored in the top four in each event, one week removed from accomplishing that same feat at the 2019 Gym-O-Rama in Rapid City, S.D.
"I've been focusing a lot on having fun at meets," Fossum said. "I was a little stressed at the beginning of the year going into meets, but what I've been having on my mind lately is to have fun, relax, take one thing at a time, and I think that's what has been helping me get my higher all-arounds."
Fossum also had a misstep in her second pass, slightly losing her balance on the back end of a cartwheel-double twist-front tuck. But after doing well on her third pass, she still ended with a winning score of 9.675.
"I guess I just went too hard on my second pass and I knew that it was a little wobbly," Fossum said. "I thought I was going to fall and it made me a little nervous, but I knew after I had a pass like that, I had to keep going because I knew I could get a good score if I kept my confidence up. I just thought 'go hard for your last pass and make it as best as you can.'"
Bismarck High junior Kate Dillman was third in the all-around after a score of 37.650. She was followed by Dickinson senior Dacia Rambousek and and junior Brinklyn Schumacher. In the first event of the day, Rambousek triumphed on the beam, taking the event after a mark of 9.700, while Schumacher had second-place finishes on the vault and uneven bars.
In what has been a somewhat inconsistent season to this point, the Midgets followed their best performance of that 2018-19 campaign last week at Rapid City with a historic performance in front of their home fans. Their goal now is to hold on to that momentum.
"I hope it's just another step," Van Ells said. "We've had two really good meets in a row, one away and one at home, it's just a matter of keeping it going."
Results Saturday
Fern Pokorny Memorial Invitational
Team scores: 1, Dickinson High, 151.725. 2, Bismarck Legacy, 141.475. 3, Bismarck High, 133.475. 4, Bismarck Century, 127.550. 5, Mandan, 121.025.
All around
1, Ayanna Fossum, D, 38.125. 2, Meghan Ackerman, D, 37.850. 3, Kate Dillman, BH, 37.650. 4, Dacia Rambousek, D, 37.450. 5, Brinklyn Schumacher, D, 37.200. 6, Amy Fridley, D, 36.350. 8, Rylee Olson, D, 35.125. 9, Brooklyn Deguzman, D, 35.075.
Vault
1, Ackerman, D, 9.750. 2, Schumacher, D, 9.725. 3, Fossum, D, 9.650. 4, Fridley, D, 9.575. 5, Dillman, BH, 9.500. T6, Rambousek, D, 9.225. 8, Addison Fitterer, D, 8.825.
Uneven bars
1, Ackerman, D, 9.300. T2, Schumacher, D, 9.200. T2, Dillman, BH, 9.200. 4, Fossum, D, 9.175. T5, Deguzman, D, 9.100. T5, Elicca Stugelmeyer, D, 9.100. 7, Rambousek, D, 9.025. T9, Olson, D, 8.600.
Balance beam
1, Rambousek, D, 9.700. 2, Fossum, D, 9.625. 3, Dillman, BH, 9.550. 4, Ackerman, D, 9.450. 5, Fridley, D, 9.425. 6, Schumacher, D, 9.225. 10, Olson, D, 8.800.
Floor exercise
1, Fossum, D, 9.675. 2, Deguzman, D, 9.525. 3, Rambousek, D, 9.500. T4, Dillman, BH, 9.400. T4, Joanna Lee, D, 9.400. T6, Ackerman, D, 9.350. 8, Fitterer, D, 9.275. 9, Fridley, D, 9.200.
1
/
4:
The Dickinson High gymnastics team poses for photos after it posted single-highest meet score in program history during the Fern Pokorny Memorial Invitational on Saturday, Jan. 26, from the Dickinson High Gym. (Patrick Bernadeau/The Dickinson Press)
2
/
4:
Dickinson High senior Dacia Rambousek faces the judges after completing her vault during the Fern Pokorny Memorial Invitational on Saturday, Jan. 26, from the Dickinson High Gym. (Patrick Bernadeau/The Dickinson Press)
3
/
4:
Dickinson High eighth-grader Amy Fridley performs her floor routine during the Fern Pokorny Memorial Invitational on Saturday, Jan. 26, from the Dickinson High Gym. (Patrick Bernadeau/The Dickinson Press)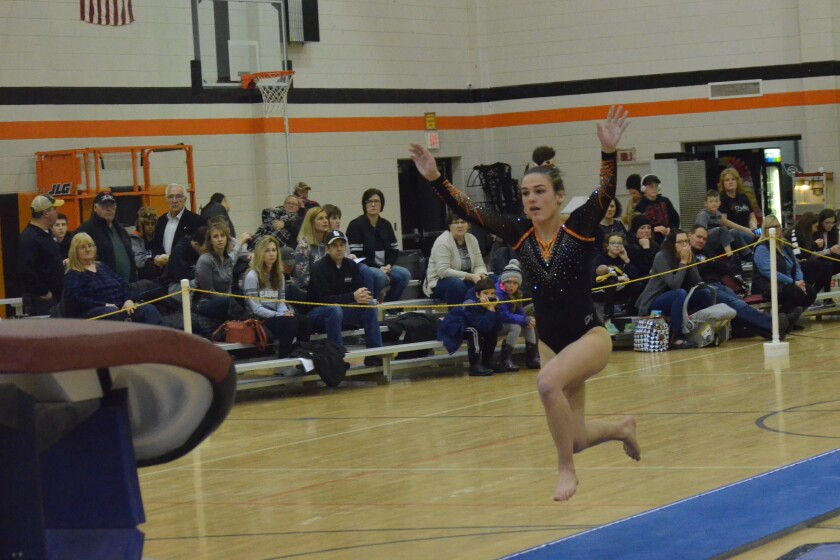 4
/
4:
Dickinson High junior Brinklyn Schumacher attacks the vault during the Fern Pokorny Memorial Invitational on Saturday, Jan. 26, from the Dickinson High Gym. (Patrick Bernadeau/The Dickinson Press)