Midgets' season ends with back-to-back losses to Watford City
"We got good looks at the basket, but there are going to be some nights where the ball just doesn't go through the hoop and unfortunately tonight was one of those nights," said coach Devan Douglas.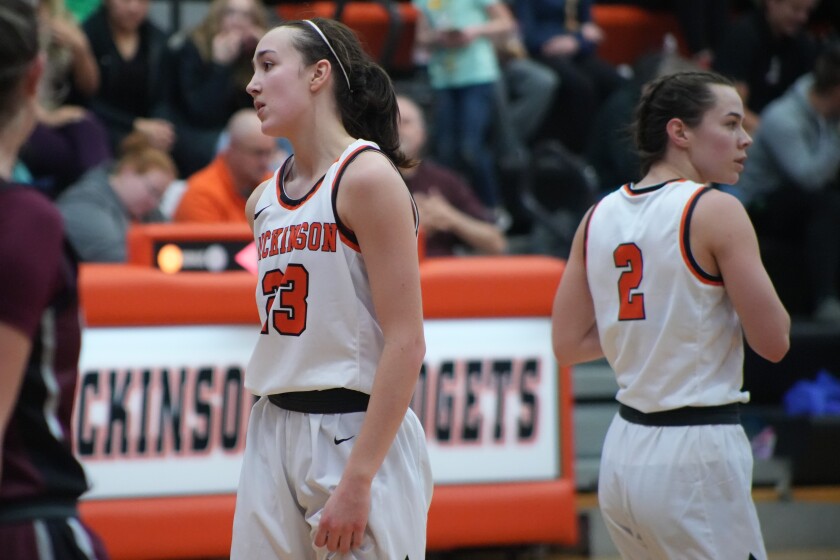 DICKINSON — In a week of woes, Dickinson fell twice to Watford City in a season ending loss for a team whom all season has focused on talent development with an eye for a deep run in 2022.
Falling by 12 points in a 69-57 loss early in the week, the Midgets would again — four days later — face the Wolves on Friday night during the play-in stage of the Western Dakota Association Tournament.
The outcome would be identical for the Midgets in their second attempt at thwarting the Wolves as they would fall to Watford City in a 57-45 defeat. As the No.9 seed, Dickinson did not have home court advantage in a game that saw the Midgets fall behind before halftime and never regain the lead.
"We didn't shoot very well and got off to a pretty slow offensive start," Coach Devan Douglas said. "They capitalized on their possession of the ball, and we didn't. We got good looks at the basket, but there are going to be some nights where the ball just doesn't go through the hoop and unfortunately tonight was one of those nights."
Much of the success for Watford City came beyond the arc as seven buckets between Gracen Breitbach (3) and Madison Spacher (4) would build on solid perimeter play.
The Midgets did have opportunities early, but found trouble sinking pressured mid-range shots as the Wolves' defense maintained effective transition between the offensive and defensive formations. Junior guard Caton Pearcy would find some success, sinking a lone three-point shot, but would be held to the sole 3-pointer for the duration of the first half.
Among the struggles, Dickinson found success in drawing fouls throughout — but were unable to convert attempts from the foul line, going 4-for-10 in the first.
As the second half began, the Midgets showed improved success with a quasi-triangle offensive scheme as they shot 71% in the second half. The Wolves refused to let up on the gas on the offensive side of the ball as their back screen post play caught Dickinson off guard while opening quick inside the paint points.
Staggered screens opened blocks for the Wolves time and again as weak side shooters found successes often.
Both teams entered double bonus in the second half, with senior guard Reese Hauck toeing the charity stripe successfully.
Strong senior contributions from Hauck and forward Staci Kempenich, who were each leaders on the leaderboard, would see the pair rack up 19 boards combined.
Junior guard Emily Ash led the Midgets in steals with four, tying sophomore forward Jazmin Barry for points at eight. Sophomore Sadie Stevenson would also prove valuable in the defensive play, finding four boards and two steals with tenacious defense.
"It was probably one of (Staci's) better games defensively and she got on the board offensively as well. She gave us a lot of very good minutes," Douglas said. "Reese did her thing out there. She led us in points and she played hard."
With the season in the rear view, Douglas said she was optimistic for the coming seasons as younger players developed this season will make immediate impacts for the Midgets in 2023.
"We have four juniors coming back. We had two starters, Emily Ash and Kayden Pearcy, they are great players… A good thing about us is that we have eighth sophomores who have a lot of talent, height and are hard workers. I think those girls are really going to step up to the challenge next year," Douglas said.
Douglas praised her team's effort and strong character, noting that collectively they have shown throughout the season poise in times when the team were ahead as well as in times when they were trailing.
"There really is no handbook on handling a loss, especially when it's a season-ending loss," Douglas said. "We fell short of our goals, but they are tremendous kids, they are tremendous leaders and they are tremendous athletes," she said. "I think they do a great job of representing our high school and our community as a whole… It's a bummer that the season had to end as soon as it did, but I am also really excited for next year. I am going to miss the seniors and I am thankful that I had the opportunity to coach them."
The WDA tournament will continue at the Bismarck Event Center from March 3-5.
Box Scores:

| | | | |
| --- | --- | --- | --- |
| | First Half | Second Half | Final |
| Dickinson | 23 | 22 | 45 |
| Watford City | 37 | 20 | 57 |
Watford City: Madison Spacher 19, Gracen Breitbach 13, Jessica Mogen 11, Jordyn Pedersen 7, Bailey Mattson 4, Lexi Moberg 3, Akira Hogue 1; Dickinson: Reese Hauck 10, Emily Ash, Jazmin Barry 8, Sadie Stevenson 6, Abbey Dutke, Caton Pearcy 5, Staci Kempenich 2