Under fire: Bulldogs blowout GCMR from three-point range  
The Dawgs scored 51 points from beyond the arc in their away match against Grant County Mott-Regent.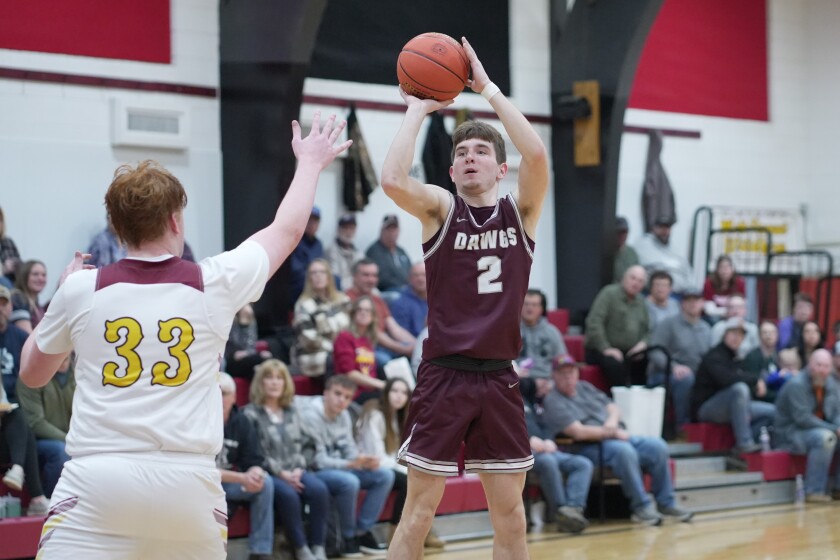 We are part of The Trust Project.
MOTT, N.D. — Fire rained down from the perimeter, inside North Dakota Army National Guard Armory, as the Bowman County Bulldogs were near automatic from three-point range in their Region 7 battle against Grant County Mott-Regent (GCMR).
GCMR (0-3, 4-8), donning their Wildfire jerseys, played in a zone defense, in efforts to keep control of the lane, but Bowman's (3-1, 10-2) bombardment would prove too much for a home team that struggled converting. After the dust settled, the Bulldogs would come away with a 74-51 victory, scoring 17 shots from the outside and three players finishing in double digits.
Head coach Ronnie Stewart was happy with the good looks his Bowman team was able to find, but also recognized the quick adjustment GCMR made against their press.
"Our boys definitely feed off of our man-to-man pressure, that is what these guys have done for many years. Unfortunately tonight it really didn't work out as well as we'd like," Stewart said. "Zachmann did a couple of good adjustments bringing certain players to bring the ball up the floor… We knocked down a bunch of shots, I believe we had shot 17 three-pointers. That is fun as a coach and these boys are playing very well. This was a very good regional win.
Bowman County separated themselves quickly, ending the first quarter 22-9. The Duffield brothers were an incredible force on offense, collecting 39 points between the two — So far in the season, the twins have tallied 483 points collectively.
Bishop Duffield tallied 13 of the points in the game, which included a one-handed dunk in the third quarter, taking advantage of a stolen ball. The third quarter was also the Bulldogs' largest scoring quarter with 26 points.
Bohden Duffield was prolific from three-point range with six threes; as was Aiden Thompson who shot five treys and ended the night with 21 points. Bohden Duffield totalled 26 points to lead his team.
"Our plan was to try and not let the Duffields and all their guards get to the basket and to protect the rim," Nate Zachmann, GCMR head coach, said. "Hats off to [Bowman County]. They shot phenomenally well.I thought our guys did a good job of battling the best they could but we did not hit enough shots to stay with them."
GCMR had two players in double digits; Raima Oyama (12) and Adam Kuetzman (12). They only managed to score off of six three-point shots, Oyama notching half, completing three three-pointers in the second half.
The Wildfire team did win the free-throw game, finishing 66 % of their attempts, doubling Bowman County's 33 %.
The Bulldogs are currently middle of the pack in the highly competitive Region 7 standings. Grant County Mott-Regent continues to look for a win in the region play, but Zachmann said that they are on the right track and is ready to get back to the drawing boards.