Region 7 Recap: Last look at area girls basketball before spring sports get underway
Setting clocks ahead one hour on Sunday, March 10, daylight saving time indicated one thing that North Dakotans have been eagerly awaiting: Spring is on the horizon.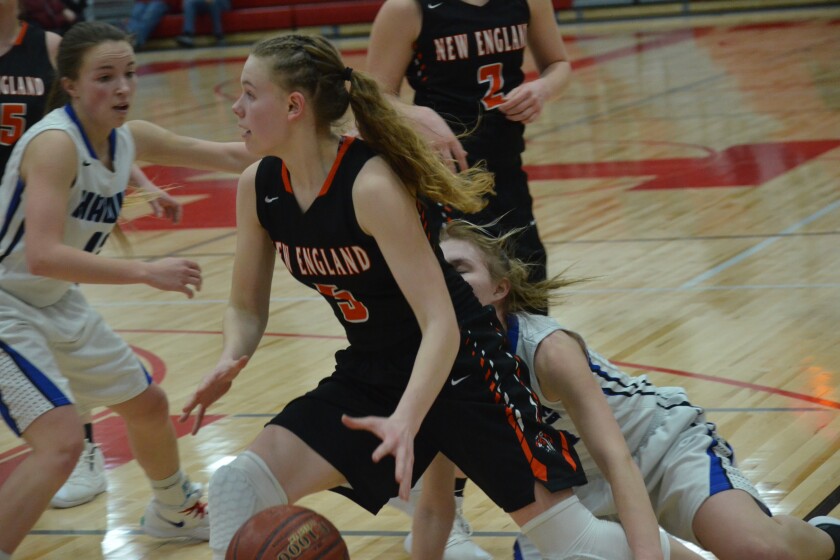 Setting clocks ahead one hour on Sunday, March 10, daylight saving time indicated one thing that North Dakotans have been eagerly awaiting: Spring is on the horizon.
While daylight saving does have its drawbacks, like needing an entire week to get fully adjusted to the time change, the warmer temperatures, melting snow and later sunsets more than cancel out those drawbacks.
In addition to the time and weather changes, the high school sports calendar is on the verge of a change, as the Class B Boys Basketball State Tournament marks the conclusion of the winter sports season. From there, the spring programs take over the sports landscape, but before that transition occurs, here's one last look at the Region 7 girls basketball season.
The single-most dominant team on either the boys or girls hardwood was the Hettinger-Scranton girls basketball team. Defeating teams in the regular season by an average of 25 points per game, the Night Hawks captured a Region 7 title, the team's first as a co-op.
Guard Abbie Kludt was selected as the region's Senior Athlete of the Year while junior guard Alyssa Andress and Sam Oase were selected to the All-Region and All-State Tournament teams.
Injuries derailed Hettinger-Scranton at the state tournament, leading to a fourth-place finish and 24-3 overall record, but according to Andress, the team's success was due to a combination of factors coming together at the right time.
"I'd say that this year has been our best (year), not just because of how far we've gotten as a team, but because of our athleticism, team connection and bond that we had, and our drive to do our best," Andress said.
The team in the region that gave the Night Hawks their stiffest competition was Dickinson Trinity. On Jan. 15, Hettinger-Scranton defeated the Titans 49-42 before the two squads met again at the Knights of Columbus Activities Center in the Region 7 Tournament Championship game.
In what was a back-and-forth affair through most of the first three quarters, the Night Hawks established a cushion entering the final frame before holding on for a 42-36 victory. Although his team's state dreams came up empty, Titans head coach Carter Fong was proud of how Dickinson Trinity twice limited Hettinger-Scranton more than 10 points under than scoring average.
"I'm incredibly proud of my girls. It's not easy to get a team to buy into a mission that begins on the defensive end - that's a whole lot of hard work and not a lot of glory - but it was our best chance," Fong said. "Hats off to Hettinger-Scranton, they are very worthy of representing this region. Kelly Pierce is a class act and the girls follow his example. I'm just so proud that we gave them the toughest possible test that we could."
The Night Hawks weren't the only team Dickinson Trinity was able to slow down offensively. The Titans advanced to the title game after getting by Bowman County 35-33 in overtime during a Region 7 semifinal on Feb. 19.
The Bulldogs bounced back two nights later, using an 11-5 advantage in the fourth quarter to defeat New England 43-38 in the tournament's third-place game.
"We just could not pull away. New England plays some pretty aggressive defense and you got to give them credit," Bowman County head coach Jaden Schoch said. "They're quick, athletic girls, and Jason's done a nice job with his girls. I'm glad we had energy on both sides. I think for a third- and fourth-place game, to have at least the energy and know the girls care says something about both teams."
After a 1-7 start to the season, the Tigers were impressive down the stretch, winning nine of their last 13 regular-season games and earning a first-round tournament bye in the process.
"We made such huge strides this year. Nobody expected us to be even in the regional tournament to begin with. Tonight was a great game and actually having three games in this regional tournament provides great experience," Tigers head coach Jason Jung said after the loss to Bowman County. "We have a lot of kids coming back. Our whole nucleus is back. The game tonight was great because there was a great crowd there, a great atmosphere. Our kids, they played a lot more relaxed than they did Tuesday night, and that kind of benefited us."
Returning next year for the Tigers are juniors guard Molly Rayhorn and Shelley Kathrein, who were both selected to the All-Region team.
The All-Region team featured eight seniors, four juniors, two sophomores and two freshmen.
1
/
2:
Dickinson Trinity senior guard Bre Tessier looks to put away a rebound during a Region 7 quarterfinal against Heart River on Monday, Feb. 18, at the Knights of Columbus Activities Center. (Shelby Reardon / The Dickinson Press)
2
/
2:
Bowman County senior forward Ellie Stafford works for a shot inside against Beulah during a Region 7 Tournament contest on Monday, Feb. 18, from the Knights of Columbus Activities Center. (Patrick Bernadeau/The Dickinson Press)