Titans at full strength for Des Lacs-Burlington rematch
The Dickinson Trinity football team will play its first football game in 15 days on Saturday, Oct. 20, as the Titans welcome Des Lac-Burlington into the Biesiot Activities Center during the opening round of Class A State Playoffs.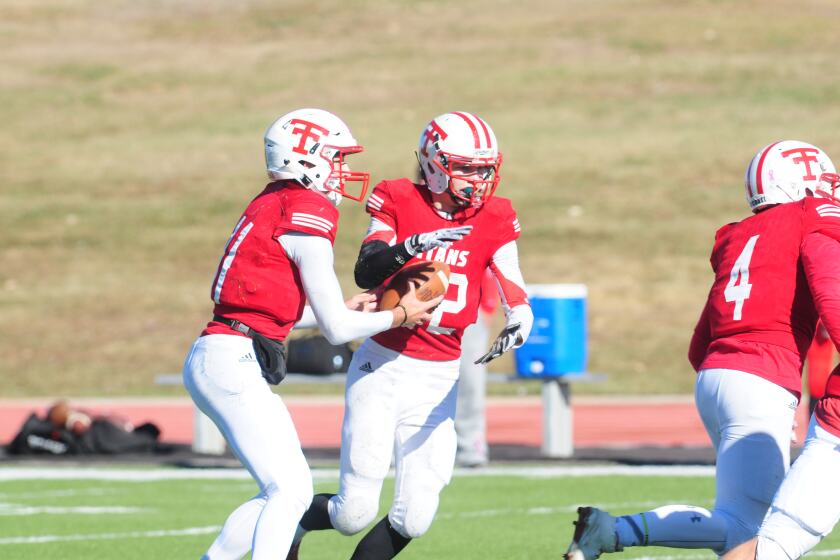 The Dickinson Trinity football team will play its first football game in 15 days on Saturday, Oct. 20, as the Titans welcome Des Lac-Burlington into the Biesiot Activities Center during the opening round of Class A State Playoffs.
Without an opponent to match up with on the field last Friday, the Titans chose to battle each other in an NCAA Football 14 video game tournament. NCAA Football, the popular college football video game franchise, last released a title in 2013; however, the players were able to find old copies of the game and challenge the coaches to see who had the upper-hand on the sticks.
At night's end, head coach John Odermann defeated sophomore quarterback Jake Daniel to earn the tournament crown.
"I was able to grind my way to the championship, beat Jake Daniel by two scores in the championship game. It was fun," Odermann said. "I think the kids had a good time. You don't get an opportunity like that a lot of the years to get an off-night and you got to make sure you make the best of it. The kids got together and hopefully, became closer as teammates."
It is the second year in a row that the Titans and Lakers will clash in the playoffs. In 2017, Dickinson Trinity earned a 40-0 shutout in a second-round tilt. If the home team hopes to repeat that performance, it'll have to lock down an offense, led by junior quarterback Dante Gunville, that is averaging over 34 points in its last four contest
"They're a little bit different than what they were last year. They had a couple real big speedsters last year on the perimeter that we had to account for," Odermann said. "They've still got the athletic quarterback that we have to make sure that we keep in the pocket and don't let him make our defense make mistakes by extending plays with his legs."
Dickinson Trinity will have a full complement of players at its disposal for the first time this season. Out of action since early September, senior lineman Alija Karsky returns to a Titans interior spot looking keep Gunville in check.
"I think it's going to be fun just to be back on the field and to be playing with the team again," Karsky said. "We've all put in a lot of hard work to get here and I think it's going to start paying off for us. We just gotta get up to playoff speed and really get going."
On an evening where weather conditions may be conducive to passing, the Titans and their onus of slowing down Gunville may fall on the secondary if the front seven can't get to him.
"He's a double-threat quarterback, he can run it and he can pass it pretty good," sophomore defensive back Cole Fitterer said. "When he's passing it, we just have to stick with the wide receivers on their routes and try jumping them and getting the ball."
Undefeated Bulldogs open postseason against Nedrose
The other Region 4 team hosting a playoff game is Bowman County. Coming off an undefeated regular season, the No. 4 ranked Bulldogs plays host to Nedrose at Bowman County Stadium - Reinhiller Field.
"Coming into the season, our goal was to be in contention for a region championship. We thought we could do it, but to do it with an undefeated season, they may have exceeded expectations, but not by a lot," Bulldogs head coach Todd Frie said. "We knew we had a good group of kids and I'm definitely not shocked by the results."
The Cardinals finished with a 4-4 record, emerging out of a three-way tiebreaker for the final Region 3 playoff spot. It may appear to be a mismatch on paper, but the film suggests Bowman County had plenty to prepare for.
"They give you a ton of different looks offensively and defensively," Frie said. "They play different lineman at different techniques, formations; it's hard to prepare for them because of that. ... They're a talented team and they wouldn't be in the position they're in if they weren't a quality team."
Behind offensive coordinator Nick Walker, who was the previously the quarterbacks coach at Dickinson State, Bowman County scored nearly 43 points per game while its veteran defense relinquished just under 10 points a contest this season.
he regular-season finale against Beulah, in which Bowman County needed a defensive stand in the red-zone to seal a 28-20 victory on Oct. 12., also may have helped the Bulldogs prepare. The victory serves as an example of the Region 4 champions winning even when they weren't at their best, something that may prove valuable at this time of the year.
"I think it was good for us and it was what we expected. Beulah is a very good team, very good program," Frie said. "To not play our best football and still beat a team like that, I think it says something about our kids and their hard work, determination and will to stand up when the times are tough."
Beulah and Hazen set to face high-powered offenses
When the Miners walked off the field last Friday, the players did not immediately know if they had another game to look forward to. With the loss, Beulah did not guarantee itself a playoff spot, but as Hazen defeated Killdeer, the Miners sealed their seventh consecutive trip to the postseason under head coach Jim Dooley.
"Right away, the kids were upset because they didn't know or have any updates on the Hazen/Killdeer game," Dooley said. "It was like going through all the stages of grief for five minutes, but we had some updates after the game and we heard Hazen was ahead."
Dooley believes the lack of updates throughout the course of the game was actually positive for his team as the Miners delivered their most well-rounded performance against the best squad in Region 4.
"I think it's a good springboard into the postseason," Dooley said. "I think the biggest thing is that we didn't really know who we were as a team and I even said, 'I don't know if we're a good team that's playing poorly or we're not a very good team.' But I think we found out what we are capable of doing."
The Miners will travel to Minot and face Bishop Ryan on Saturday night. Last season at home, Beulah wiped out the Lions 38-7 in the opening round of the playoffs. Bishop Ryan enters this year's battle undefeated, claiming the Region 3 title with the second highest scoring offense in Class A at 44.9 points per game and tied for fourth in points allowed at eight points a game.
"I don't think it's a bad matchup for us, we are familiar with them," Dooley said. "They are probably more of a throwing team, but they run the ball; they don't just completely air it out on every down. They run the ball to keep you honest and they like getting big plays."
Following their 22-0 triumph over the Cowboys, Hazen the No. 3 seed out of Region 4, is scheduled to face the highest scoring team in Class A as the Bison will hit the road and face Velva.
According to Bison head coach Bret Johnsrud, Velva does not show its cards on either side of the ball, making preparation more critical than in most weeks.
"This week, we had that extra day of practice that we usually don't have," Johnsrud said. "We are just hoping that they kids got something from that extra day and we come out with more confidence knowing what they are going to see, and from that, they play better."