Titans snap Bucs' six-game winning streak
In a match-up between programs undefeated in Region 7 play, the Dickinson Trinity boys basketball team hosted Beach without a pair of key players. After suffering an ankle injury against Heart River on Jan. 10, senior post Isaac Fridrich was side...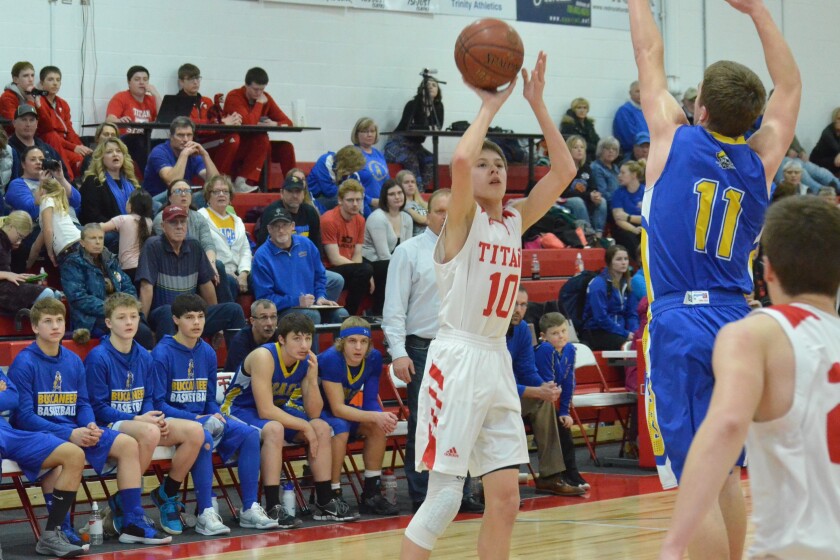 In a match-up between programs undefeated in Region 7 play, the Dickinson Trinity boys basketball team hosted Beach without a pair of key players.
After suffering an ankle injury against Heart River on Jan. 10, senior post Isaac Fridrich was sidelined for the third straight game, while sophomore guard Cole Fitterer was out of action as he was under the weather.
Without two of its starters on parents night, the home team looked elsewhere for production.
Led by sophomore point guard and newly-inserted starter Jake Daniel, along with strong contributions from their bench, the Titans held to the Buccaneers to a season-low point total in a 61-44 victory on Saturday, Jan. 19, from the Knights of Columbus Activities Center.
Improving to 5-0 in the conference while snapping Beach's six-game winning streak, Dickinson Trinity had four reserves on the floor for more than eight minutes, compared to just one for the Bucs. With that, the Titans produced a 17-2 advantage in bench points.
"I thought our bench did an outstanding job again," Dickinson Trinity head coach Gregg Grinsteinner. "We got what we needed out of our starters, but we really played nine kids that executed for the most part what we wanted to get done. To hold a team that likes to get up-and-down under 50 points, you give yourself a chance to win."
Daniel scored six of his team-high 14 points in the first quarter. With seconds remaining in the frame, Daniel snagged a steal before draining a pull-up jumper at the buzzer, giving the boys in red and white a 12-5 lead.
The Titans came up with multiple plays at the end of quarters, which deflated their opponent a bit. During a possession which included two offensive rebounds at the end of the first half, junior guard Cheydan Hauf pulled down a missed corner-three from junior Matthew Stafford and connected on a putback while being fouled. With the basket, Dickinson Trinity entered the halftime break up 26-17.
Beach remained in striking distance after a long-distance make from freshman Tevin Dietz pulling the visitors to within nine, 37-28 late in the third quarter. Stafford responded with six-straight points, converting a three-point play and drilling a catch-and-shoot fadeaway 3-pointer at the top of the key on back-to-back possession, giving the Titans a 43-28 cushion with one period to go.
"We had some bad letdowns with one second left on the shot-clock. ... It seemed like every time we had a chance to make a run, they answered," Buccaneers head coach Al Swanson said. "Whether that's bad luck for us and whatever it is, that summed the game up a little bit and it kind of got away from us."
Fighting for all of its open looks, Beach went 15-for-44 (34 percent) from the field against Trinity's size and rugged man-to-man defense. On the other side of the floor, the Titans moved the ball from side-to-side, forcing the Buccaneers to exert a ton of energy within their pressurized 2-3 zone defense.
Playing primarily six people, Beach had moments where its players stood with their hands grasping at the bottom of their shorts.
"We were tired," Swanson said. "We're a small school and we got basically a six-man rotation. I can't put 10-12 guys through the game, that's not possible unless I want use eighth-graders. So that's what we are stuck with. ... So we get tired, especially in this type of a game where we got to work pretty hard. I'm proud of how the boys worked."
While undermanned, the Buccaneers do have arguably the region's best scorer. Slashing and bulling his way to the cup, junior forward Gage Swanson put up a game-highs with 28 points - 15 of which came in fourth quarter - and nine rebounds. Dietz chipped in with 10 points, but the rest of the team scored six on 1-for-13 shooting from the floor.
Stafford and Titans senior forward Aric Knopik had 12 and 10 points, respectively. Junior forward Seth Herner added eight points, seven rebounds and two blocks.
Off the bench, Hauf finished with five points and three steals while junior forward Trey Praus topped the reserves with seven points on 3 of 5 from the field.
Without much playing time this season, Praus clocked in only eight minutes and 12 seconds before fouling out in the fourth quarter, but made the most of his opportunity.
"I just felt like I had to step up. I've been missing out long enough and I wanted to make my point," Praus said. "Teammates, they've pushed me hard in practice and helped me out. ... I wouldn't be able to do it without everybody else on this team. With the athletic capability that we have on this team, they push me and my goal is to push them right back."
Dickinson Trinity 61, Beach 44
B 5 12 11 16
DT 10 16 17 18
B: Gage Swanson 28, Tevin Dietz 10, Jhett Farstveet 3, Jared Wojahn 2, Blake Van Horn 1.
DT: Jake Daniel 14, Matthew Stafford 12, Aric Knopik 10, Seth Herner 8, Trey Praus 7, Cheydan Hauf 5, Tanner Soehren 4, Bryant Merry 1.
3-pointers: B 3 (Dietz 2), DT 3 (Praus, Daniel, Stafford). Free throws: B 11-18, DT 12-24. Total fouls: B 20, DT 15. Fouled out: 1 (DT: Praus). Rebounds: B 33 (Swanson 9), DT 32 (Herner 7). Assists: B 1 (Wojahn), DT 10 (Daniel 2, Stafford 2, Merry 2, Herner 2). Steals: B 7 (Farstveet 4), DT 9 (Hauf 3). Blocks: B 1 (Swanson), DT 4 (Herner 2). Turnovers: B 14, DT 15. Records: B 7-6 (Region 7 4-1), DT 11-3 (Region 7 5-0).
1
/
4:
Beach junior forward Gage Swanson goes up for a layup attempt against Dickinson Trinity on Saturday, Jan. 19, from the Knights of Columbus Activities Center. (Patrick Bernadeau/The Dickinson Press)
2
/
4:
Beach junior forward Jhett Farstveet and Dickinson Trinity Aric Knopik collide in the paint during a Region 7 contest on Saturday, Jan. 19, from the Knights of Columbus Activities Center. (Patrick Bernadeau/The Dickinson Press)
3
/
4:
Dickinson Trinity junior post Seth Herner goes up for a shot inside against Beach on Saturday, Jan. 19, from the Knights of Columbus Activities Center. (Patrick Bernadeau/The Dickinson Press)
4
/
4:
Beach sophomore center Blake Van Horn takes it hard to the basket against Dickinson Trinity on Saturday, Jan. 19, from the Knights of Columbus Activities Center. (Patrick Bernadeau/The Dickinson Press)