Trinity in a runaway: Titans capitalize on Bison mistakes in homecoming victory
Whenever he dropped back to pass, Dickinson Trinity senior quarterback Aric Knopik had plenty of time to make a decision. Near midfield, late in the second quarter with the Hazen defensive line bearing down, the senior made a decision, however th...
Whenever he dropped back to pass, Dickinson Trinity senior quarterback Aric Knopik had plenty of time to make a decision.
Near midfield, late in the second quarter with the Hazen defensive line bearing down, the senior made a decision, however this time with his feet. Knopik eluded a number of Bison defenders before bouncing outside to complete his 46-yard rush into the end zone on the quarterback keeper. The touchdown helped push Dickinson Trinity to a 30-8 halftime advantage and a 36-8 homecoming victory on Friday, Sept. 7 from the Biesiot Activities Center.
Coming off a sluggish performance against Bowman County, Knopik was sharp, completing 7 of his 11 passes for 106 yards and a touchdown while adding 55 rushing yards on five carries.
"The offensive line, they just did a heck of a job," Knopik said. "I felt comfortable at all times in the pocket. All props go to them on that."
Following the halftime break, junior defensive back Matt Stafford and sophomore linebacker Logan Bentz collected interceptions. For Stafford, it was his second pick of the contest while Bentz' snag turned into points from a 25-yard rushing touchdown from senior Kaden Kuntz.
Relinquishing a 20-point advantage the week before, Dickinson Trinity and the coaching staff sent a clear message in the locker room to keep the pressure on against the Bison.
"We definitely talked about that at halftime, about what was the score last week, what's the score now and the kids had the right answer: It's zero-zero." Titans head coach John Odermann said. "We have to go out and play a second half of football and put forth a good effort, they did that."
Each team opened the game with a three-and-out on their first offensive possession, but the Titans were in solid shape due to field position. After Dickinson Trinity senior defensive tackle Isaac Fridrich drew a holding penalty, Hazen was flagged two more times on its second drive, forcing a fourth down punt on its own two-yard line. Kuntz returned the ball to the Hazen 15.
On the next play, Knopik found Kuntz on a wide receiver screen, as Kuntz weaved through traffic for the game's first score.
Hazen (1-2, Region 4 1-1) gained some traction on its third drive of the game, collecting two first downs and appearing to pick up a third on a catch from junior tight end Garret Weir, but the play was called back for a penalty - the Bison's fourth flag of the first quarter. On third-and-long, Stafford picked off a long pass down the sideline from Isaac Doll.
The visitors were flagged 13 times, nine of which came in the first half.
"I hang that one on us, a lot. Trinity is a good team, but we made too many mistakes, even substituting, " Bison head coach Bret Johnsrud said. "Turnovers, penalties. The thing that we have right now is that it's early in the season, so we're going to learn from it, come back on Monday and get ready to work again."
Following the interception, the Titans (1-1, Region 4 1-1) were pinned near their own goalline, but two plays later, they escaped peril in an explosive way. Sophomore running back Nathaniel Jilek bursted through the line, skipped toward the Bison sideline and outraced the Hazen secondary for a 90-yard highlight-reel sprint to pay-dirt.
"I've never had a play that long, that was really long; maybe in junior high, but not that long," Jilek said. "It was trap to the left, so I got the ball on the left side. I saw a guy cutting in, so I bounced to the outside where there was a lane and I beat the last guy, that was it."
Hazen cut the deficit to six midway through the second quarter on a gutsy fourth-down call. Showing an option-look to the right, senior wide receiver Kordon Obenauer was handed the play on a reverse. The misdirection was good for 37 yards and the Bison's first points.
On the ensuing kick, Hazen elected to use a squib kick, but Titans junior Ethan Kudrna scooped up the ball, ran into clear space and took it 65 yards to the house.
However, for every positive Hazen play, Dickinson Trinity had a counter.
"I thought we started out pretty well," Odermann said. "We had a little bit of a lull there in the middle of the first half, but our kids really answered there in the second quarter with a couple of scores we were really happy with. ... For the most part, I'm really happy about the effort and attitude that our kids put out on the field today."
Dickinson Trinity 36, Hazen 8
H 0 8 0 0 - 8
DT 14 16 6 0 - 36
First quarter
DT: Kaden Kuntz 15 pass from Aric Knopik (Run failed)
DT: Nathaniel Jilek 90 run (Kuntz run)
Second quarter
H: Kordon Obenauer 37 run (Tyson VanInwagan run)
DT: Ethan Kudrna 65 kickoff return (Jilek pass from Knopik)
DT: Knopik 46 run (Matthew Stafford pass from Knopik)
Third quarter
DT: Kuntz 25 run (Run failed)
Fourth quarter
No scoring
INDIVIDUAL STATISTICS
Full Hazen stats were not available
RUSHING: DT: Jilek 5-115, TD. Kuntz 13-55, TD. Knopik 5-53, TD. Logan Bentz 2-10. Dominic Tibor 3-3. Nate Marsh 3-(-1).
PASSING: Knopik 7-11-0, 106 yards, TD. Issac Doll, 3-11-3, 37 yards.
RECEIVING: Knutz 3-45, TD. Seth Herner 1-37. Cole Fitterer 1-14. Matthew Stafford 1-9. Mason Beck 1-1.
Records: DT, 1-1 (1-1 Region 4). H, 1-2 (1-1 Region 4).
1
/
4:
Dickinson Trinity senior Kaden Kuntz carries the ball through the Hazen defense on Friday, Sept. 7 from the Biesiot Activities Center. (Patrick Bernadeau/The Dickinson Press)
2
/
4:
Dickinson Trinity sophomore defensive back Cole Fitterer and junior linebacker Jaxon Erie combine on the tackle of Hazen quarterback Isaac Doll on Friday, Sept. 7 from the Biesiot Activities Center. (Patrick Bernadeau/The Dickinson Press)
3
/
4:
Hazen junior Isaac Doll looks to avoid the rush of oncoming Dickinson Trinity defenders on Friday, Sept. 7 from the Biesiot Activities Center. (Patrick Bernadeau/The Dickinson Press)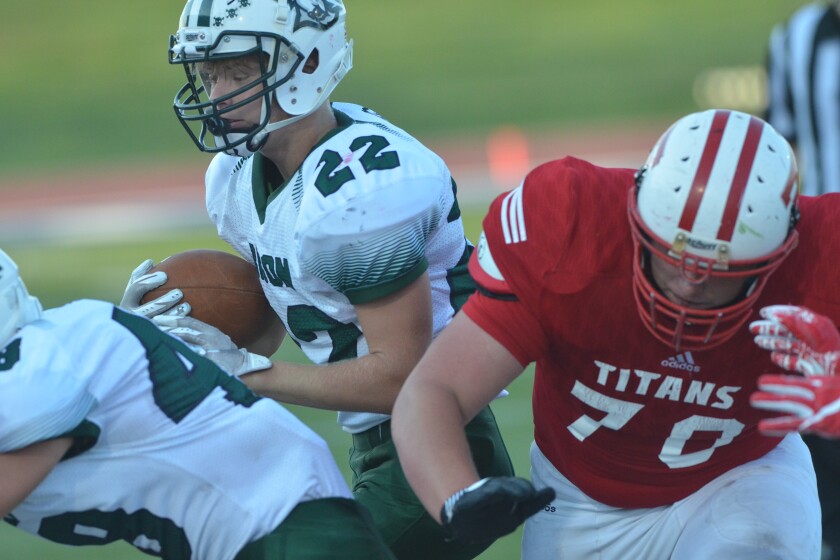 4
/
4:
Hazen junior running back Tyson VanInwagen is pushed toward the sideline by senior defensive lineman Isaac Fridrich on Friday, Sept. 7 from the Biesiot Activities Center. (Patrick Bernadeau/The Dickinson Press)