'We don't want it to end': Dickinson High takes home fourth consecutive state title
JAMESTOWN -- Hanging to the left of a scoreboard inside the Jerry Meyer Arena, an orange sign with black and white lettering read: "It doesn't get easier, you just get better."...
JAMESTOWN - Hanging to the left of a scoreboard inside the Jerry Meyer Arena, an orange sign with black and white lettering read: "It doesn't get easier, you just get better."
Created by its two-longest tenured members, seniors Meghan Ackerman and Dacia Rambousek, that rallying cry was used by the Dickinson High gymnastics squad as its team motto for the 2018-19 campaign, one in which history was on the line.
"I just think that (motto) fits perfectly," Ackerman said. "Obviously, this sport is a hard sport and it's not going to get easy; it's you going to the gym, getting those practice hours in, and working your butt off to get here."
Twice during their program's storied history, the Midgets have won three consecutive state championships; they first accomplished that feat from 1974-76, and again from 2016-18.
At the 2019 State Gymnastics Championships, Dickinson, the No. 1 ranked school, showed that it wasn't easy, stumbling on the beam, the second-to-last event of the meet. With the scoreboard as tight as it had been the entire night, the Midgets needed to hit their marks on the floor exercise.
Not only did the three-time defending state champions perform better than they had one event prior, they proved why they were the best.
Joining Minot and Fargo South as the only programs to win four straight titles, Dickinson captured its 13th overall state crown on Friday, Feb. 22, from Jamestown High School. Sealing the victory with their strongest collective performance, the Midgets amassed a score of 37.8 on the floor en route to an overall meet mark of 146.083.
"I think there's always a feeling of accomplishment every single time you're able to come out as champion," Dickinson head coach Kent Van Ells said. "To think that your girls are the best in the state, I can't say that it gets any stronger, but it always feels remarkable and it makes me really proud of them."
Closing the deal on the floor for the Midgets Ayanna Fossum. With her teammates mimicking her moves in support, the junior was the last girl on the mat, collecting an event high-score of 9.617 by cleanly nailing all of her passes.
"After I did my second pass, I knew that we had it," Fossum said. "I put my arms up really fast and was really happy. I knew that my last past was an easy thing, so after that, I just knew that we had it. I just had fun the rest of the meet and was happy with how it ended."
On the beam, the Midgets chances of winning the meet became anything but a foregone conclusion, as multiple girls were deducted points with falls. Emerging fourth on the event with a score of 34.367, Dickinson carried a slim 0.288 point advantage over Bismarck Legacy leading into the last rotation.
"We needed to gather ourselves back together as a team," eighth-grader Amy Fridley said. "We got in a huddle and we talked to each other, calmed each other down and said 'floor is our best event and we can do this.'"
According to Van Ells, Fridley was one who shifted the tide back in the orange and black's favor, setting the tone after her routine netted her a mark of 9.45. Dickinson had four girls score above a 9.35 on the floor.
"I didn't have as good of a beam as I wanted to, so I just wanted to go to floor, and hit, and do the best I possibly could for the team," Fridley said. "It was really important for me to do that for the team. When I made my first pass the best that I could, I knew that I was going to finish this routine (well)."
Ending its night on the beam, Bismarck Legacy finished as runner-up, followed by host Jamestown and Grand Forks.
"They really wanted it, stepped up to the plate and did what they needed to do. They did their tumbling good and were clean on their leaps and jumps," Legacy head coach Linda Grina said.
For as up and down as the last two events were, Dickinson was smooth and consistent through its first two. Starting their night on the vault, the Midgets complied a mark of 37.434. With Ackerman leading the way with a 9.4, Dickinson had its biggest margin of victory in the uneven bars, scoring a 36.483 and clearing its closing opponent by more than a point and a half.
Without the beginning of the night, the end result might have been a little bit different, but Dickinson completed state the same way it has finished 10 other meets this season, on top of the leaderboard.
"It's really exciting; in fact, this year has been a good year for us in that I don't believe a North Dakota team beat us this year," Van Ells said. "This (meet) was a little closer, some of those teams had a little better meet and we had a little bit of trouble on beam, but it's a continuation of what (we've) been doing that's been neat. The younger ones have been contributing to the present and we have a lot to look forward to in the future. We don't want it to end, I guess that's the thing. It's become an expectation to, if not win, at least be in it, and this was another year like that; it's a really good feeling."
N.D. High School State Gymnastics Meet
At Jamestown High School
Team competition
1. Dickinson 146.084; 2. Bismarck Legacy 142.435; 3. Jamestown 142.134; 4. Grand Forks 140.268; 5. Valley City 137.630; 6. Bismarck High 133.434; 7. Fargo Davies 130.083; 8. Wahpeton 127.099.
Vault
1. Dickinson 37.434; 2. Bismarck Legacy 36.201; 3. Grand Forks 35.934; 4. Valley City 35.850; 5. Jamestown 35.818; 6. Fargo Davies 35.284; 7. Bismarck 34.800; 8. Wahpeton 34.016.
Uneven bars
1. Dickinson 36.483; 2. Bismarck Legacy 34.850; 3. Jamestown 34.533; 4. Grand Forks 34.101; 5. Valley City 32.666; 6. Bismarck High 30.899; 7. Wahpeton 30.483; 8. Fargo Davies 30.133.
Balance beam
1. Bismarck High 34.734; 2. Jamestown 34.666; 3. Bismarck Legacy 34.483; 4. Dickinson 34.367; 5. Grand Forks 33.416; 6. Valley City 33.097; 7. Fargo Davies 30.366; 8. Wahpeton 29.366.
Floor exercise
1. Dickinson 37.800; 2. Jamestown 37.117; 3. Bismarck Legacy 36.901; 4. Grand Forks 36.817; 5. Valley City 36.017; 6. Fargo Davies 34.300; 7. Wahpeton 33.234; 8. Bismarck High 33.001.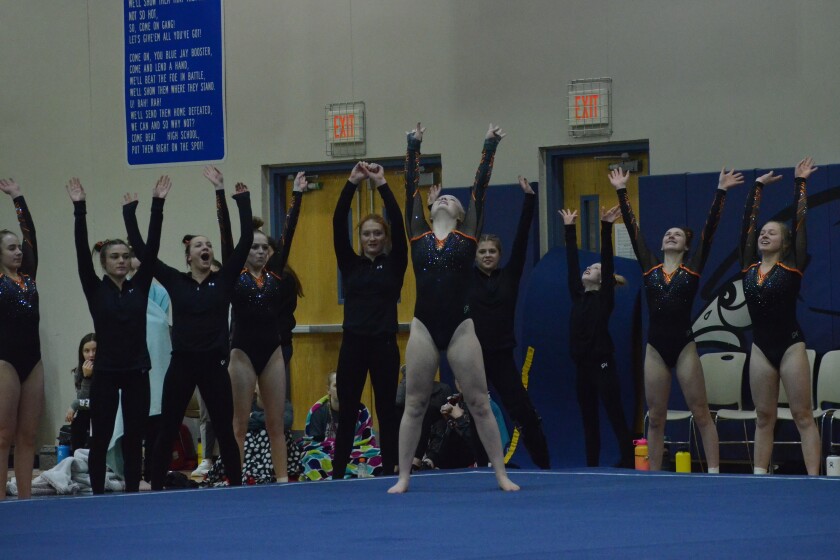 1
/
8:
Dickinson High junior Ayanna Fossum performs on the floor exercise while her teammates raise their arms in the air during the NDHSAA State Gymnastics Championships on Friday, Feb. 22, from the Jerry Meyer Arena at Jamestown High School. (Patrick Bernadeau/The Dickinson Press)
2
/
8:
Dickinson High senior Meghan Ackerman leaps on the balance beam during the 2019 state team championships on Friday, Feb. 22, from the Jerry Meyer Arena at Jamestown High School. (Patrick Bernadeau/The Dickinson Press)
3
/
8:
Dickinson High senior Dacia Rambousek completes her routine on the vault during the 2019 state team championships on Friday, Feb. 22, from the Jerry Meyer Arena at Jamestown High School. (Patrick Bernadeau/The Dickinson Press)
4
/
8:
Dickinson High eighth-grader Amy Fridley goes to work on the uneven bars during the 2019 state team championships on Friday, Feb. 23, from the Jerry Meyer Arena at Jamestown High School. (Patrick Bernadeau/The Dickinson Press)
5
/
8:
Dickinson High eighth-grader Brooklyn Deguzman performs on the balance beam during 2019 state team championships on Friday, Feb. 22, from Jerry Meyer Arena at Jamestown High School. (Patrick Bernadeau/The Dickinson Press)
6
/
8:
Grand Forks eighth-grader Melody Nguyen dances during her floor routine at the 2019 state team championships on Friday, Feb. 22 at the Jerry Meyer Arena from Jamestown High School. (Patrick Bernadeau/The Dickinson Press)
7
/
8:
Jamestown sophomore Rachel Schiele begins her routine on the balance beam during the 2019 state team championships on Friday, Feb. 23, from the Jerry Meyer Arena at Jamestown High School. (Patrick Bernadeau/The Dickinson Press)
8
/
8:
Dickinson High's sign reading "it doesn't get easier, you just get better" hangs up high at the Jerry Meyer Arena during the 2019 state team championships on Friday, Feb. 22, from Jamestown High School. (Patrick Bernadeau/The Dickinson Press)