Wentz had a monopoly on the best sports story of 2016
FARGO -- To make the selection that Carson Wentz is The Forum's "Sports Story of the Year" is almost akin to John Hoeven winning the North Dakota Senate race running virtually unopposed. It wasn't a matter of who was going to be the top vote gett...
FARGO - To make the selection that Carson Wentz is The Forum's "Sports Story of the Year" is almost akin to John Hoeven winning the North Dakota Senate race running virtually unopposed. It wasn't a matter of who was going to be the top vote getter, but more of an issue of what element of the Wentz saga was the best?
It was a multiple choice question with four possible answers:
• Leading his North Dakota State football team to its fifth straight FCS national title, the most consecutive championships in college football history.
• His flawless performance in front of two national networks at his NDSU Pro Day.
• The NFL Draft, where he was the No. 2 overall selection by the Philadelphia Eagles.
• His NFL debut, where he was spot-on in a victory over the Cleveland Browns.
The slam dunk popular answer is "C," but the others were not far behind and if stood by themselves would also be a good bet to be the Story of the Year in any other year. In a sense, Wentz had a monopoly on the possibilities in 2016.
It was a 12-month saga that will perhaps go down as the greatest story run in the history of sports in the state of North Dakota. Actor Josh Duhamel did a tourism campaign for his home state this year and certainly that was well noted, but what Wentz - a Bismarck Century High School graduate - did for North Dakota probably will never be able to be quantified in terms of exposure.
He made North Dakota great again.
Wentz perhaps did for the state what Roger Maris did for North Dakota during his great home run days with the New York Yankees. If the world of professional football didn't know much about NDSU football, they do now.
Take the Eagles' recent nationally-televised win over the New York Giants for example.
"Anybody watching that game had to think this guy is an amazing talented quarterback," Hoeven said. "But even more important, he's a class guy and a good guy."
Hoeven has known the family, from Bismarck, for a while. He saw the kid from Bismarck Century grow into the top quarterback in the FCS. A 4.0 student in high school and college who was part of a national championship team in all five of his years at NDSU.
"I think he's really inspirational," Hoeven said. "And not just for young people but everybody. To me, this is it. We've had great athletes from North Dakota but he's right there with the top tier. He's showing he's the real deal."
Wentz is taking a professional path of a North Dakota kid that Pete Retzlaff took, albeit not nearly as high-profile as the spotlight Wentz has been in. Retzlaff, from Ellendale, N.D., played for the Eagles for 11 seasons from 1956-66, reaching the Pro Bowl five times including leading the league in receptions in 1958.
Wentz's stature within the state?
"Very significant," Retzlaff said. "Because not many guys from North Dakota are put into a position like the quarterback would be in the National Football League. He's a good quarterback now but he's going to be a lot better in a few years than he is right now. That experience is going to show. There are just not that many people from the Dakotas who make a national name for yourself right off the bat."
Retzlaff, in fact, thinks Wentz has the ability to be one of the "greatest quarterbacks the National Football League has ever produced." He points to his 6-foot-5, 237-pound physical stature, a strong arm and intelligence for starters.
Sports Illustrated once listed Maris, Phil Jackson and Darin Erstad as the top three athletes from North Dakota in that order. At some point, if and when the list is updated, Wentz may find himself in that company.
His rookie year had its moments early on, but Wentz also had games where he struggled. His statistics put him in the middle of the pack for NFL starting quarterbacks in passing yards. He was toward the lower end in passing touchdowns and overall quarterback rating.
He didn't have the best supporting cast around him, either.
"A lot of what happens to him depends a lot on the rest of the ballclub," Retzlaff said. "There's not a quarterback in the league who can do it all by himself."
At least in getting to that point, he did it by himself at times. Wentz put on a show at his Pro Day at Gate City Bank Field at the Fargodome being completing 62 of 65 passes in front of ESPN and the NFL Network. It further demonstrated that a broken bone in his wrist suffered halfway through the 2015 Bison season would not be a factor with his draft status.
The first test came in the FCS national title game on Jan. 9 when he led the Bison to a 37-10 win over Jacksonville State (Ala.). Wentz was 16 of 29 passing for 197 yards and a touchdown and led the Bison in rushing with 79 yards on nine attempts and two touchdowns.
Rusty after the long layoff? Not so much. The Bison built a 24-0 halftime lead before the Gamecocks knew what hit them.
His draft stock steadily grew from there, with an impressive performance at the NFL Combine. The Eagles were paying attention, flying head coach Doug Pederson and a few front office personnel to Fargo to visit Wentz. They traded up to the No. 2 overall pick and on April 28 at the Auditorium Theatre stage at Roosevelt University in Chicago, Wentz and NFL commissioner Roger Goodell posed for a photo that will forever be linked in NDSU football history.
Wentz was expected to spend the season with the Eagles as the backup to starter Sam Bradford, but when Bradford was unexpectedly traded to the Minnesota Vikings, Wentz was thrust into the starter's role.
His NFL debut against the Cleveland Browns was a memorable one, completing 22 of 37 passes for 278 yards and two touchdowns.
North Dakota found itself another native hero.
1
/
7:
Oct 23, 2016; Philadelphia, PA, USA; Philadelphia Eagles quarterback Carson Wentz (11)] passes against the Minnesota Vikings during the first quarter at Lincoln Financial Field. Mandatory Credit: Bill Streicher-USA TODAY Sports
2
/
7:
Sep 11, 2016; Philadelphia, PA, USA; Philadelphia Eagles quarterback Carson Wentz (11) walks off the field after defeating Cleveland Browns at Lincoln Financial Field. The Eagles defeated the Browns, 29-10. Mandatory Credit: Eric Hartline-USA TODAY Sports
3
/
7:
Sep 25, 2016; Philadelphia, PA, USA; Philadelphia Eagles quarterback Carson Wentz (11) reacts after his 73 yard touchdown pass against the Pittsburgh Steelers during the third quarter at Lincoln Financial Field. Mandatory Credit: Bill Streicher-USA TODAY Sports
4
/
7:
Carson Wentz proudly displays a Philadelphia Eagles jersey after being selected as the second overall NFL draft pick at the Auditorium Theatre of Roosevelt University in Chicago, Ill. on Thursday, April 28, 2016. David Samson / The Forum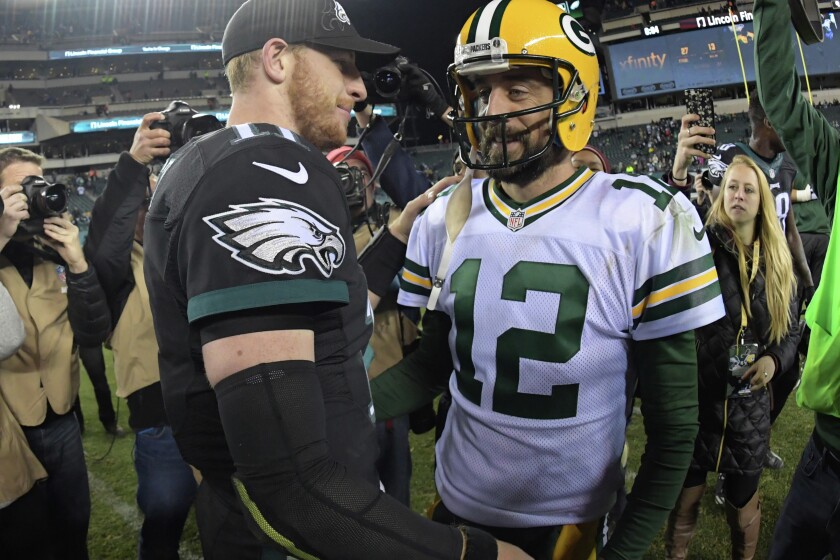 5
/
7:
Nov 28, 2016; Philadelphia, PA, USA; Philadelphia Eagles quarterback Carson Wentz (11) and Green Bay Packers quarterback Aaron Rodgers (12) shake hands after a NFL football game at Lincoln Financial Field.The Packers defeated the Eagles 27-13. Mandatory Credit: Kirby Lee-USA TODAY Sports
6
/
7:
Bison quarterback Carson Wentz is filmed by a drone Monday, March 21, 2016, on Broadway, Fargo. Michael Vosburg / Forum Photo Editor
7
/
7:
Eagles' Carson Wentz jogs during the team warm up before the Philadelphia Eagles play a preseason game against the Tampa Bay Buccaneers in Philadelphia, PA on August 11, 2016. DAVID MAIALETTI / Staff Photographer